Welcome to Aodh Ruadh
Lotto
5th November 2018
1
2
4
6
16
17
There was no winner of the lotto jackpot of €3,600.
Next draw is Sunday at 8.30pm in Owen Roe's Bar with a jackpot of €3,700
Lotto Rota:
- Reserve Footballers
- Bord na nÓg
- Senior Footballers
- Ladies
- Juvenile Hurlers
The lotto team for the McCosker's Centra on Saturday is:


Bord na nÓg.



In the lucky dip €20 went to Mary Conlon, Cornhill; David Finnerty, Creevy; Caoimhe, c/o Margaret McCauley, Mulleek; Joe Deery, c/o Pat's Bar; and Gregory Sweeney, Tullyhork.

More Lotto information
---
Twitter
Tweets by @aodhruadh
What's new
8 July 2018
Senior Division 1
Deadlock again for Ernesiders


More
2 June 2018
Senior Division 1
Rooney gets Aodh Ruadh deserved share of the spoils


More
29 April 2018
Senior Division 1
Aodh Ruadh earn important win against Dungloe


More
28 April 2018
Under 12 ladies football
Aodh Ruadh entertain Letterkenny


More
15 April 2018
Senior Division 1
Economical Gaoth Dobhair take the spoils in Ballyshannon


More
14 April 2018
Under 8 football
Aodh Ruadh host Four Masters for blitz


More
7 April 2018
Under 12 ladies football
Aodh Ruadh girls get league off to a great start


More
1 April 2018
Senior Division 1
Late McGettigan strike snatches point from Ballyshannon


More
1 April 2018
Senior Reserve Division 1
Reserves chalk up first win of the new season


More
22 March 2018
Under 14 hurling
Aodh Ruadh hurlers get off to the perfect start against Setanta


More
17 March 2018
Aodh Ruadh at the Saint Patrick's Day Parade


More
20 January 2018
Celebrating a year to remember with a night to remember at the Aodh Ruadh Dinner Dance


More
28 December 2017
Annual Colman Kerr matches raise cash for charity


More
25 November 2016
Aodh Ruadh celebrates a year of underage football


More
25 November 2017
Great turn out for Billy Finn Memorial Concert


More
12 November 2017
Under 16 football
Aodh Ruadh do it at the death to take county title


More
10 November 2017
Under 10 football
Winter League finals bring curtain down on a successful season


More
5 November 2017
Under 21 Football
Aodh Ruadh well adrift of hungrier Naomh Conaill


More
5 November 2017
Under 16 football
Super second half sends Aodh Ruadh into championship decider


More
4 November 2017
Under 13 football
MacCumhaill's take county title


More
15 October 2017
Under 13 ladies football
Back-to-back titles for the Ballyshannon girls


More
1 October 2017
Senior Division 2
Division one, here we come!


More
1 October 2017
Senior Reserve Division 2
Reserves too hot for Malin


More
1 October 2017
Under 16 hurling
Easkey take Alan Ryan Cup as Aodh Ruadh claim the Seamus Grimes trophy


More
24 September 2017
Under 12 hurling
Keady claim Aodh Ó Dálaigh title


More
10 September 2017
Underage football
Euro-Shot Challenge 2017


More
2 September 2017
Under 14 football
Ballyshannon book semi-final spot


More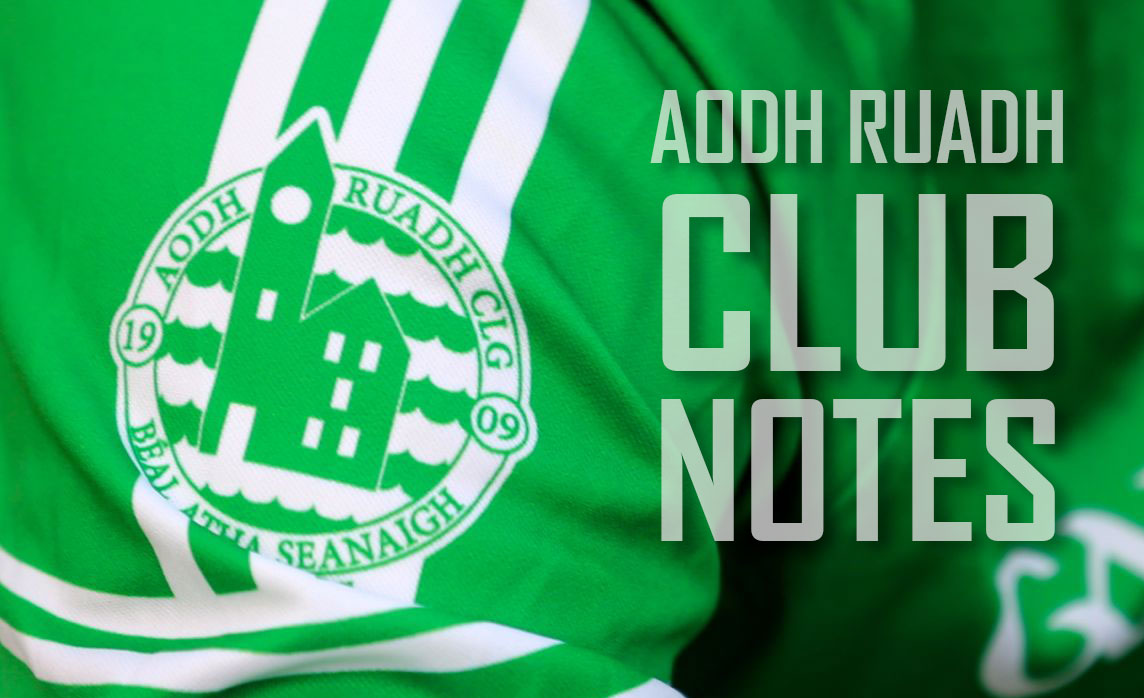 6 November 2018
Football
It wasn't to be for the Aodh Ruadh under 13s in their county final clash with Four Masters in Ballintra on Sunday afternoon. The Donegal town lads ran out 2-14 to 0-8 winners in front of a packed stand in Páirc Naomh Bríd. The opening quarter was nip and tuck with the Ballyshannon lads giving as good as they got. Four Masters led by a point, but just before the break they struck for a goal which sent them in with a 1-8 to 0-5 advantage. Shortly after the break Four Masters hit 1-1 to open a ten point gap and Aodh Ruadh just couldn't reel in the deficit, despite their best efforts. As ever, there was a courageous and committed performance from Eoghan Kelly, while Cian McKenna's shot-stopping was once again of the first order. Elsewhere Aidan Sweeny stood out in defence with his tenacious marking. The Aodh Ruadh team and scorers were: Cian McKenna; Aidan Sweeny, James Gallagher, Shane McGloin; Eoghan Kelly, Fionn Gallagher, Tommy Winters; Shane Delahunty, Aonghus Sweeny; Robbie Murphy (0-6, 5f); Jack Gallagher, Ryan Daly, Drew Ryan (0-1). Subs: Caolán McCauley, Tommy Clyne (0-1), Dara McGloin, Ted O'Donnell, Barry Campbell, Oisin McGlinchey, Kenzie Lee Ayres and Ronan Delahunty.
The closing event of the underage football season, the Bord na nÓg presentation evening, will take place on Saturday 24th November at the Abbey Centre. All players are to be at the Abbey Centre for 6.30pm sharp with proceedings getting underway at 7pm. Further details nearer the time.
Ladies
We were treated to a fantastic evening of skilful football and two highly competitive matches in the under 13 girls Joe Roper memorial cup competition on Monday. The first game saw Fódhla Sheerin's team managed by Antoin McGloin marginally losing out to Catherine Browne's team managed by Thomas O'Brien. It was end-to-end football, played with great heart and determination. The greater hunger to win together with a few cute tactical moves by Thomas O'Brien saw his team over the line to secure the victory.
The second match was the pairing of Michaela McCaffrey's team managed by Sandra Sheerin against the losing team from first match. Michaela's team was going into this match on the back of two defeats in round one and the team and manager had everything to prove. They did not disappoint and there was no holding back with these two evenly matched teams battling hard from the first whistle. They gave absolutely everything and the spectators enjoyed some fine battles, immense defensive efforts and some brilliant scores and none better that the magnificent goal scored by Cameron Gallagher which wouldn't have been out of place in any underage or senior game. But there was only one winner in this match and Michaela's team won comfortably in the end, much to the delight of the girls and the relief of the manager. All-in-all it was a thoroughly enjoyable evening, with many of the parents and supporters commenting on the quality of the football and the level of improvement in all the girls. Thanks to those who braved the weather to offer support to the girls and a special thanks to Paul Gillespie for refereeing the two games. Finally we had a few girls unable to play tonight because they were sick or injured and all the managers wish them well and look forward to getting them all back playing again soon.
Scór na nÓg
The county Scór na nÓg semi-final takes place this Sunday in the Bluestacks Centre in Drimarone at 3pm. Aodh Ruadh is well represented with acts performing in three sections. Best of luck to Roís Cleary in the Amhránaíocht Aonair / Solo Singing, Dáithí and Fódhla Sheerin in the Ceol Uirlise / Instrumental group and Beth Flood, Laoise Kelly, Lauren McHugh and Clodagh O'Connor in the Tráth na gCeist / Quiz. They have all put in a lot of work and hopefully their effort will pay off on the day.
AGM season
The Aodh Ruadh Club AGM takes place on Sunday 25th November in Aras Aoidh Ruaidh. Club members can obtain nomination forms and motion forms by contacting club secretary Lisa McTernan. The deadline for submitting both these forms is Friday 16th November. All committee officers are notified that the deadline for reports is also Friday, 16th November.
The Bord na nÓg AGM will take place on Wednesday 21st November at 8pm in Aras Aoidh Ruaidh. The deadline for manager's reports is this Friday, 9th November. The committee would like to invite all parents and guardians of our underage players to the AGM as well as anyone with an interest in football in Ballyshannon. The Bord na nÓg committee would also like to take this opportunity to thank all our managers and coaches who have dedicated their time to our underage players this year, to the parents for all your help and support throughout the year and to the players themselves for their commitment to their respective teams.
The Aodh Ruadh Ladies AGM will take place on Thursday 8th November at 8pm in Aras Aoidh Ruaidh. Ladies football in the club is in general good health at the minute, and that is thanks to the work of managers, mentors, officers, parents, guardians and, most importantly our brilliant players. We will look back over the efforts of the past year and make plans for 2019. We invite anyone with an interest in the Ladies game in the area to come along on the night.
Schools Coaching Scheme
Good luck to Sylvester Óg Maguire who takes up the schools coach role for the club this week. Over the coming weeks the programme will build up to cover all of the primary schools in the club area and there will be direct contact with individual schools to arrange this. In the interim queries can be directed to Tom Daly.
Aras Aoidh Ruaidh
There are a small number of chairs and trestle tables to be returned to the building. We would like to get them back ASAP as the AGM season gets into full swing. New maintenance arrangements for the Aras have been put in place this week.
Diary date
A date for your diary. The annual Aodh Ruadh dinner dance will take place on January 19th in Dorrian's Hotel.
Abbey Centre Bingo
Last week's €400 bingo jackpot was won by Lisa Coughlin of Ballyshannon . The stand up game prize of €130 was won by Bridget Quinn of the Knather. The snowball had no winner so rolls over to €450 next week. Bingo as usual this Friday at the Abbey Centre at 9pm. Books cost just €10 with €2,150 in prizes up for grabs.
---
Last modified: Monday, 5 November 2018 at 11:02pm

Read more in the club notes archive.