Welcome to Aodh Ruadh
Lotto
23 January 2021
5
7
8
9
13
16
There was no winner of the lotto jackpot of €4,300.
Next draw is Sunday at 8.30pm with a jackpot of €4,400
Lotto Rota:
- Bord na nÓg
- Juvenile Hurlers
- Senior Footballers
- Senior Hurlers
- Reserve Footballers
- Ladies

The lotto team for the McCosker's Centra on Saturday is:


Juvenile Hurlers



In the lucky dip cash prizes of €25 went to Eilis Melly and Lorna Matthews.

Play Club Lotto Online


More Lotto information
---
What's new
15 October 2021
Senior Football Championship
St Michael's prove a bridge too far


More
11 October 2021
Senior Reserve Football Championship
Ardara deny reserves at the death


More
19 September 2021
Senior Football Championship
Polished Aodh Ruadh have too much for Four Masters


More
28 August 2021
Senior Division 2
Ernesiders sign off on Division 2 in style


More
27 June 2021
ACFL Division 2
Workmanlike Aodh Ruadh see off Convoy


More
20 June 2021
ACFL Division 2
Cool, calm, controlled Aodh Ruadh make it two on the bounce


More
29 November 2020
Chairman's Address to the 2020 Club AGM


More
29 November 2020
Secretary's Address to the 2020 Club AGM


More
26 September 2020
Intermediate Football Championship Final
The famine is over as classy Aodh Ruadh claim IFC title with finishing flourish


More
17 September 2020
Under 14 hurling championship final
12-year-old Corey a scoring star for well balanced Aodh Ruadh side


More
5 September 2020
Intermediate Football Championship
Sprint finish takes Aodh Ruadh into last four


More
30 August 2020
Junior Hurling Championship
Aodh Ruadh book semi spot in style


More
16 August 2020
Intermediate Football Championship
Late Cloich Cheann Fhaola surge sinks Aodh Ruadh


More
16 August 2020
Ladies Intermediate Football Championship
Ladies denied at the death by Fanad smash and grab


More
15 August 2020
Under 14 ladies Division 1 Shield Final
Extra-time heart break for brave under 14 ladies


More
1 August 2020
Intermediate Football Championship
Aodh Ruadh off to a winning start


More
19 July 2020
Intermediate ladies football championship
Ladies come up short against Naul's in championship opener


More
19 July 2020
Junior Hurling Championship
Revenge for Carn in Father Tierney Park


More
8 June 2020
Covid-19: Safe return for Gaelic Games


More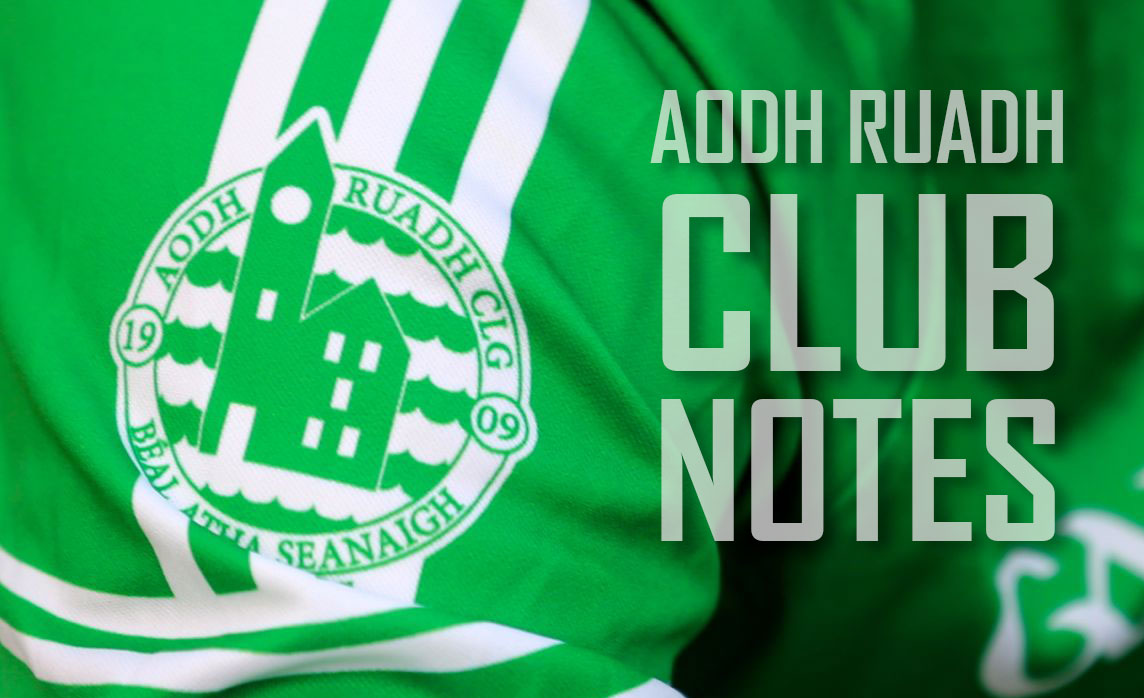 25 January 2022
Hurling
The Juvenile Hurling Committee will hold their first committee meeting of the year in Aras Aoidh Ruaidh on Tuesday, 25th January at 7.30pm. All attendees from our AGM, and anyone not currently involved who was unable to attend the AGM are welcome. We have one team management position still to be filled, and anyone with an interest in coaching and management of underage players is asked to attend. We are also looking for all retired hurlers within the club to get involved in our Sunday Mornings coaching sessions, if you don't think you can commit to managing a team just yet, but would like to get involved we would be glad to have you on board for 2022. Finally, a call out to any parents who don't come from a hurling background, we would still welcome your coaching involvement. We will be running a number of coach the coaches sessions through the year and this will help any new volunteers pick up the basic skills they need to lend a hand. For more information, contact John Larkin on 086-1076883.
Congratulations to the Aodh Ruadh players who took part in the recent under 17 challenge between Donegal and Tyrone: Tommy Winters, Mickey Doogan, Tommy Clyne, Cian McDonald, Matthew Tierney, Rian Kane, Caelum McNulty and Killian Bradshaw.
Football
Aodh Ruadh would like to welcome everybody back to Underage training for the 2022 season. We would especially like to invite newcomers to attend our sessions. Why not come and give it a go, in a fun and inclusive environment.
The following information is for Boys football only. Girls football and hurling information will be sent out in due course.
All Boys are asked to bring their own ball to training. Gus Culkin from Ballyshannon Shoe Company will be at the first training for each age group, with the age appropriate balls for sale, for those needing to purchase one.
Under 5 Boys (Born in 2017 only please)
Starting Friday 11th February, Mercy Hall, 6pm to 6.45pm, Manager: Ivan O'Mahony (086-1714701).
Under 7 Boys (Born 2016 and 2015)
Starting Monday 24th January, Mercy Hall, 6pm to 7pm, Manager: Philip O'Reilly (086-8955141).
Under 9 Boys (Born 2014 and 2013)
Starting Friday 18th February, New Hall, 6pm to 7pm, Manager: Barry Travers (086-1927823).
Under 11 Boys (Born 2012 and 2011)
Starting Monday 31st January, The Lakeside, 6pm to 7pm, Managers: Packie McGrath (087-9794696) and Liam Hassett (086-8262120).
Under 13 Boys (Born 2010 and 2009)
Starting Monday 31st January, The Lakeside, 6pm to 7pm, Managers: Damian Conlon (087-2750986), Niall McCready (087-2115790) and Michael Ward (087-6169765).
Ladies
The senior ladies are training on Wednesday evenings in the Mercy Hall from 7.30pm to 8.30pm and Sunday mornings at the Lakeside Centre at 10am. All newcomers welcome!
Last Week of Last Man Standing
The Juvenile Hurling committee with the support of Mr G's are challenging you to test your football knowledge by picking a winning team for each of the seven rounds of the upcoming National League. There's €250 up for grabs, but the only catch is that you can only pick each team once! So, if you'd like to test your football smarts, just contact any member of the committee, or text or WhatsApp John Larkin on 0861076883. There are a number of ways to take part and pay electronically using Revolut, KlubFunder, and as always you can pay in cold hard cash. Closing date for entries is this Friday. Thanks as ever to Mr G's Liam Gallen for his sponsorship and his tireless support over the years. It's massively appreciated.
Last week of the Aodh Ruadh Online Shop too!
Aodh Ruadh are currently taking orders for a great range of gear on the O'Reilly's online shop, but the clock is ticking, with the deadline for orders closing at midnight, Sunday 30th January. Exclusively available via the online shop is the boys and adults Aodh Ruadh Academy jersey sponsored by Kernan's Spar. Another online exclusive is a specially commissioned ladies training jersey, sponsored by the Creevy Pier Hotel, with LGFA branding. These are two beautiful pieces of kit featuring the classic green band and we are delighted to have both Kernan's Spar and Creevey Pier Hotel as sponsors of these items. There is plenty more great gear available to purchase at oreillysofficial.com, with an attractive array of tops, bottoms, snoods, and kit bags to choose from. There won't any further orders placed in the next few months, so it's important to make use of this sales window. All gear is expected to be delivered in around six weeks.
Monthly Club Executive Meeting
The Aodh Ruadh Monthly Club Executive Meeting will take place, via Zoom this Thursday, 27th January at 8.30pm. All executive committee members are asked to attend. Items for Any Other Business should be with Secretary Lisa McTernan by 3pm on Wednesday.
Saint Patrick's Day 2022
There will be a meeting for Saint Patrick's Day parade 2022 in Dorrian's Imperial Hotel this Wednesday, 26 January at 8pm. After two years without the parade, we'd like a big support there to make the 2022 one extra special.
Club registration
We hope that 2022 will be a less disrupted season than we have had for the past two years. With that in mind we ask all club members to start thinking about submitting their club registration. To facilitate registration we have an online option on Klubfunder.com available. Click on the link or search for 'Aodh Ruadh Ballyshannon' on the Klubfunder.com site. Membership can also be paid to Gerry Ferguson at Ferguson's Jewellers. Players can also download registration forms from aodhruadh.org and submit this along with the relevant fee directly to their manager. It is essential all players are signed up club members. Non members are not covered by the GAA's injury insurance scheme and cannot line out for the club. Adult members will receive first priority for the club's allocation of All-Ireland final tickets in the event of Donegal contesting the decider. Only adult members registered by 31st March may vote at the club AGM.
Ballyshannon Bingo
Well done to all our winners at last weeks bingo! Agnes Ryder took home €250 on the 50/50 Jackpot game. The Snowball survived another week. House prize winners were: Jason Kelly, Doreen McDonald, James Gallagher, Christina Gallagher, Mark Newell, Rosaleen O'Brien, Angela Nicholson, Josephine McDonagh, Margaret McCafferty and Vanessa Brennan. The Line winners were Ursula McGreevy, Lauren Downey, Louise Mahon, Linda Clyne, Sharon Reynolds, Caroline Javed, Mark Newell, Kathleen Flanagan, Lesley Lynch, Letitia Doherty, Marian McAndrews and Mary McGowan. A total of nine free books for next week were also won.!
We're looking forward to doing it all again this Friday night at the same time of 8.30pm with a total of over €2,500 up for grabs. Be sure to follow our like and share competition during the week to be in with a chance to win free books! We will play 10 games of bingo including our snowball, jackpot and lucky numbers games. Books are now available and can be purchased up to 4.30pm on Friday.
Click this link to buy a SINGLE BOOK for €10.
Click this link to buy a DOUBLE BOOK for €15.
As before, books bought by 9am Thursday morning will be emailed at lunchtime on Thursday. Books bought by 9am Friday will be emailed at Friday lunchtime. Books then bought before the 4.30pm deadline will be emailed by 6pm Friday. The Zoom invite will be circulated with your books. The Zoom call will open at 8pm with the first game starting at 8.30pm. Make sure to check your spam or junk folder if you don't think you received your books. We're looking forward to meeting you all again and thank you as always for your continued support!
---
Last modified: Monday, 24 January 2022 at 7:47pm

Read more in the club notes archive.