Welcome to Aodh Ruadh
Lotto
3 July 2022
1
9
10
13
14
17
There was no winner of the lotto jackpot of €6,600.
Next draw is Sunday at 8.30pm in the Pat's Bar with a jackpot of €6,700
Lotto Rota:
- Bord na nÓg
- Juvenile Hurlers
- Senior Footballers
- Senior Hurlers
- Reserve Footballers
- Ladies

The lotto team for the McCosker's Centra on Saturday is:


Bord na nÓg



In the lucky dip cash prizes of €25 went to Patrick O'Malley-Daly, Maria Doherty, and Síofra, Niamh and Sadhbh Hughes.

Play Club Lotto Online


More Lotto information
---
What's new
15 October 2021
Senior Football Championship
St Michael's prove a bridge too far


More
11 October 2021
Senior Reserve Football Championship
Ardara deny reserves at the death


More
19 September 2021
Senior Football Championship
Polished Aodh Ruadh have too much for Four Masters


More
28 August 2021
Senior Division 2
Ernesiders sign off on Division 2 in style


More
27 June 2021
ACFL Division 2
Workmanlike Aodh Ruadh see off Convoy


More
20 June 2021
ACFL Division 2
Cool, calm, controlled Aodh Ruadh make it two on the bounce


More
29 November 2020
Chairman's Address to the 2020 Club AGM


More
29 November 2020
Secretary's Address to the 2020 Club AGM


More
26 September 2020
Intermediate Football Championship Final
The famine is over as classy Aodh Ruadh claim IFC title with finishing flourish


More
17 September 2020
Under 14 hurling championship final
12-year-old Corey a scoring star for well balanced Aodh Ruadh side


More
5 September 2020
Intermediate Football Championship
Sprint finish takes Aodh Ruadh into last four


More
30 August 2020
Junior Hurling Championship
Aodh Ruadh book semi spot in style


More
16 August 2020
Intermediate Football Championship
Late Cloich Cheann Fhaola surge sinks Aodh Ruadh


More
16 August 2020
Ladies Intermediate Football Championship
Ladies denied at the death by Fanad smash and grab


More
15 August 2020
Under 14 ladies Division 1 Shield Final
Extra-time heart break for brave under 14 ladies


More
1 August 2020
Intermediate Football Championship
Aodh Ruadh off to a winning start


More
19 July 2020
Intermediate ladies football championship
Ladies come up short against Naul's in championship opener


More
19 July 2020
Junior Hurling Championship
Revenge for Carn in Father Tierney Park


More
8 June 2020
Covid-19: Safe return for Gaelic Games


More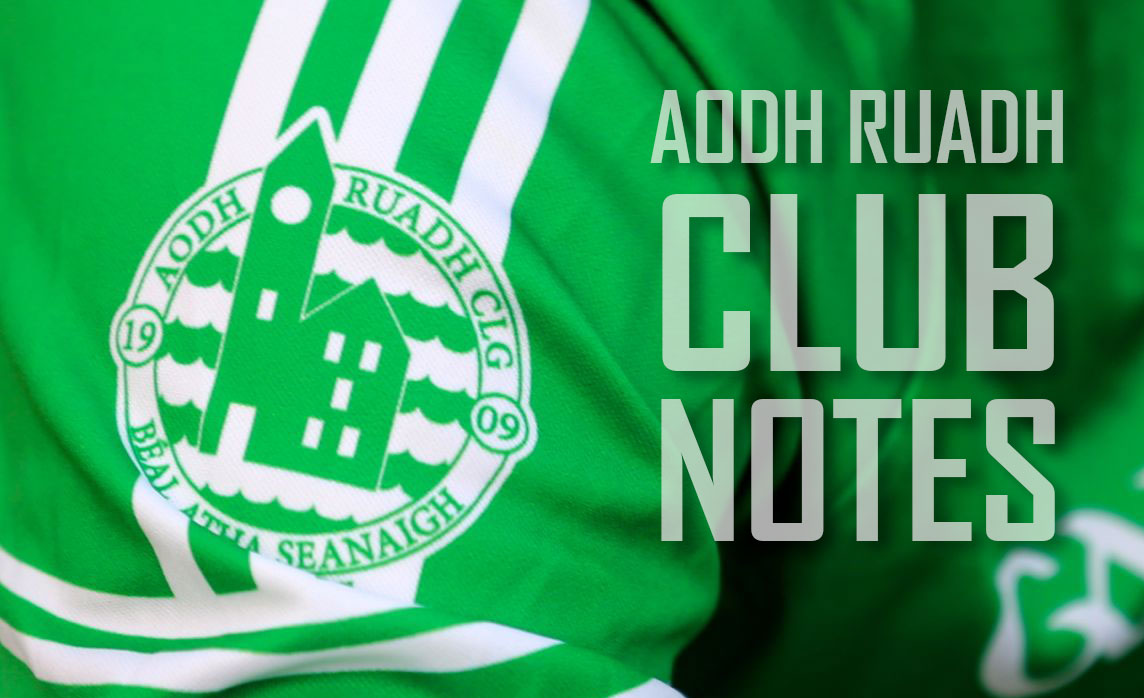 28 June 2022
Football
Our seniors return to league action against Bundoran on Sunday at 3pm in Gaelic Park, while the Senior Development Squad will have to wait until Saturday, 9th July for their next outing, which will be against Termon. The championship draw took place last Tuesday and sees Aodh Ruadh meeting Bundoran in Páirc Aoidh Ruaidh in what is undoubtedly one of the plum ties of the first round. In round two Aodh Ruadh will be in Pearse Memorial Park to take on Ardara. The draws for rounds three and four will take place in August and September, after the round two and round three fixtures respectively.
Last Tuesday our under 15s took to the field in the Division 2 county quarter-final down three key players, with illness and injury ruling out Oran Gillespie, Sean O'Neill and Joe Gibbions. The team really rose to the occasion though and overcame the tough challenge of Letterkenny Gaels in Páirc Aoidh Ruaidh. There wasn't much between the teams at half-time, but Ballyshannon had Jun Hui Lin, Garvey Meade, Finn Doogan, Eoghan Gallagher and Rian McCauley really excelling themselves in the middle third. Aodh Ruadh capitalised well on their chances in the second half to run out 7-10 to 2-8 winners and book the place in the last four. That Division 2 league semi-final will take place this Wednesday at 8pm in Tir Chonaill Park, Donegal town with Naomh Bríd providing the opposition. As ever, we want to see a great Ballyshannon support there to get behind the boys and roar them on to the final.
The under 13 footballers had a narrow defeat in Dungloe on Monday evening. There wasn't much sign of summer as conditions were tough with a strong downfield breeze and plenty of heavy showers. After a slow start Aodh Ruadh took advantage of the wind at their back to hold a one-point lead at the turnaround with nine points scored. The hosts landed an early blow, putting a goal and two points on the board. Aodh Ruadh responded with two points each from Callum Dorrian and MJ Ward (2f), only for Dungloe to strike a second goal. Again, the boys rallied to reel off five unanswered points, MJ again steadily landing three more frees, a good turnover finished by Antoin Duffy and another from Dorrian left the half time score reading 2-2 to 0-9. Dungloe restarted well with two early points to take the lead, but MJ Ward again with two more frees put Aodh Ruadh ahead again by the middle of the half. Unfortunately, though that was the end of the visitors scoring. Dungloe managed to chip away and added two points from play and a 45 to win out by two points at 2-7 to 0-12. Overall, some loose spells of play and two avoidable goals cost Aodh Ruadh this one, but there were plenty of positives to take from the game where we were down three of our usual starters. Anthony Duffy made some fine saves in goal and was confident under many a dangerous high ball. Marko Branley did some great hoovering up at the back, whilst Darragh McCready carried a lot of ball up field against the strong wind. Eoghan Gallagher and Antoin Duffy again put in a big shift in midfield.
The Division 2 game did not take place at Naomh Columba, and we will see about a possible rearranged date. The Division 1 team have a free round next week, with the Division 2 team at home to Killybegs on Monday at 7pm. Training continues as usual at Páirc Aoidh Ruaidh at 5.45 Wednesday and 3pm on Saturday.
Our under 11 green squad made the long journey to Glencolumcille last Saturday morning. They took on Naomh Columba in horrendous conditions for football. The boys showed great character and put in a great performance despite the weather. There are no games this week for either squad, however there will be training on the top pitch of Páirc Aoidh Ruaidh on Saturday from 12 noon to 1pm.
The under 9 and under 7 game against Grange was postponed at the last minute owing to the inclement weather. Training continues as normal on Friday evening at Coláiste Cholmcille from 6.45pm to 7.45pm.
Hurling
It was another tough day at the office for the senior hurlers with Carndonagh leaving Páirc Aoidh Ruaidh with a resounding 0-7 to 5-14 victory in the back pocket. The conditions were awful with the wet blustery weather making handling something of a lottery. Rory Cullen and Brendan Gillespie hit Ballyshannon's lone points as the Inishowen men romped to a 2-9 to 0-2 half-time lead. The pressure didn't relent much in the second half, but Aodh Ruadh did enjoy slightly more attacking momentum and Danny Breen landed four points from placed ball while Aaron Cullen also fired over a nice shot from play. While Adam Rami was among those who gave his all right through, Aodh Ruadh were just losing too many battles across the pitch and in the end it was a comfortable win for the visitors. The Aodh Ruadh team and scorers were as follows. Kieran Daly; Peter Horan, Adam Rami, Danny Downey; Adam Clarke, Ryan Keenaghan, Stephen Connolly; Brendan Gillespie (0-1), Ryan Ayres; Danny Breen (0-4f), Martin Larkin, Jason Patterson; Michael Reddan, Aaron Cullen (0-1), Rory Cullen (0-1). Sub Ciaran Kilgannon for Michael Reddan 45 minutes. The senior hurlers are away in their next senior championship assignment, this Friday when they head to Dungloe for a 7.30pm throw-in.
Carndonagh got the better of our minors on Thursday with a strong win over a depleted Aodh Ruadh team rife with injuries. It was a very different picture on Sunday morning when the minors found themselves in action against the might of Saint Eunan's. In what was a thrilling game, with some great individual performances, the lads pulled off a fantastic win. They march on now to the final in Convoy on Thursday evening where they will take on old rivals, Carndonagh, once again. All travelling support for the lads will be most appreciated.
Our under 15s had a break this week, but are busy preparing and training hard for the Táin Óg semi-finals and finals day on Saturday, 9th July.
Our under 13s finished their season with a defeat to Carndonagh in the A county final on Thursday. This team has had a great season, winning a league final and qualifying for their Táin Óg finals weekend. A small panel has meant plenty of game time for each player, and has seen the players' skills develop over the season. On Thursday our lads faced a physically stronger Carndonagh team. It was a game where the breaks just didn't go our way, and the Carndonagh goalkeeper made a number of outstanding saves to halt our momentum when we working hard to get back in to the game. It just wasn't to be as the Inishowen side finished 8-7 to 2-2 victors, but the Erneside lads could not be faulted for their effort, fighting right till the final whistle. William Ryan and Eoghan McCadden were the stand-outs for Aodh Ruadh with Antoin Duffy, Jack Gormley and Oisin McCadden playing good sporting roles. Joey Daly pulled off a number of good saves in goals for Aodh Ruadh. At the end of the game, coaches John Larkin and Aiden Begley thanked the players for a very enjoyable year with them, their work rate, commitment and attitude. The Aodh Ruadh team and scorers were as follows. Joey Daly; Alex Kerrigan, Ethan Kerrigan, Harvey Power; William Ryan, Jack Gormley, Eoghan McCadden (0-1f); Conor Dolan (1-1, 1f), Antoin Duffy; Jamie McPhelim, Shaun McGarrigle, Oisin McCadden (1-0). Alistair Chan was unavailable on the night, but contributed well all season. The boys will have the Seamus Grimes / Alan Ryan memorial tournament to look forward to later in the year.
Under 11 training continues on Sunday in preparation for their programme of games which will commence in July.
Our under 7 and under 9 squads will take part in the under 8 all-county blitz this Sunday in the Centre of Excellence in Convoy. All details will be published in the team WhatsApp groups.
The juvenile hurling committee is delighted to announce the return of the 'Trip to Croker' after a two-year sojourn due to the pandemic. Our young hurlers are off to the capital on Sunday to watch, what is bound to be a titanic battle, between Galway and Limerick. All enquiries regarding the trip can be directed to the Juvenile Hurling secretary, Orla Bannon, on 086-8035316.
As ever, anyone looking to join up and take part with our underage squads is more than welcome. Contact John Larkin on 086-1076883 for more information.
Ladies
Aodh Ruadh ladies played out an entertaining encounter with Naomh Columba on Friday evening in Glencolumcille. The hosts got off to the perfect start with a quick goal and a point. However, scores from Eimear McMahon got Aodh Ruadh off the mark and then Cáit Gillespie pointed on the quarter hour mark to level matters. The sides went tit for tat up to half-time, but at the turn-around points from McMahon and Gillespie had helped Aodh Ruadh go in with a 0-9 to 1-5 narrow lead. Naomh Columba came out with a renewed sense of purpose and hit 1-4 with Eimear McMahon registering the Shamettes solitary score in reply. Over the final quarter Aodh Ruadh rallied and points from Cáit Gillespie, Eimear McMahon and Elaine Dorrian helped bring them back into touching distance. Unfortunately, a couple of good goal opportunities were passed up and Naomh Columba were able to see out the game and take the points on a 2-13 to 0-15 scoreline. It was an encouraging performance from the Ballyshannon girls as they played right to the end. Roisin Maguire did well in goals and Shauna Dolan pulled off one incredible stop just before half-time. Fiona McGonigle put down another big marker in defence with a strong display. Meabh McCloskey and Kate Cunningham did a huge amount of work in the middle third. Up front Eimear McMahon took some astonishing points, while Elaine Dorrian and Aoife Bromley both made good contributions on their introduction.
The Division 3 team were out again on Sunday morning to take on MacCumhaill's in Páirc Aoidh Ruaidh and were able to finish their league campaign on a high with a 5-9 to 3-7 win. The Erneside girls did it the hard way, falling nine points adrift early in the first half, and were still five points off the pace at the interval. An Eimear McMahon 45 which ended up in the back of the net gave Aodh Ruadh great momentum on the resumption and Cadhla Dolan's ruthless eye for goal helped fire her side into the lead. Once again Megan McGee put in a great shift at full back while Niamh Hughes played really well when introduced at half back. Elsewhere Kate Cunningham and Tara Khan were outstanding in the middle third with Abi Barrett doing some great work up front and captain Amanda Mahon finishing with 1-1 to her credit. The team have a challenge against Derrygonnelly this Sunday in Páirc Aoidh Ruaidh at 12 noon. That will be in preparation for the Division 2 league semi-final which takes place on Sunday, 10th July.
The under 14s faced a tough battle in less than favourable conditions against a strong Buncrana team, but emerged victorious on a final scoreline of 5-7 to 5-6. Megan Murphy stole the show in defence, while Lily O'Donnell and Aine Neilan also gave us some fantastic displays in the rearguard. Laoise Foy and Emily McNamee were tight on their markers for the entire game, while up front Katie McGowan was the stand out player winning every ball that came her way. The entire squad of girls really showed that hard work and dedication both at training and games really pays off. There will be training for the under 13 and under 14 squads on Thursday night at 7pm at the Coláiste Cholmcille school pitch. The next game for the under 14s takes place on Saturday 9th July against Saint Eunan's in Letterkenny.
On Saturday our under 10 girls hosted the Trillick under 8s and under 10s in Páirc Aoidh Ruaidh. Both teams played two matches. In testing weather conditions our girls played some great football against a very skilful and powerful Trillick team. The games were contested in a fun and friendly atmosphere. Afterwards, everyone convened to the Áras where there were teas, coffee, juice and a great spread of wonderful treats laid out for the players, supporters and coaches. A massive thanks to all the parents who brought food and helped out afterwards. It was great for all to have that normality back again and the Tyrone girls went home very happy with their day out in Ballyshannon. Up next for the girls is a blitz in Kinlough hosted by Melvin Gaels where we will play Bundoran, Manorhamilton, Saint Molaise Gaels and Melvin Gaels. Throw in is at 2pm this Saturday. There will be a barbecue there on the day for everyone.
Training continues for our under 8 and under 6 girls this Tuesday at the pitch in Coláiste Cholmcille. The session runs from 5pm to 6pm and all are welcome, bring a friend!
Aodh Ruadh Golf Classic
This weekend sees one of the highlights of the golfing year with the Aodh Ruadh Golf Classic taking pride of place at Bundoran Golf Club on Friday. To book a tee time contact the club on 071-9841302 or William Doogan on 087-2799855. Prizes include fourballs at Ballyliffin, Murvagh and Slieve Russell, as well as vouchers for Bundoran Golf Club, golf bags, golf shoes and many more great goodies.
Club meeting
The monthly Club Executive Meeting will take place on Thursday, 30th June at 9pm. All executive committee members are asked to attend. Submissions for any other business should be with club secretary Lisa McTernan by 12pm on Wednesday.
Aodh Ruadh Summer Camp
The 30th annual Aodh Ruadh Summer Camp, sponsored by McDevitt and McGlynn Accountants, returns on Monday, 4th July and runs to Friday, 14th July for boys and girls between six and 14. Activities include skills training, fun and games, Gaelic football, camogie, rounders, hurling and lots more. Week one runs from Monday 4th to Friday 8th July. Week two runs from Monday 11th to Friday 15th July. Each day there will be a morning session from 9.30am to 12.30pm and an afternoon session from 1pm to 4pm. The cost per session per week is €50 per child which includes a sports pack at the end of the week. We have reduced rates available for parents or guardians sending more than one child. Two children €90. Three children €120. To avail of these discounted rates please contact Sylvester Maguire on 086-0532495. No cash will be taken on the day and places will be booked on a first come, first served basis. Children are encouraged to come suitably attired as all activities will take place outdoors. To book your child's place go to the Aodh Ruadh page on klubfunder.com.
Clothes collection
Aodh Ruadh Juvenile Hurling committee are collecting for their annual cash for clothes fundraiser. This is a great chance to get rid of any unwanted clothes, shoes, belts, bed linen, towels, etc., and help us raise some much-needed funds for promotion and development of underage hurling in the club. For any information regarding this campaign or arrange drop off of clothes contact any of the following: John Larkin (086-1076883), Daithi Breen 087 928 7965 Paul Sheridan 087) 657 2157 Orla Bannon (086-8035316), or Gregory Gallagher (087-2210570).
Ballyshannon Bingo
Congratulations to last week's bingo winners. Linda Breen scooped the 50/50 Jackpot, with house prizes going to Ella Colleary, Joan Keaveney, Christina Mulligan, Rosie Branley, Kathleen McGee, Ann Kinsella - who also had two line wins! - Michael Doherty, Monica Quinn, Regina Dolan and Ellen Lawne. The cash prize winners on the lines were Jude Concannon, Emer Groarke, Karen McLoughlin, Mary McLoughlin, Marion McDermott, Mary Keaveney, Noleen McCann, Nyoka Walker, Breda Gallagher and Angela Gaye. The snowball rolls another week and is a plump €750 this Friday, all part of a €2,500 prize fund. Please spread the word and bring a friend as we do our hybrid bingo again this Friday night. Online players should buy their books by the 4.30pm deadline on Friday. Anyone looking for their books early should purchase by lunchtime Thursday to get delivery Thursday afternoon, otherwise books will be emailed between 5-6pm Friday. Books can be purchased online at Klubfunder.com. Players coming to the Abbey Centre can buy their books at the front desk from 8.15pm. Eyes down for first game at 9pm.
---
Last modified: Monday, 4 July 2022 at 8:44am

Read more in the club notes archive.