Welcome to Aodh Ruadh
Lotto
26 November 2023
1
8
9
13
17
18
There was no winner of the lotto jackpot of €4,900.
Next draw is Sunday in McGinley's Bar at 8.30pm with a jackpot of €5,000
Lotto Rota:
- Bord na nÓg
- Juvenile Hurlers
- Senior Footballers
- Senior Hurlers
- Reserve Footballers
- Ladies
- Camogie

The lotto team for the McCosker's Centra on Saturday is:


Senior Footballers



In the lucky dip cash prizes of €20 went to John Travers, Rosemarie Bradshaw, Gavin Burke, Karen Gilmartin and William Ryan.

Play Club Lotto Online


More Lotto information.
---
What's new
15 October 2021
Senior Football Championship
St Michael's prove a bridge too far


More
11 October 2021
Senior Reserve Football Championship
Ardara deny reserves at the death


More
19 September 2021
Senior Football Championship
Polished Aodh Ruadh have too much for Four Masters


More
28 August 2021
Senior Division 2
Ernesiders sign off on Division 2 in style


More
27 June 2021
ACFL Division 2
Workmanlike Aodh Ruadh see off Convoy


More
20 June 2021
ACFL Division 2
Cool, calm, controlled Aodh Ruadh make it two on the bounce


More
29 November 2020
Chairman's Address to the 2020 Club AGM


More
29 November 2020
Secretary's Address to the 2020 Club AGM


More
26 September 2020
Intermediate Football Championship Final
The famine is over as classy Aodh Ruadh claim IFC title with finishing flourish


More
17 September 2020
Under 14 hurling championship final
12-year-old Corey a scoring star for well balanced Aodh Ruadh side


More
5 September 2020
Intermediate Football Championship
Sprint finish takes Aodh Ruadh into last four


More
30 August 2020
Junior Hurling Championship
Aodh Ruadh book semi spot in style


More
16 August 2020
Intermediate Football Championship
Late Cloich Cheann Fhaola surge sinks Aodh Ruadh


More
16 August 2020
Ladies Intermediate Football Championship
Ladies denied at the death by Fanad smash and grab


More
15 August 2020
Under 14 ladies Division 1 Shield Final
Extra-time heart break for brave under 14 ladies


More
1 August 2020
Intermediate Football Championship
Aodh Ruadh off to a winning start


More
19 July 2020
Intermediate ladies football championship
Ladies come up short against Naul's in championship opener


More
19 July 2020
Junior Hurling Championship
Revenge for Carn in Father Tierney Park


More
8 June 2020
Covid-19: Safe return for Gaelic Games


More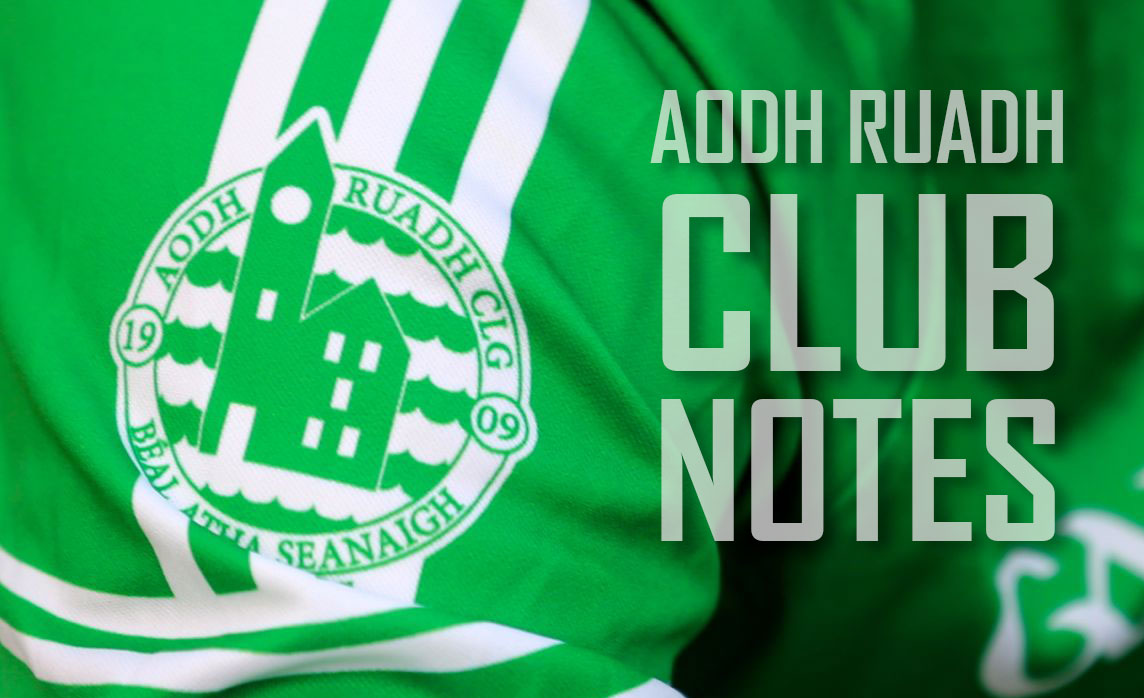 28 November 2023
Club AGM
The Aodh Ruadh AGM took place in Aras Aoidh Ruaidh with over 40 members in attendance as we looked back on a successful 2023, crowned by our reserve mens' footballers' championship triumph, and made plans for the coming season. In a lively and engaging review detailed reports were submitted by all sub-committees and these were followed by an address from outgoing club chairman William Doogan. Reflecting on a very busy season, he thanked all those who had played a role in steering the club successfully through another hectic season on and off the pitch. William also reflected on his five years in the chair and made some thoughtful observations about developments in the club over that period and going forward. The Chairman's report and Lisa McTernan's Secretary's report can be viewed now on aodhruadh.org. Motions were then considered and decided upon, and it was heartening to see the level of debate and thought devoted to the consideration of these proposals. The AGM then proceeded to the election of officers with the following posts being filled. Patrons: Father Dunne and Canon McGroarty; President: Owen Roe O'Neill; Vice Presidents: Peter Conlon, PJ Buggy, John Magee, Michael McLoone and John Murphy; Chairwoman: Lisa McTernan; Vice-Chairman: Diarmaid Keon; Secretary: TBC; Assistant Secretary: TBC; Treasurer: Patricia Bradshaw; Assistant Treasurer: Sabrina Brosnan; PRO: John Hughes; Oifigeach na Gaeilge: Eamonn Martin Maguire; Substitute County Board Delegate: William Doogan; Health and Well-being Officer: Maura Gallagher; Child Protection Officer: Josephine McNulty. Coaching Officers: Packie McGrath and Liam Hassett. Park Committee appointments were as follows: Chariman: Tom Daly; Secretary John Larkin; Assistant Secretary: Philip McLoone; Treasurer: David McLoone; Assistant Treasurer: Patsy Kilgannon; PRO: Michael Daly; Assistant Chairman: Conal Gallagher. Many thanks to all the outgoing officers for their hard work, and congratulations and best wishes to all those who have taken up a post for 2024.
Donegal v Roscommon in the Park
Aodh Ruadh are proud to announce the return of inter-county football to Father Tierney Park on Sunday, 17th December. Donegal will be the hosts for a challenge game against Roscommon with a share of the proceeds from the game going to North West Hospice, an organisation which has given great service to people from across both counties. The last time Ballyshannon played host to the senior county side was on 1st March 2020 when Declan Bonner's men saw off Monaghan in the Division 1 of the National Football League on a scoreline of 2-12 to 0-8. Indeed, the Erneside ground has generally proved a happy hunting ground for Donegal down the years and we hope that will continue in next month's challenge with the action getting under way at 1.30pm. Put it in your diary and spread the word as Jim McGuinness's Donegal mark two make their first inter-county outing.
Football
Aodh Ruadh played well in patches against Naomh Conaill on Sunday afternoon, but it wasn't enough to clinch the result against a more consistent Glenties outfit. The visitors notched the first two points in Father Tierney Park before Jack Gallagher got his side off the mark in the fifth minute. Naomh Conaill responded immediately and added another in the ninth minute to keep them on the front foot. A nice move from Aodh Ruadh was well-finished by Cian Rooney, and a minute later it could have been honours even, but Jack Gallagher's audacious chip just went over the bar. Naomh Conaill reeled off three unanswered points in response, but just before half-time Jack Gallagher sent over a much needed free to keep Aodh Ruadh in contact with the Blue leading at the interval 0-8 to 0-4. Glenties quickly hit two points early in the second half to open up a two goal advantage. Ballyshannon hung in though and a hard-earned Cian Rooney free stemmed the flow somewhat. Matt Gillespie then hoisted over a fine effort in the 37th minute to leave four in it once again. Glenties got an answering point, but Senan Rooney sent in a superb ball for Cian Rooney to race out and collect. Rooney then danced past two tackles before placing a precision shot into the top left corner. He really is dynamite in those sorts of situations. There were two points in it now with 17 minutes left to play and the game was back in the melting pot. With ten left Cian Rooney split the posts with a beautiful effort to reduce the deficit to the minimum. Naomh Conaill responded with style though and four points in as many minutes swept the game back out of Aodh Ruadh's grasp. Jack Gallagher did get his side a late lifeline with a snapshot to the net after a rebounded effort, but time had run out for the Ernesiders. They will now take the scenic route through the championship quarter-finals. Ballyshannon showed in patches that they can rattle any team, and won't fear any side as they go into the knock out stages. The absence of Damian Weber was keenly felt on Sunday, with some good opportunities going a-begging. They will look for more of the same from Senan Rooney, who had a great impact around the middle against Glenties. Cian Rooney and Jack Gallagher also did really well on any ball that came their way. Further back Aaron Cullen kept a clean sheet and made some useful contributions out around the middle of the field too. The Aodh Ruadh team and scorers were as follows: Aaron Cullen, Mitchell McLaughlin, Kyle Murray, Aidan Sweeny; James Gallagher, Mark McGlynn, Senan Rooney, Colm McGloin, Matt Gillespie (0-1); Eoghan Kelly, Darragh Flood Dolan, Harry Howarth; Cian McKenna, Cian Rooney (1-3, 1f), Jack Gallagher (01-3, 1f). Subs: James Monaghan for Cian McKenna 37 minutes; James Ward for Harry Howarth 37 minutes. Head along to aodhruadh.org where we have a gallery of pictures from Sunday's game.
The curtain was drawn down on the Bord na nÓg season in spectacular style last Saturday with the return of the awards night to the Abbey Centre. There was a capacity crowd in the theatre to welcome guest of honour, county star Oisín Gallen, to Ballyshannon. Master of Ceremonies, Michael Daly, put Oisín through his paces with some interesting questions before the MacCumhaill's ace addressed the young players present with some inspirational observations drawn from his own long hard struggle to consistently competing at the highest levels of the game. After that it was on to the team presentations with Oisín presenting every member of Bord na nÓg in attendance with a medal to recognise their hard work and commitment over the course of 2023. The under 7, under 9 and under 11 squads were first up followed by the Bakery Cup teams. The team presentations then concluded with the under 15 team receiving their county Shield and League medals. The event then moved on to the individual awards. These were as follows: Under 11 Green Squad most improved player - Phelim Barron; Under 11 Green Squad player of the year - Donnacha Conlon; Under 11 White Squad most improved player - Daire Doogan; Under 11 White Squad player of the year - Freddie Knott; Under 13 Green Squad most improved player - Alex Kerrigan; Under 13 Green Squad player of the year - Jack Hassett; Under 13 White Squad most improved player - Harry McGowan; Under 13 White Squad player of the year - Senan Ward; Under 15 most improved player - Dáithí Sheerin; Under 15 player of the year - Gareth Brendan; Under 17 most improved player - James Ward; Under 17 player of the year - James Monaghan. With the presentations completed Michael Daly wrapped up proceedings by thanking all the parents and guardians for all their support over the course of the year and also thanked everyone who had helped make it such a well run and enjoyable evening. Head along to aodhruadh.org where we have a huge gallery of images from the evening live now.
Best of luck to Eoghan Kelly who will be lining out for Ulster University in the All-Ireland Freshers final against the University of Limerick on Wednesday, 6th December.
Ladies
Our under 13 girls travelled the long journey to Dunfanaghy on Saturday morning, to face Saint Michael's in their Silver county semi-final. The weather was unusually calm and dry at the coastal venue, perfect conditions for the match which was expected to be a close affair. However, close it was not in the first half, as Aodh Ruadh made several unforced errors along with poor decision making. Saint Michael's on the other hand were more clinical in front of goal, and were winning their 50 / 50 battles all over the pitch. Aodh Ruadh were perhaps fortunate to go in at half time only four points down, on a scoreline of 0-5 to 0-1. Whatever management said at half time, certainly helped turn the tide. If our girls had lost their 50 / 50s in the first half, they turned that stat on its head and began to battle bravely, with many taking heavy knocks, but getting up off the turf to go again. Niamh McGrath and Faye Gillespie began to dominate at midfield, and with Jenna Britton now in a free role, she attacked at will. Our girls began to chip away at the homesters' lead, closing the gap to one point midway through the second half. The turning point came with ten minutes remaining, when a poorly executed clearance from Saint Michael's fell to Leia Roper 13 metres out, and she picked her spot in the top corner of the net for a great goal to put her side into the lead for the first time. A further Aodh Ruadh point put the Ernesiders a goal ahead, but Saint Michael's were not finished yet, and put over two points in the dying minutes. Extra time looked likely as the hosts had a late free to equalise, but the dead ball effort went the wrong side of the post, and the referee's whistle sounded to complete a brilliant come back which demonstrated this team's resilience and improvement over the course of the season. They now qualify for the Silver county final, which is due to be played this Saturday against Saint Mary's, Convoy. Venue and time to be confirmed in due course. Keep an eye on the club's social media channels for updates.
Hurling
The underage awards season wraps up on Saturday 9th December when the Juvenile Hurlers host their awards night in Dorrian's Imperial Hotel. Guest of honour on the night will be county star and Champion 15 award winner, Danny Cullen, while Michael Daly will once again be master of ceremonies for the evening. The action gets underway at 6pm, and with plenty of silverware to be presented it promises to be a real night for our young hurlers to remember.
Christmas quizzing
A couple of dates for the festive diary for the quizzers out there. The Park Committee will be hosting a quiz in Seán Óg's on Tuesday, 19th December. There will be loads of prizes to be won, even if you can't make it on the night. Tickets are available for the raffle from any of the bar staff in Seán Óg's, with the prizes including a huge Christmas hamper. The action gets under way at 9pm with entry €20 for a table of four.
Then, after the turkey has been taken care of, the Ladies will be running a quiz in Dicey Reilly's on Thursday, 28th December. More details to follow in coming weeks.
Suim agat sa Ghaeilge?
Interested in using your own level of Irish in a relaxed, enjoyable conversation group? Aodh Ruadh GAA Club invite you to GAEILGE DO GACH DUINE. Join us in Dorrian's Hotel, Ballyshannon where we will meet every Tuesday for six weeks commencing Tuesday 14th November from 8.30pm to 9.45pm. All levels of Irish are welcome to join in, speak, listen, or just do whatever you are comfortable with. This event is free of charge. Bain triail as, beidh fáilte romhat.
Ballyshannon Bingo
The Jackpot was won at last Tuesday's Ballyshannon Bingo on 21st November with James Monaghan taking the spoils. The House winners were Ann O'Reilly, Geraldine Kelly, Briege Kelly, Brenda Carty, Chrissie Roper, Patricia O'Reilly, Sarah Brady Coughlin and Celine McGrath. The Snowball rolls over for another week, with Sonia Kelly winning the €100 prize on that game. The Line winners were Theresa Hannon, Margaret Meehan, Callum O'Neill, Mary Reynolds, Christina Mulligan, Mary McGonigle, Packie Johnston, Mary McGowan and Tracey Rami, Marion McDermott, and Karen Coughlin and Maureen Coughlin. Majella Gethins took the €50 double line prize in game 10. Rosaleen O'Brien and Josie Lynch won free books for next week's bingo in our half time book draw. Tracey Rami took the Stand-Up game prize of €130! The €1,000 Winter Snowball escaped another week so is in play on 48 numbers or less this week, all as part of a €2,800 prize fund including €500 50/50 Jackpot and €300 Lucky Numbers Game. Bingo at the usual time of 8.30pm Tuesday with doors open at 7.45pm. Books cost just €10! Come along a bring a friend for a great night of craic and prizes!
---
Last modified: Monday, 27 November 2023 at 7:23pm

Read more in the club notes archive.