Welcome to Aodh Ruadh
Lotto
7th July 2019
3
6
11
13
14
15
There was no winner of the lotto jackpot of €7,100.
Next draw is Sunday at 8.30pm in The Lantern Bar with a jackpot of €7,200
Lotto Rota:
- Reserve Footballers
- Bord na nÓg
- Senior Hurlers
- Senior Footballers
- Ladies
- Juvenile Hurlers
The lotto team for the McCosker's Centra on Saturday is:


Ladies.



In the lucky dip €20 went to Michael Daly; Teresa Herron, Bishop Street; Aisling Hannigan, The Mall; Phil Cassidy; Kerry Ryan Sr

More Lotto information
---
Twitter
Tweets by @aodhruadh
What's new
7 July 2019
Under 18 football
Decider proves a bridge to far for Aodh Ruadh


More
2 July 2019
Under 16 ladies football
Under 16 girls make it two from two


More
25 May 2019
Senior Division 2
Aodh Ruadh see off determined Termon challenge


More
6 May 2019
Under 14 hurling
Ballinascreen take Finn Larkin title back to Derry


More
3 May 2019
Junior Hurling League
Ernesiders too strong for Letterkenny Gaels


More
30 April 2019
Under 14 ladies football
Three on the trot for under 14 girls


More
19 April 2019
Senior Division 2
Good Friday for Ballyshannon as they get the better of Naul's


More
7 April 2019
Senior Division 2
Aodh Ruadh up and running with convincing win


More
8 July 2018
Senior Division 1
Deadlock again for Ernesiders


More
2 June 2018
Senior Division 1
Rooney gets Aodh Ruadh deserved share of the spoils


More
29 April 2018
Senior Division 1
Aodh Ruadh earn important win against Dungloe


More
28 April 2018
Under 12 ladies football
Aodh Ruadh entertain Letterkenny


More
15 April 2018
Senior Division 1
Economical Gaoth Dobhair take the spoils in Ballyshannon


More
14 April 2018
Under 8 football
Aodh Ruadh host Four Masters for blitz


More
7 April 2018
Under 12 ladies football
Aodh Ruadh girls get league off to a great start


More
1 April 2018
Senior Division 1
Late McGettigan strike snatches point from Ballyshannon


More
1 April 2018
Senior Reserve Division 1
Reserves chalk up first win of the new season


More
22 March 2018
Under 14 hurling
Aodh Ruadh hurlers get off to the perfect start against Setanta


More
17 March 2018
Aodh Ruadh at the Saint Patrick's Day Parade


More
20 January 2018
Celebrating a year to remember with a night to remember at the Aodh Ruadh Dinner Dance


More
28 December 2017
Annual Colman Kerr matches raise cash for charity


More
25 November 2016
Aodh Ruadh celebrates a year of underage football


More
25 November 2017
Great turn out for Billy Finn Memorial Concert


More
12 November 2017
Under 16 football
Aodh Ruadh do it at the death to take county title


More
10 November 2017
Under 10 football
Winter League finals bring curtain down on a successful season


More
5 November 2017
Under 21 Football
Aodh Ruadh well adrift of hungrier Naomh Conaill


More
5 November 2017
Under 16 football
Super second half sends Aodh Ruadh into championship decider


More
4 November 2017
Under 13 football
MacCumhaill's take county title


More
15 October 2017
Under 13 ladies football
Back-to-back titles for the Ballyshannon girls


More
1 October 2017
Senior Division 2
Division one, here we come!


More
1 October 2017
Senior Reserve Division 2
Reserves too hot for Malin


More
1 October 2017
Under 16 hurling
Easkey take Alan Ryan Cup as Aodh Ruadh claim the Seamus Grimes trophy


More
24 September 2017
Under 12 hurling
Keady claim Aodh Ó Dálaigh title


More
10 September 2017
Underage football
Euro-Shot Challenge 2017


More
2 September 2017
Under 14 football
Ballyshannon book semi-final spot


More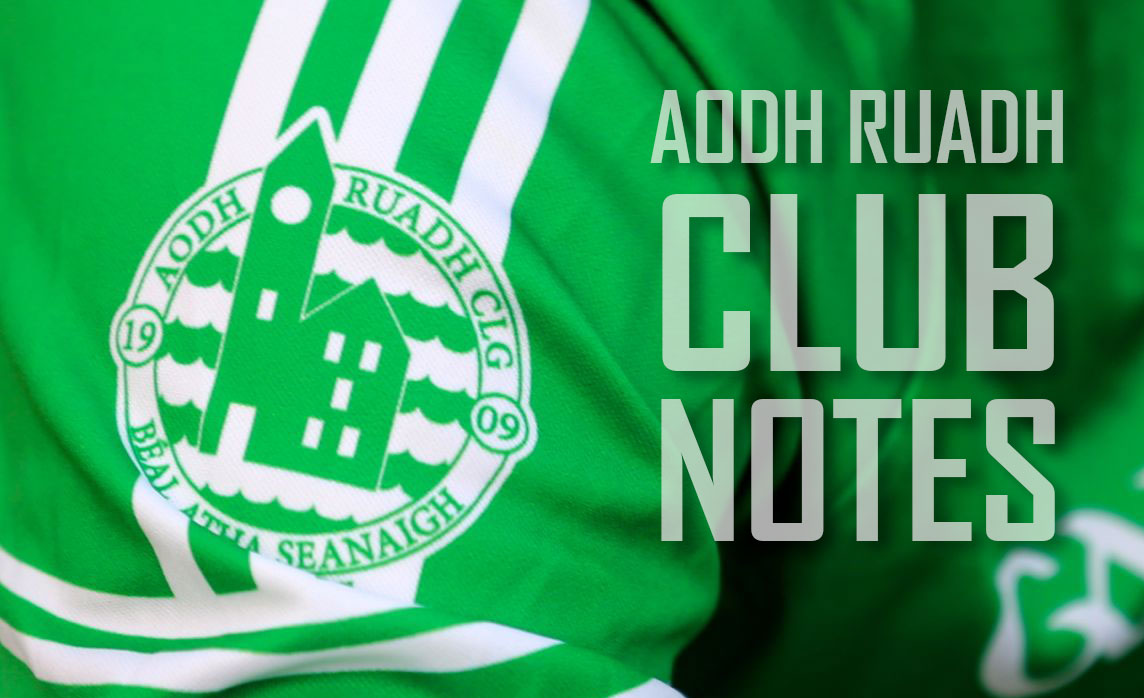 9 July 2019
Football
Aodh Ruadh's scheduled senior and reserve games against Glenfin were postponed. Aodh Ruadh reserves return to action this Saturday when they play Four Masters in the league at 6pm. The seniors will take on the Donegal town men the following Saturday, 20th July, down in Tir Chonaill Park.
It wasn't to be for Gerald McGloin's charges on Sunday evening as they took on Gaoth Dobhair in the under 16 county decider in Letterkenny. Aodh Ruadh were clearly showing the weariness of playing a bruising county semi-final which went to extra-time just 48 hours previously. In addition Gaoth Dobhair were not in charitable mood. Aodh Ruadh trailed by two goals at the break, but looked far from out of it. The Ernesiders did close to within four points of the Gaeltacht lads, but a couple of sucker punch goals ended Ballyshannon's chances, not to mention putting an unwarranted gloss on the final scoreline for the victors. The game ended Aodh Ruadh 2-7 Gaoth Dobhair 4-12, but nevertheless the lads can carry their heads high. Making a county final is a feat in itself, and there's no doubt this squad will have their day in the sun yet. Huge credit to keeper Aaron Horan for flying home early from his holidays to do nets. There was absolutely nothing he could have done about any of the goals. Colm McGloin put in a great shift in the defence, while the midfield pairing of Matt Gillespie and Aaron Neilan worked tirelessly. Some of Aodh Ruadh's best performances came in the attack with Marty McGarrigle, Danny Breen Brosnan and Damian Weber all giving their markers their fill of it. Mitchell McLaughlin also impressed on his introduction. We have a full final match report up on aodhruadh.org. The under 16s booked their place in the final courtesy of a rollercoaster one point extra-time over against Milford in Father Tierney Park on Friday, 6-14 to 2-23 was the final score. We have a great gallery of pictures from the game up on aodhruadh.org.
The under 14s made one of the longest intra-county journeys in the GAA when they travelled to tackle Malin on Monday evening. Unfortunately the 260km round trip won it on this occasion. There was just a point between the sides at half-time with the scores pegged at 2-6 to 1-8. Unfortunately the Inishowen men got goal-happy in the second half and the Ernesiders lost out on a 7-11 to 4-9 scoreline.
The under 11s hosted Grange on Saturday morning. Aodh Ruadh ran out winner's in the end of a good competitive contest. The boys really put in a team performance, with all 16 lads working very hard on the pitch. A very positive team performance. Training continues Monday and Fridays at 7.15pm. The team should have a game this coming Saturday also. Details will be notified to players in due course.
Under 8 training continues as normal on Friday from 6pm to 7pm in Páirc Aoidh Ruaidh. The team have a home game against Killybegs this Saturday.
Ladies
Aodh Ruadh under 16s made it two from two with a hard earned win over a determined Saint Eunan's outfit last Tuesday. The first half was evenly fought. Katie O'Brien settled the homesters with a point five minutes in, but Saint Eunan's levelled a couple of minutes later. A Sarah Jane Keon point was also quickly cancelled out. Points from Danielle Gallagher and Katie O'Brien (2) were then answered by a trio of scores from Eunan's to make it all square with the interval looming. A well taken point from Sarah Jane Keon gave the Ernesiders the slimmest of half-time leads. The Letterkenny girls got back to parity just three minutes into the new half. Aoibhínn McGarrigle clipped over two points, but the O'Donnell park outfit continued to battle back and going into the final quarter they pointed to leave the minimum in it. Aodh Ruadh upped the tempo heading to the final whistle and two quick fire identikit goals helped give the hosts a cushion they would maintain to the end. Lucy McGlynn laid off to Niamh Hughes after a blistering run and Hughes released Aoibhínn McGarrigle to blast to the back of the net. Unanswered points from Katie O'Brien and Caitlin McGarrigle and Aoibhínn McGarrigle wrapped up the Aodh Ruadh scoring, leaving them ten points to the good. Saint Eunan's did finish with a good rally of points, but the win went the way of the homesters after an absorbing and sporting contest, Aodh Ruadh 2-11 Saint Eunan's 0-11. Áine Hill had another fine game between the posts, while in front of her Eilish Gallagher was in exceptional defensive form. Caitlin McGarrigle put in another polished display in the middle third. Up front Danielle Gallagher tied things together really well. We have pictures from the game up on aodhruadh.org. This Tuesday sees the girls' first game on the road. They travel to Inishowen to take on Carndonagh, throw-in at 7pm.
Under 13 training takes place on Tuesdays in Páirc Aoidh Ruaidh from 5.30pm to 6.45pm.
The under 12s had a very enjoyable training session on Tullan Strand on Saturday morning. They are in Belleek this Wednesday for a challenge. The game gets going at 7pm and players are to be in Belleek for 6.15pm. The next league game is this Saturday against Gaoth Dobhair in Father Tierney Park. All players to be up to the park for 11.15am.
Hurling
The senior hurlers take on Saint Eunan's in the Junior Championship this Saturday in Father Tierney Park. Throw in is at 7pm and all support would be very welcome.
Aodh Ruadh minors are also due out in championship action this week. They are down to take on Dungloe / Gaoth Dobhair in Father Tierney Park this Thursday at 7.30pm.
The under 12s were in action at home again last Thursday against Carndonagh. The lads hurled really well against a physically strong Carn team and ran out worthy winners on a 3-7 to 2-5 scoreline. This enthusiastic squad have being working hard all season and it is encouraging to see such good numbers at this age level. They are away to Four Masters this week.
Underage hurling training continues on Sunday for all teams at 12 noon.
OsKaRs Show Night
Relive the glitz and excitement of the Aodh Ruadh OsKaRs this Saturday when we stage an OsKaRs Show Night in the Abbey Centre. We will be showing all seven films with the screenings getting under way at 7.30pm sharp. Tickets, priced €10 are only available at the Abbey Centre Box Office, so call now on 071-9851375 to book yours.
Pitch bookings
Wednesday
Father Tierney Park, 6pm. Under 14 ladies football challenge - Aodh Ruadh v Glencar / Manorhamilton
Father Tierney Park, 7.15pm. Senior ladies football league - Aodh Ruadh v Four Masters
Thursday
Father Tierney Park, 7.30pm. Under 18 hurling championship - Aodh Ruadh v Dungloe / Gaoth Dobhair
Saturday
Father Tierney Park, 12 noon. Under 12 ladies football league - Aodh Ruadh v Gaoth Dobhair
Father Tierney Park, 7pm. Junior Hurling Championship - Aodh Ruadh v Saint Eunan's

Páirc Aoidh Ruaidh Fitness Trail
It is great to see so many people using the new fitness trail facility at Páirc Aoidh Ruaidh. It is being used regularly now by all age-groups. For health and safety reasons dogs are not permitted in our grounds. This message has not got through to a small number of people. In the interests of everyone who uses our facilities and the people who work hard seven days a week to cope with all the activity and maintain the grounds, we are asking again that everyone complies with the no dogs rule.
Summer Camp
The Aodh Ruadh Summer Camp continues this week. There's loads to do with football, hurling, swimming, rounders, obstacle courses and plenty of other fun and games. Each week of the camp concludes with a sports day on Friday. The camp runs from 10am to 3pm and is open to all children from 6 to 14 years-of-age. Apart from being great fun, the camp represents excellent value with family concessions available. Children should bring a packed lunch as no one will be allowed to leave the camp during the day. No nuts are allowed as some of the children attending have a severe allergy. Remember sun cream for your child. Even in overcast weather burns can happen.
Could you be king or queen of the Erne?
Ballyshannon and District Museum are holding a Medieval Day on Sunday August 4th this year at the Holy Family School. We are looking for any fit young men or women over 14 years of age to take part in a series of medieval events of skill, strength and speed with the winners to be crowned King of the Erne and Queen of the Erne. For further details contact Proinsias Mag Fhionnghaile at pmagfhionnghaile@hotmail.com.
Abbey Centre Bingo
Last week's €400 bingo jackpot was won by Mary Cleary of Ballyshannon. The stand-up game prize of €125 was won by Caitlin O'Brien. Winners of the €100 houses included Mary McGonigle, Teresa Ward, Kathleen Curran, Teresa Campbell and Caroline Walsh. The summer snowball keeps climbing and sits on €850 this week. Bingo as usual this Friday night at the Abbey centre with a €2,350 prize fund, first game at 9pm. Books priced just €10.
---
Last modified: Monday, 8 July 2019 at 11:24pm

Read more in the club notes archive.