Welcome to Aodh Ruadh
Lotto
19th May 2019
7
8
9
12
17
18
There was no winner of the lotto jackpot of €6,400.
Next draw is Sunday at 8.30pm in Owen Roe's Bar with a jackpot of €6,500
Lotto Rota:
- Reserve Footballers
- Bord na nÓg
- Senior Hurlers
- Senior Footballers
- Ladies
- Juvenile Hurlers
The lotto team for the McCosker's Centra on Saturday is:


Senior Footballers.



In the lucky dip €20 went to Aiden Murray, Cluain Barron; Eilis McNeely, c/o The Limit; Marian Matthews, Erne Dale Heights; Amy Loughlin, Higginstown; and James Monaghan, Pettigo.

More Lotto information
---
Twitter
Tweets by @aodhruadh
What's new
6 May 2019
Under 14 hurling
Ballinascreen take Finn Larkin title back to Derry


More
3 May 2019
Junior Hurling League
Ernesiders too strong for Letterkenny Gaels


More
30 April 2019
Under 14 ladies football
Three on the trot for under 14 girls


More
19 April 2019
Senior Division 2
Good Friday for Ballyshannon as they get the better of Naul's


More
7 April 2019
Senior Division 2
Aodh Ruadh up and running with convincing win


More
8 July 2018
Senior Division 1
Deadlock again for Ernesiders


More
2 June 2018
Senior Division 1
Rooney gets Aodh Ruadh deserved share of the spoils


More
29 April 2018
Senior Division 1
Aodh Ruadh earn important win against Dungloe


More
28 April 2018
Under 12 ladies football
Aodh Ruadh entertain Letterkenny


More
15 April 2018
Senior Division 1
Economical Gaoth Dobhair take the spoils in Ballyshannon


More
14 April 2018
Under 8 football
Aodh Ruadh host Four Masters for blitz


More
7 April 2018
Under 12 ladies football
Aodh Ruadh girls get league off to a great start


More
1 April 2018
Senior Division 1
Late McGettigan strike snatches point from Ballyshannon


More
1 April 2018
Senior Reserve Division 1
Reserves chalk up first win of the new season


More
22 March 2018
Under 14 hurling
Aodh Ruadh hurlers get off to the perfect start against Setanta


More
17 March 2018
Aodh Ruadh at the Saint Patrick's Day Parade


More
20 January 2018
Celebrating a year to remember with a night to remember at the Aodh Ruadh Dinner Dance


More
28 December 2017
Annual Colman Kerr matches raise cash for charity


More
25 November 2016
Aodh Ruadh celebrates a year of underage football


More
25 November 2017
Great turn out for Billy Finn Memorial Concert


More
12 November 2017
Under 16 football
Aodh Ruadh do it at the death to take county title


More
10 November 2017
Under 10 football
Winter League finals bring curtain down on a successful season


More
5 November 2017
Under 21 Football
Aodh Ruadh well adrift of hungrier Naomh Conaill


More
5 November 2017
Under 16 football
Super second half sends Aodh Ruadh into championship decider


More
4 November 2017
Under 13 football
MacCumhaill's take county title


More
15 October 2017
Under 13 ladies football
Back-to-back titles for the Ballyshannon girls


More
1 October 2017
Senior Division 2
Division one, here we come!


More
1 October 2017
Senior Reserve Division 2
Reserves too hot for Malin


More
1 October 2017
Under 16 hurling
Easkey take Alan Ryan Cup as Aodh Ruadh claim the Seamus Grimes trophy


More
24 September 2017
Under 12 hurling
Keady claim Aodh Ó Dálaigh title


More
10 September 2017
Underage football
Euro-Shot Challenge 2017


More
2 September 2017
Under 14 football
Ballyshannon book semi-final spot


More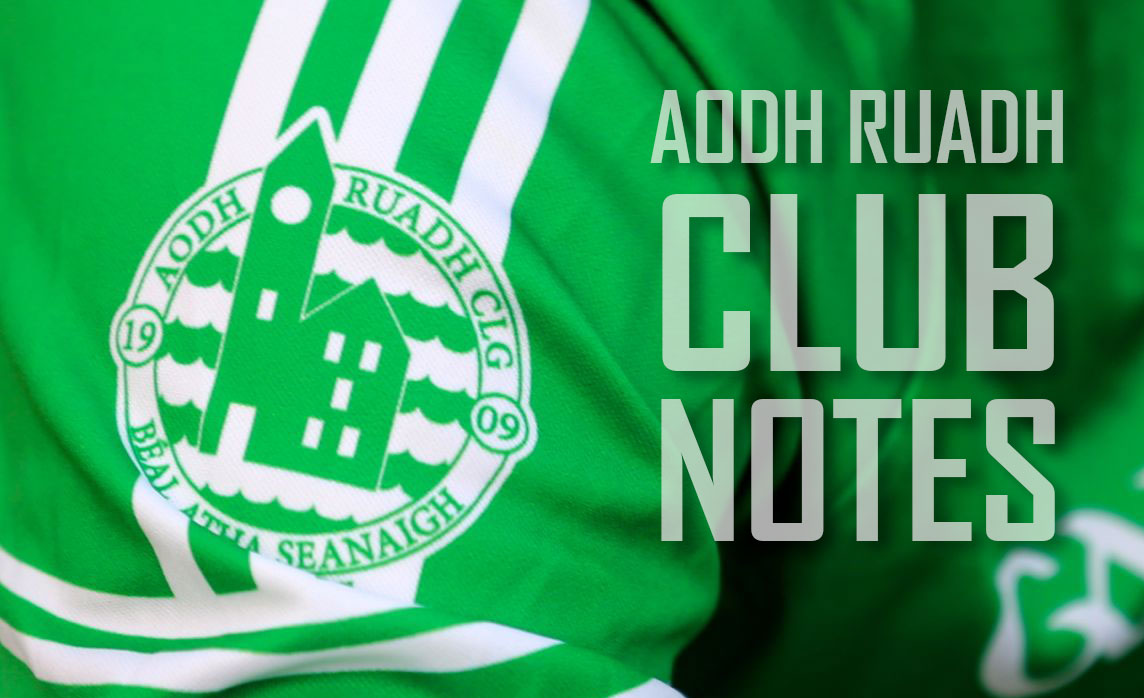 21st May 2019
OsKaRs - What a night!
If ever an occasion lived up to its billing it was Saturday night's OsKaRs extravaganza in the Great Northern. Such a turn out, such style and such entertainment! The event would not have been the success it is without the help of so many people. The OsKaRs committee of William Doogan, Lisa McTernan, Sabrina Brosnan, Paul Gillespie, Andrea Gallagher, Gerard Ferguson and Siobhan McGarrigle would like to take this opportunity to express their sincerest gratitude and thanks to the following. First and foremost, our unbelievably talented group of actors and actresses. Their commitment, dedication and hard work has been immense from the very beginning of this project. It has not always been easy, but it has always been a great laugh. Many new lifelong friendships have been made. To the families of the actors for their support and patience. To all the extras who stepped into the various films. Many thanks to our main sponsor, EJ's Menswear. To Kevin Rowe events, working with Kevin, Rachel, Gemma, Conor, Chris and Anthony has been a pleasure throughout this whole experience. To all our sponsors, whether big or small, your support of the actors and the Aodh Ruadh club has been immeasurable. We greatly appreciate all your support, from sponsoring actors, donating raffle prizes to allowing our actors use of premises for fund-raisers. To our three judges, Maura Logue, Andrea Gilligan and Ryan McHugh. We thank them for giving us their time to be there. To all who allowed our film crews and actors into their homes and premises and to those who lent us some very realistic props. ErnePrint for their help and patience in getting the brochure ready for the event and to Linda Clyne for her help with the brochure. To all who helped out in various roles, either leading up to the big night or on the night itself. We thank James Warnock who DJed the after-party. Thanks to Karen and all the staff at the Great Northern Hotel for all their assistance. To Pauric Bromley, Ocean FM, Michael Daly and Michael McHugh for their help with the press releases. Thank you to Kevin Byrne, Seamie McPhelim and Simon Foley for providing transport for our actors and guests. Finally, last but not least, to all who attended our OsKaRs night, a sincere thank you and we hope you all thoroughly enjoyed what was an unforgettable night of entertainment.
The award winners on the night were as follows. Best Supporting Actress - Cathy McVeigh as Megan from Bridesmaids; Best Supporting Actor - Jon Dunt as Paul from Misery; Best Actor - Paul Touhy - The Bull McCabe in The Field; Best Actress - Caroline Freeman Roper as Siobhan in Love / Hate; Highest Grossing Actor - Amanda Mahon - The Field; Highest Grossing Film - The Snapper; Best Production - The Shawshank Redemption; Best Scene - The Hangover; Best Film - The Field.
For the record the film casts and co-ordinators were as follows.
MISERY: Jon Dunt, Roisín Lee, Catherine McKee. Co-ordinator: Siobhan McGarrigle
THE SHAWSHANK REDEMPTION: Ken Monaghan, Gerard Ferguson, Cian Dolan, Daniel Grimes, Diarmaid McInerney, Damian Conlon, Kenny Vaughan. Co-ordinator: Gerard Ferguson
THE SNAPPER: Sarah Daly, Eunan Doyle, Dolores Gillespie, Aaron Brennan, Terry Hughes, Carol Devanney, Teresina Mitchell, Janette McTernan, Natasha Gormley, Danika Doherty, Gaby McGloin, Tanya Dunne, Catherine Doogan, Geraldine Rodgers. Co-ordinator: Andrea Gallagher
BRIDESMAIDS: Kathy McEniff, Audrey Hannigan, Áine Cronin, Sarah O'Reilly, Aoife McLoone, Cathy McVeigh, Catriona Doogan. Co-ordinator: Lisa McTernan.
THE FIELD: Paul Touhy, Paddy Campbell, Teresa Maguire, Daithi Breen, Amanda Mahon, Claire Downey, Ronan Brennan, Denis Daly, Brian Gillespie. Co-ordinator: Sabrina Brosnan.
THE HANGOVER: Brian McGuinness, Eamonn McGrath, Chris McHale, Jason Granaghan, William Doogan. Co-ordinator: William Doogan.
LOVE / HATE: Seamus McHugh, Andy Brennan, Caroline Freeman Roper, Diarmaid McInerney, Packie McGrath, Maria McGee, Marie McCready, Geraldine Killalea, Paul Gillespie, Ronan McShea, Donagh McInerney, Jackie Lilly, Sandra Hughes, Cathal Gallagher. Co-ordinator: Paul Gillespie.
You can relive what was truly a wonderful night by having a browse through our gallery of almost 500 images on aodhruadh.org. Well done to one and all, you really did the club proud.
Football
Aodh Ruadh return to adult action this Saturday when Termon are the visitors to Father Tierney Park. Reserves go off at 5.30pm followed by the seniors at 7pm.
Aodh Ruadh opened their minor league on Monday evening with a convincing 6-11 to 1-7 win over Dungloe. A squad of 30 players were on duty as the side christened their new jerseys, kindly sponsored by CJ Farrell International, in some style. Aaron Cullen's kick outs were on point and the whole team worked the restarts well. Adam Clarke and Kyle Murray marshalled the full back line with great confidence and aggression, while there were powerful performances from the half back line of Mark McGlynn, captain Shane Gillespie and Aaron Neilan. As ever Odhran McGarrigle worked hard and foraged well around half forward and was a constant thorn in Dungloe's side. The partnership of Tiernan Flood Dolan and Matt Gillespie also gelled well together while Eoin Doherty and Cian Rooney linked well in the attack and caused plenty of problems for the Gaeltacht men. We have pictures from the game, and the new jerseys, up on aodhruadh.org.
The under 16s just had too much for Naomh Conaill when the sides met in the Southern Divisional semi-final in Father Tierney Park on Friday. The Ernesiders had the game more or less wrapped up by half-time and went on to run out winners on a scoreline of 7-9 to 1-5. Ryan Keenaghan at full back and Aaron Neilan at half back ensured there weren't too many crumbs falling Glenties' way. Kyle Murray and Matt Gillespie very much got the better of things in the middle third while in the attack there were nice scores from Cian Rooney and Mitch McLaughlin. We have a gallery of pictures from the game up on aodhruadh.org. Next up is the Southern Divisional final against Four Masters. That takes place this Sunday at 7pm in Ballintra's Páirc Naomh Bríd. The Ulster SFC quarter-final in Enniskillen notwithstanding, we'd like to see a good Ballyshannon support there to cheer the lads on.
The under 12s hosted Ardara for an intensely contested couple of games in Páirc Aoidh Ruaidh on Friday evening. The senior game saw both sides fully committed in a match which ebbed and flowed. Ted O'Donnell was superb for the hosts in the centre of the field while up front Oran Gillespie took some really nice scores. Further back Corey Sheridan and Liam Doogan were both very steady in the defence. Ballyshannon would have been good value for the win, but it wasn't to be and the visitors emerged victors on a scoreline of 1-11 to 3-8. Aodh Ruadh fared better in the junior game where they had too much for the Pearse Park lads. Jun Hui Lin continued his fine vein of form with another strong outing while Dara O'Mahoney did a good job of carrying the game to the visitors. We have a gallery of pictures from the game up on aodhruadh.org. Next up for the team is a challenge against Saint Mary's, Sligo this Tuesday in Father Tierney Park. Players are to be at the park 6.15pm. The lads are back out in league action this Friday when they travel to Donegal town to take on Four Masters, first game getting underway at 7pm.
Our under 8 boys team hosted Naomh Columba on Friday evening. We had a panel of 45 boys, and four games were played simultaneously. There were some great displays of skill and determination which were enjoyed by the large turn-out of parents and supporters. The weather was superb and made it a great evening of football enjoyed by all. We have a great gallery of pictures of the action up on aodhruadh.org. Training continues this Friday at 6pm.
Ladies
The senior ladies lost out to Gaeil Fhánada in the Intermediate championship on Sunday.
The under 12s had their second league outing on Saturday when Saint Eunan's were the guests in Páirc Aoidh Ruaidh. The juniors got proceedings under way. Once again Ellie Lilly was excellent in goals pulling off some fine saves. The half-back line featured two contenders for player of the match. Lucy Byrne was really outstanding with Ellie Brennan giving good assistance. In the attack Lucy Cleary was immense with her determined tackling a real treat to see. Sadhbh Hughes contributed well when moved back out to midfield while Rihanna Reynolds took her score well. The seniors enjoyed an excellent, well-balanced contest with the O'Donnell Park girls. We faced the wind in the first half and Saint Eunan's made good use of the elements to take a nine point lead in at the interval. The Letterkenny girls hit a further 2-1 in the second half, but Aodh Ruadh launched a strong come-back with some score-taking of the highest order. In the end it finished honours even, Aodh Ruadh 3-14 Saint Eunan's 6-5. Katie McGowan, Jessica O'Mahoney and Andrea Moore worked relentlessly in defence, particularly in the first half when the pressure was on. Strong scoring from Lauren Foy, Orlaith Gallagher and Pearl McHugh helped secure the Ernesiders a share of the spoils. Training as usual this Wednesday from 7pm to 8.15pm.
Under 10 training continues on Wednesdays from 5.45pm to 6.45pm in Páirc Aoidh Ruaidh.
Under 8 training continues this Wednesday at 5.45pm in Páirc Aoidh Ruaidh.
Commiserations to Caitlin McGarrigle, Eilish Gallagher and Orla Keon and the Donegal under 16 ladies who lost out Tyrone in their Ulster final on Saturday. Good luck to Megan Kane and the under 14 Donegal team who are in action this weekend in Annaghdown, Galway in the All-Ireland series where they will be taking on Fermanagh, Waterford and Tipperary.
Hurling
Aodh Ruadh seniors travelled to Omagh on Friday evening to take on Saint Enda's in the Junior Hurling League. This was a gripping encounter where the lead changed hand on numerous occasions and where the sides were level a number of times. As we headed into the closing stages of the game there was nothing to separate the sides, but the Aodh Ruadh lads got the last score to run out winners on a 2-13 to 2-12 scoreline. This was a tough, hard hitting and fair encounter where our young squad stood up to the physical challenge posed by the Tyrone men. We are up against table toppers Carndonagh in Father Tierney Park this Friday. Throw-in is at 7.45pm.
The minors travelled to the Cross on Sunday to play Dungloe / Gaoth Dobhair in the B league final. When these sides met in the opening game of the league the west Donegal lads inflicted a 31 point trouncing on our very young squad. Lesser teams would have thrown in the towel at that stage, but the lads fielded week after week with small numbers and continued to work hard and improve. They had some good performances along the way including a couple of great wins over Burt which saw them make the final. Of the 17 lads who travelled on Sunday nine of them were under 16. They were determined to give it all they had to claim the title. We trailed at half time by five points, 2-5 to 0-6, but the lads still believed they could claim the silverware. They put in a storming second half and fought for every ball and never gave up and after five agonising minutes of injury time they claimed the league title 3-12 to 2-13. There were great celebrations among the players and the loyal supporters who stood by the lads all year. County Hurling Secretary Paddy Lennon presented the cup to captain Adam Rami who gave a rousing speech to match his performance on the field.
The under 14s travelled to Burt for their final league game last Thursday and came home with the points to secure their place in the A final against Carndonagh. The final is on Thursday evening in Carn where the lads will be hoping to retain their league title.
Well done to John Larkin and his under 8 squad who did very well at their second blitz of the year in Convoy on Sunday.
Aodh Ruadh under 14 hurlers are heading to Cork for the Féile na nGael National Finals on the weekend of 7th to 9th June. Our main fund-raiser for this trip will be our annual clothes collection. All unwanted clothes, shoes, bags and belts are welcome. No duvets or pillows please. To arrange collection contact any of the following please: Lorraine Duffy 087-6874393, Teresa Maguire 086-3983076, Denis Daly 086-3269550 or John Rooney 086-2587793.
Underage hurling training continues on Sunday for all teams at 12 noon.
Pitch bookings
Tuesday
Father Tierney Park, 7pm. Under 12 boys football challenge - Aodh Ruadh v Saint Mary's, Sligo.
Wednesday
Father Tierney Park, 7pm. Under 12 boys football challenge.
Father Tierney Park, 8.15pm. Adult football challenge - Aodh Ruadh Reserves v County Masters.
Friday
Father Tierney Park, 7.15pm. Junior Hurling League - Aodh Ruadh v Carndonagh.
Saturday
Father Tierney Park, 1pm - Under 15 regional League - Derry A v Mayo A.
Páirc Aoidh Ruaidh, 1pm - Under 15 regional League - Derry B v Mayo B.
Father Tierney Park, 5.30pm. ACFL Reserve Division 2 - Aodh Ruadh v Termon.
Father Tierney Park, 7pm. ACFL Division 2 - Aodh Ruadh v Termon.
Monday 27th May
Father Tierney Park, 7pm. Under 14 boys football league - Aodh Ruadh v Four Masters.
May Big Bingo
The May big bingo takes place a week early this Friday at the Abbey Centre. There will be a mighty prize fund of €3,200 including the €1,000 super jackpot which must be won. The snowball is €500. Books are priced €15 or get the book and a half special for €20. First game at 9pm.
Abbey Centre Bingo
Last week's €400 bingo jackpot was won by Pat Treacy of Belleek. The stand up game prize of €110 was won by Madeline Gibbions of Ballyshannon. There was no claim on the snowball prize so it rolls up to €500 this week.
---
Last modified: Tuesday, 21 May 2019 at 1:16am

Read more in the club notes archive.