Bundoran lift U-14 South League title
U-14 Southern League
25 August 2006
Bundoran 4-11
Aodh Ruadh 2-03
Report by Peter Campbell
Bundoran claimed the Southern U-14 League title with a convincing win over Aodh Ruadh in Pairc Naomh Brid on Tuesday night.
With the wind at their back in the first half they raced into a 2-2 to 0-1 lead after twelve minutes, thanks to the accuracy of centre-half forward, Stephen O'Reilly, who accounted for 2-1 of that.
By the time the final whistle had sounded O'Reilly had accumulated the grand total of 4-6 in an impressive individual display. At half-time Bundoran led by 2-6 to 0-3 but two Aodh Ruadh goals (both from Peter Boyle) early in the second half reduced the leeway to just five points.
But the Ballyshannon side failed to score after that and when their heads went down, Bundoran took over again with Brandon Goodwin impressive at midfield and Neil Chapman a great ally for O'Reilly up front.
All over the field Bundoran were stronger physically with Nathan Carlin-Rosario in control at centre-back and there was a great battle between Bundoran captain, David Stuttart at full-back against Peter Boyle. This was probably one of the few battles Aodh Ruadh won and even though they battled gamely with good displays from goalkeeper, Conor Patton; Cillian Doyle, Ronan Drummond, Tommy Patton and Ruairi Drummond, they were never able to get within touching distance.
Both sides go through to the Co. semi-finals of the league and both are also still involved in the championship.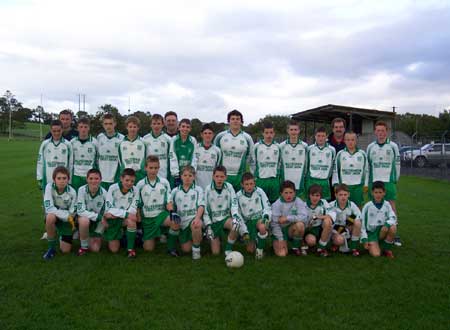 The Aodh Ruadh team that took on Bundoran the U-14 South League final.
Vital Statistics
Teams
Bundoran
Niall McGonigle; Gerard Gillespie, David Stuttard, Rory O'Reilly; Gary Clancy, Nathan Carlin-Rosario, Aidan Coyne; Brandon Goodwin (0-2), Brian Cassidy; Lee Creevy, Stephen O'Reilly (4-6), Darren Cassidy; Diarmuid Spratt, Neal Chapman (0-3), Braonan Drummond.
Substitutes
Jonathan Boyle for Drummond; Donal O'Keeffe for Cassidy; Ciaran Carty for Creevy; Aidan McNulty for Gillespie; Conor Doherty for Spratt.
Aodh Ruadh
Conor Patton; James Kelly, Cillian Doyle, Nathan McGarrigle; Ryan Hoey, Ronand Drummond, Martin Larkin; Paddy Meehan, Gerard Kelly; Stephen Clarke, Tommy Patton, Luke Toland; Ruairi Drummond, Gary Carty (0-1), Peter Boyle (2-2).
Substitutions
Niall Murray for Toland; Anthony McCann for Murray; Ciaran Keown for McGarrigle; Ben McGowan for Carty; Alan Finan for Larkin; Sylvester Maguire for Clarke.
Referee
Gabriel O'Donnell (Four Masters)
Report Filed: 4 September 2006