Ronan McGurrin takes fiftieth anniversary Bakery Cup
Bakery Cup final
28 October 2007
Ronan McGurrin 3-8
Sylvester Maguire 2-7
John Hughes reports
Fifty years after its inception Ronan McGurrin's team won the Bakery cup in Father Tierney Park last Sunday. On a day of dreadful conditions the God's smiled on Father Tierney Park for an hour and the teams managed to avoid the more major downpours. Sylvester Maguire's side had the better of the first half with David McGurrin registering three neat unanswered points. The football was tentative enough given the underfoot conditions, but Ronan McGurrin's side came more into things as the half progressed and Conor Patton blasted to the net for the first goal of the game. Sylvester Maguire's side weren't long answering back with a goal of their own though, and PJ Gillespie's fine effort seemed to swing the match back in Maguire's favour. There was a sucker punch in store however as Mathew Gettins stole through for a goal in the last seconds of the first half to put Ronan McGurrin's side into a one point lead by 2-2 to 1-4.
Ronan McGurrin's side were able to build on Gettins' goal in the second half posting three points without reply. Sylvester Maguire's side weren't done just yet though and Jack Dolan brought them back to within a point with a superbly struck goal. The goal galvanized McGurrin's side once more and they finished the match the stronger, Ronan McGurrin in particular playing a captain's role scoring a fine goal and a magnificent soaring point from far out on the right wing. Shortly after that great score Terrence McShea blew for full time and Ronan McGurrin's side took the Bakery Cup on a scoreline of 3-8 to 2-7.
The presentation took place in Aras Aoidh Ruadh where there was a great spread laid on and men who had played in the Bakery cup down through the years were in attendance as part of the fiftieth anniversary celebrations.
Many famous names have seen action in the Bakery Cup including the likes of Mickey McLoone, Pauric McShea, Thomas Quinn, Alan Kane, and Martin Carney so it was fitting to see such a good turnout for the fiftieth anniversary of this venerable competition, thought to be the oldest of its kind in Ireland.
The first ever final was played on 14th June 1957, when Padraig McGarrigle's team defeated Tom Kearney's side. The vital goal was netted by Pauric McShea with 10 minutes remaining. McShea went on to lift the cup himself in 1961 in controversial circumstances.
In the 1961 final McShea's team came up against the underdogs Seamus Martin's team and the game ended in a draw, although many spectators thought Martin's side had scraped a win. McShea's team went on to win the replay. In goals for McShea was the 1964 winner Martin Carney, whose side defeated Hughie McGowan's team by 1-4 to 1-0. Carney returned the next year, but his side lost to Louis Boyle's team by 6-5 to 1-4.
Only won person has ever won the title twice, Thomas Quinn in 1962 and 1963.
In the early 60s and 70s teams from the Port and the Rock dominated the competition. The Sheerin family of West Port won in on three occasions; Jim in 1968, Anthony in 1973 and Gery in 1974.
The 1975 final was a unique affair in that, for the first and only time, two brothers qualified for the final; The Gallagher brothers Matt and Pauric from Ballintra. Their sides fought out a close battle with Matt emerging victorious.
A feature of the competition has been that the favourites tend to lose. This was the case in 1977 when Paul Touhy's team defeated P.J. Ward's. Fifty years on the Bakery Cup still generates as much enthusiasm as it did when it started
Club Chairman Terence McShea opened the 2007 Bakery Cup presentation proceedings with a brief introduction before the winning Bakery Cup captain of 1957, Padraig McGarrigle, presented to the trophy to the winner of 2007, Ronan McGurrin. After the presentation Donegal Democrat editor, Michael Daly, compered as Bord na nÓg Chairman Jim Kane presented certificates to players who had taken part in the Bakery cup since its inauguration in 1957. The function concluded with a few words from the Chairman of Ballyshannon Town Council, Eunan Doyle and pictures. Many of those present were able to continue their reminiscences at the culmination of the Centre of Excellence in Dorrian's Hotel later in the evening, where, no doubt a few fine yarns were spun.
Many thanks are due to all who attended and to Jim Kane and Gerry McIntyre who did so much to make the day happen.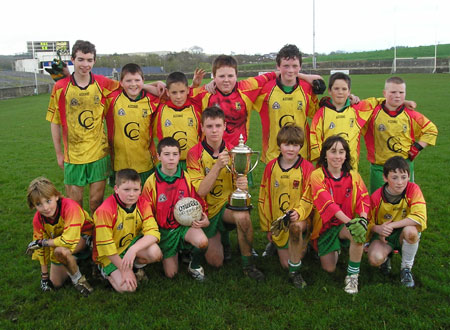 Ronan McGurrin's team which won the 2007 Bakery Cup final. Back row (l-r), Conor Patton, Eamon McGrath, Adam Irwin, Donagh McInerney, Martin Gallagher, Oisín Roper, John Ward. Front row, Conor Patton, Kevin Warnock, Patrick Dixon, Ronan McGurrin, Matthew Gettins, Dominic Boyle, Michael McNeely .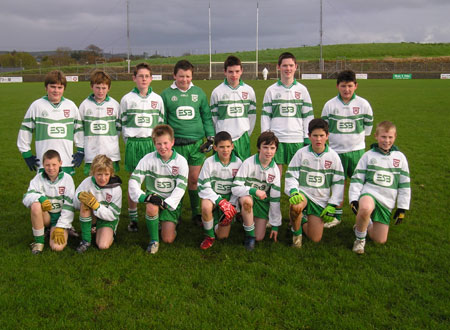 Sylvester Maguire's side which contested the 2007 Bakery Cup final. Back row (l-r), Daniel McIntyre, David McGurrin, P.J. Gillespie, Conor McNeely, Ciaran Keown, Sylvester Maguire, Charlie Patton. Front row, Jack Dolan, Paddy Gillespie, Tommy Gillespie, Ciaran Rami, Matthew Maguire, Fergal Meehan, Ryan Gillen.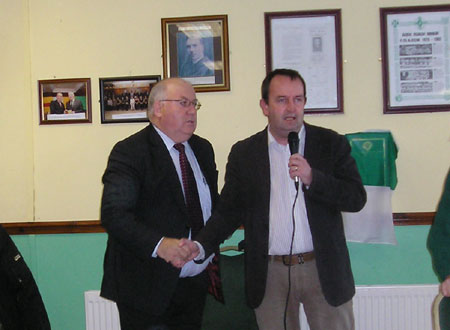 Compere, Donegal Democrat editor Michael Daly, welcomes Padraig McGarrigle to proceedings.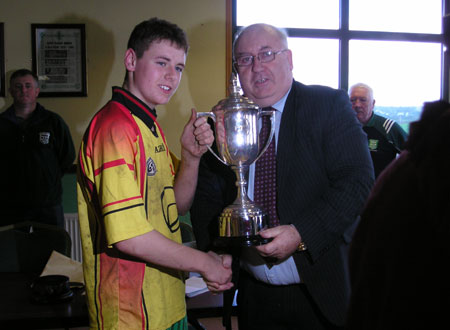 The winning Bakery Cup captain of 2007, Ronan McGurrin, receives the trophy from the winning Bakery Cup captain of 1957, Padraig McGarrigle.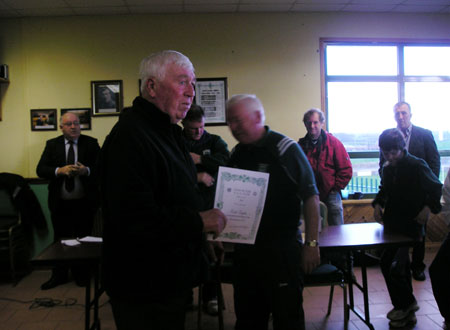 Alan Kane receives a certificate commemorating his participation in the Bakery Cup from the Chairman of Bord na nÓg, Jim Kane.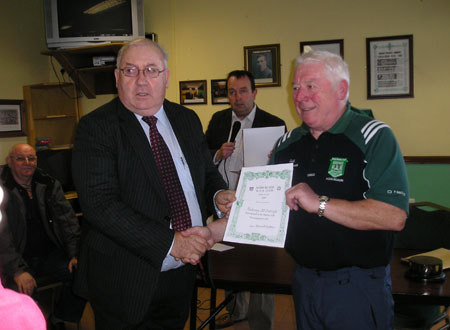 Padraig McGarrigle receives a certificate commemorating his participation in the Bakery Cup from the Chairman of Bord na nÓg, Jim Kane.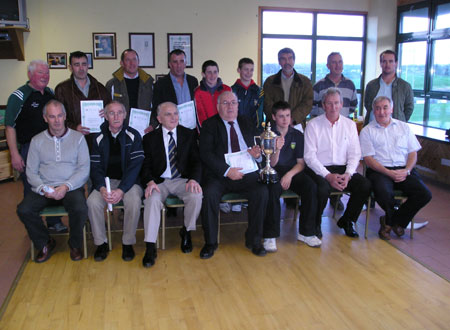 Winning captains from fifty years of the Bakery Cup. Back Row Chairman of Aodh Ruadh Bord na nÓg, Jim Kane, Anthony Sheerin, Paul Touhy, Jim Sheerin, Francis McShea, Alan Finan, Frank Cleary, Pauric Daly, Michael 'Sticky' Ward. Front Row, Ciaran McGinley, Louis Boyle, Michael McLoone, Padraig McGarrigle, Ronan McGurrin, Pauric McShea, Thomas Quinn.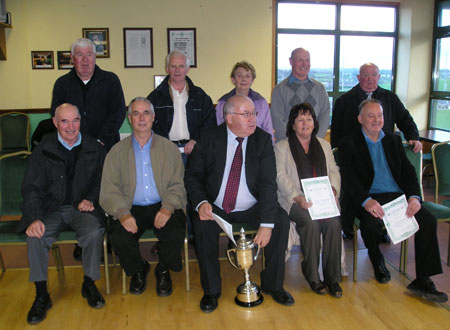 Back Row (l-r) Alan Kane, Gerry Merrifield, Margo Gallagher (wife of Eamon), Willie Sweeny and Paddy Joe Donagher. Front Row (l-r) Seamus Sweeny, Eamon Clancy, Padraig McGarrigle (Captain), Ann Britton (wife of Ernan).
Report Filed: 28 October 2007