PJ Roper Under 16 Tournament 2008
Aodh Ruadh ran the 2008 PJ Roper u-16 Tournament on Saturday, 11 October. Participating in the tournament along with Aodh Ruadh were Melvin Gaels of Kinlough and Saint Molaise Gaels of Grange. After the wash out that was Friday it looked ominous for the weekend, but Saturday supplied uninterrupted sunshine and the Father Tierney Park sod was in fantastic condition.
Victories over Melvin Gaels and Grange secured Aodh Ruadh a place in the final. Melvin Gaels booked their place in the final after a hard fought win against Grange in their second match. Kinlough were 0-1 to 2-2 down at half-time against Grange, but a gutsy display in the second half saw them edge home by 1-7 to 2-3 and book a place in the PJ Roper final along with the homesters.
The opening exchanges of the final were marked by nerves from both sides with Melvin Gaels and Aodh Ruadh exchanging bad wides before Ronan McGurrin drilled over a point from out on the right to open Ballyshannon's account in the fifth minute. Aodh Ruadh continued to apply pressure and a couple of minutes later Ronan McGurrin got the opportunity to add another point, this time from a close range free to the left of the posts.
Things weren't going Kinlough's way and in the eighth minute a shot came back off the Ballyshannon post and was worked out to Peter Boyle. Boyle sliced through the Melvin Gaels defence with a muscular run before offloading to Niall Murray who neatly slung a point over from his right boot.
That point was followed by an extended stoppage to treat an injury. When that was resolved Melvin Gaels were the more alert, Paul Simpson slotting over a well-worked point. The whistle went for half time shortly after sending the sides in at Aodh Ruadh 0-3, Melvin Gaels 0-1
On the restart Aodh Ruadh retook the initiative. Peter Boyle took delivery of a long ball and swung over a fine point. In the period that followed Kinlough had to withstand serious pressure and there was a number of great saves by their goal keeper who starred throughout the tournament. Joe Morris was another who stood out in the Melvin Gaels defence when the heat came on.
However Aodh Ruadh were finding their rhythm and Peter Boyle was causing Kinlough serious problems in front of goals. Five minutes into the second half he fetched another long ball and fed Ben McGowan to dink over a point. Minutes later a shot from Boyle was brilliantly saved by the Gaels' keeper, but Boyle was quick to the rebound and shot to the net.
After the goal the wind went out of Melvin Gaels' sails and Aodh Ruadh finished off the game with three points unanswered points. The first from Ronan McGurrin, was followed by a fisted effort by an industrious Breannain Drummond and Niall Murray concluded the scoring with a close range point clipped over from the outside of his right boot.
The final score of 0-1 to 1-8 was hard on a competitive Kinlough side and particularly for the likes of Peter McGowan and Rory Sheridan who soldiered well throughout the tournament. The win marked the end of a year of positive progress for Aodh Ruadh's under 16s after a long period in the wilderness for the club at this grade.
Aodh Ruadh Bord na nÓg Chairman, Jim Kane, gave a speech praising the efforts of all involved before handing over to PJ Roper's son, county star Brian Roper, to make the presentations. Brian presented the PJ Roper trophy to the Aodh Ruadh captain, Ruairi Drummond to joyous scenes among the home support.
Aodh Ruadh would like to extend their sincere thanks to the participating teams, to those who officiated the matches, those who helped with the refreshments, the stewards and to all those who gave of their time and effort to make the event such a success.
Panels
Aodh Ruadh
Martin Gallagher, Gary Carty, Conor Patton, Stephen Clarke, Kieran Keown, Ronan Drummond, Luke Toland, Peter Boyle, Niall Thomas, Ronan McGurrin, Sylvester Maguire, Niall Murray, Breannain Drummond, Ben McGowan, Gerard Kelly, Thomas Patton, Rory Drummond.
Manager: Barry Gallagher
Melvin Gaels
David McGloin, James McGowan, Joseph Morris, Barry McGeever, Rory Sheridan, John Langan, Peter McGowan, Keith McGloin, Kevin McGowan, Paul Simpson, Conail McGowan, Philip McGowan, Aiden McGovern, Paul Russell, Marcus Harley.
Manager: Noel McGowan
Saint Molaise Gaels
Kalem McGloin, Paul Kelly, Liam Kennedy, Mark O'Hehir, Niall Keegan, Declan Currid, Eamon Burns, Sean Brennan, Dean O'Sullivan, Shane Herrity, Sean Elliot, Sean Kelly, John Gilsenan, Bryan Feighney, Sean Melody, Jamie McLoughlin.
Manager: Paddy Kennedy
Round Robin Results
Father Tierney Park
Aodh Ruadh
0-8
Melvin Gaels
1-3
Melvin Gaels
1-7
Saint Molaise Gaels
2-3
Aodh Ruadh
1-7
Saint Molaise Gaels
0-5
Round Robin League Table
Team
Won
Draw
Lost
Points
Aodh Ruadh
2
0
0
4
Melvin Gaels
1
0
1
2
Saint Molaise Gaels
0
0
2
0
PJ Roper Final
Aodh Ruadh
1-8
Melvin Gaels
0-1
Scorers
Aodh Ruadh
Peter Boyle (1-1), Ronan McGurrin (0-3, 1f), Niall Murray (0-2), Ben McGowan (0-1), Breannain Drummond (0-1)
Melvin Gaels
Paul Simpson (0-1)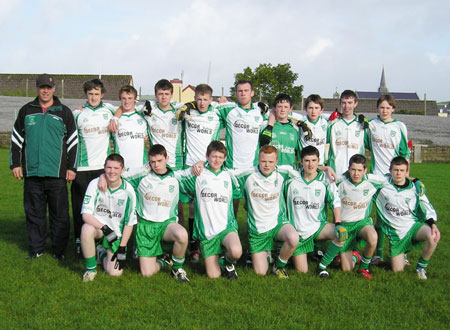 The Aodh Ruadh team which took part in the PJ Roper Under 16 tournament in Ballyshannon last Saturday.

The Melvin Gaels team which took part in the PJ Roper Under 16 tournament in Ballyshannon last Saturday.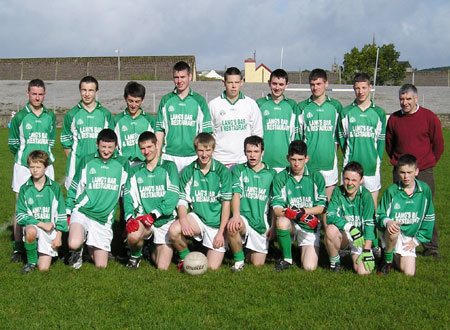 The Grange team which took part in the PJ Roper Under 16 tournament in Ballyshannon last Saturday.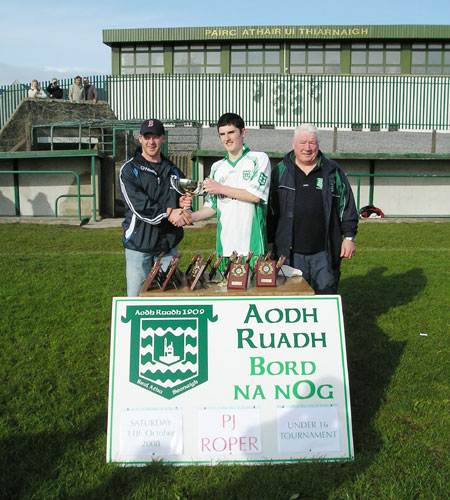 Brian Roper presents the Aodh Ruadh captain, Ruairi Drummond with the winner's trophy after the final of the PJ Roper tournament. Bord na nOg chairman, Jim Kane, is to the right of the picture.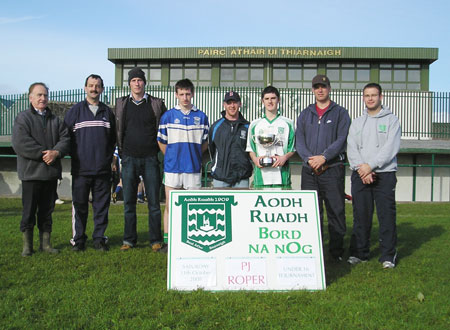 Winners and runners-up together after the final of the PJ Roper tournament. From left to right Michael McGowan, Noel McGowan and Patrick Branley, the Melvin Gaels management team, Keith McGloin, Kinlough captain, Brian Roper, Ruairi Drummond, Aodh Ruadh captain, Barry Gallagher and John Larkin, the Aodh Ruadh management team.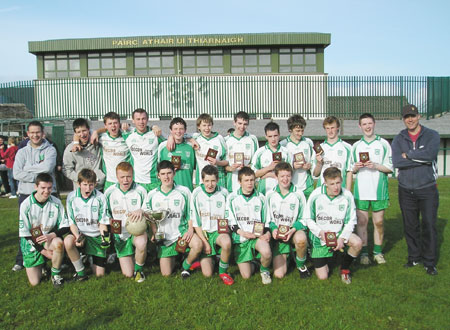 The Aodh Ruadh team celebrate after victory in the final of the PJ Roper Under 16 tournament in Ballyshannon last Saturday.
Report Filed: 13 October 2008