Aodh Ruadh - Under 16 county champions
Under 16 Football Championship
31 August 2011
Aodh Ruadh 2-18
Naomh Mhuire 1-5
John Hughes reports from MacCumhaill Park

The margin of victory gives some indicator of Aodh Ruadh's dominance in this final. They were in almost complete command for the 60 minutes as they won the club's first title at this level for 14 years.
In truth, the game was over after the first quarter when an opening blitzkrieg left Naomh Mhuire reeling. The side's preparations for this game were meticulous and that was reflected in the liquid fluidity of their play in that 15 minutes. Intelligence and economy were the watch words. Jamie McDonald fisted the first point after 16 seconds and that was followed a bare minute later by a free from David McGurrin. The two forwards were exceptional. McDonald's muscularity, pace and brio were elegantly complimented by the lithe stylings of McGurrin.
Three points in three minutes put Aodh Ruadh into a five point lead. McGurrin fisted over on four minutes, followed by a neat James Kelly point and a peach of an effort from Jamie McDonald. Eluding his markers, McDonald showed to the left and pointed with the right.
It was all one way traffic in the opening period and play merely extended build-up to Aodh Ruadh scores. McGurrin lost his marker on eight minutes and pointed. The score which followed demonstrated all the Ernesiders qualities of intelligence, patience and persistence and was finished clinically by Johnny Gethins.
Michael McNeely got on the score sheet before a minute and half of sumptuous football from David McGurrin. First he raced along the end line and flighted over a beautiful point. Then, as Naomh Mhuire struggled to get the ball out of their defense Darren Gethins put in a class tackle to make a defender cough up the ball. Gethins fed McGurrin and, with all the rapacity of an eagle he descended upon Gerard Doyle's goal and slid the ball past him. With 16 minutes on the clock and 1-9 to 0-0 on score board, it was effectively game, set, match to Aodh Ruadh.
The second quarter palpably ebbed as Ballyshannon took their foot off the pedal, no longer always seeking out the most cutting pass, and even hitting the odd stray ball. Jamie McDonald picked up a yellow card on 18 minutes and immediately atoned for it by hitting a wondrous point. The last meaningful action of the first half was a Shaun McCafferty free which finally got the Annagry men on the score board after 24 minutes of football.
With 12 points in it at half time it looked grim for Naomh Mhuire, however they weren't in a county final for no reason and had earlier turned over a ten point deficit against Aodh Ruadh earlier in the season. They opened the second half with blistering goal from Cameron Harley, which was greeted with a roar of mixed relief and delight by the Gaeltacht faithful. Five minutes later they ate further into the lead with another excellent free from McCafferty. Aodh Ruadh seemed rattled and struggled to stay with Naomh Mhuire during that third quarter. It took a determined and gutsy individual point from Colm Kelly on 37 minutes to restore some sense of calm. Ten minutes elapsed before the next score. Naomh Mhuire were doing much of the pressing in this period, but couldn't make it could on the score board. When the next score did come it was a booming long range effort from David McGurrin. Pauric Patton followed that up with a point from even further out. Then with 20 minutes left Johnny Gethins dealt Naomh Mhuire's slim hopes a death blow. The Finner man drove through the Naomh Mhuire cover and slammed home an unstoppable goal to put Aodh Ruadh 14 points up and coasting to the title.
Naomh Mhuire didn't give up the fight though. A Shaun McCafferty free and lovely James Ferry effort, Annagry's first from play made the scores 2-13 to 1-4 with 44 minutes gone.
Aodh Ruadh struck back through Paddy Gillespie who started and finished a move which went practically the full length of the pitch. Two McGurrin frees and a McDonald point pushed the gap back out to 16 points with five minutes left.
The closing stages were fragmentary as both sides ran the bench with the bite gone from the game. Shaun McCafferty, who did cause Aodh Ruadh problems throughout, hit a free to finish out Naomh Mhuire's scoring. However it was Colm Kelly who had the last word, striking over a point a minute into added time to give Ballyshannon a 2-18 to 1-5 win and the county title.
The pitch was invaded on the final whistle and Eamon McGrath was presented with the trophy before making a magnanimous speech and acknowledging the work which had been put into the side over the year.
The result, particularly its style, will be a huge boost for to Aodh Ruadh. The side play a wonderful brand of football, the kind that it is only possible to play when you have footballers of the exceptional composure, intellect and innate ability of this group of young men. Precious few sides in the country could have lived with them on Wednesday evening. A number will doubtless play in the gold and green, it's merely a question of how many.
A day that will endure long in the memory of Aodh Ruadh and one which will, hopefully, see many sequels.
Other reports from the game


Donegal News report


Western Waves report
Vital Statistics
Teams
Aodh Ruadh
Daniel Kelly; Matthew Maguire, Ryan Patton, Colm Kelly (0-2); Patrick Gillespie (0-1), Pauric Patton (0-1), Niall Harley; Eamonn McGrath, Darren Gethins; Johnny Gethins (1-1), Michael McNeely (0-1), James Kelly (0-1); Eddie Lynch, Jamie McDonald (0-4), David McGurrin (1-7, 3f).
Substitutes: Gareth Ferguson, Colm O'Halloran, Matthew Gettins, Conor Kennedy.
Yellow Cards: Jamie McDonald: 13 minutes, Darren Gethins: 37 minutes, James Kelly: 41 minutes.
Wides: 4.
Naomh Mhuire
Gerard Boyle; Alan O'Brien, Patrick Rodgers, Shaun Burns; Conor Boyle, Jack O'Brien, Patrick Delap; Jamie Boyle, Patrick Gillespie; Shaun McCafferty (0-4, 4f), Jack Boyle, Darren Sweeney; Hugh Boyle, Cameron Harley (1-0), James Ferry (0-1).
Substitutes: Jack McDevitt, Ciaran Harden, Conor White, Michael McBride, Ryan O'Donnell, Ronan Duffy, Cathal McBride, Cian Boyle.
Yellow Cards: Hugh Boyle: 18 minutes, Conor Boyle: 41 minutes, Patrick Gillespie: 49 minutes.
Wides: 6.
Referee: Ronan Kennedy (Naomh Ultan)
Thanks to Marita Maguire who took these pictures, apart from three which are kind courtesy of Donna McBride, Donegal News.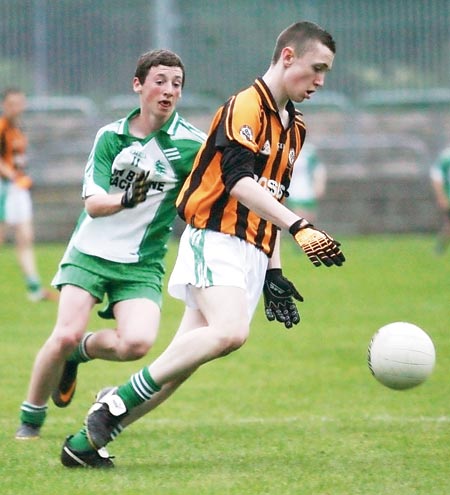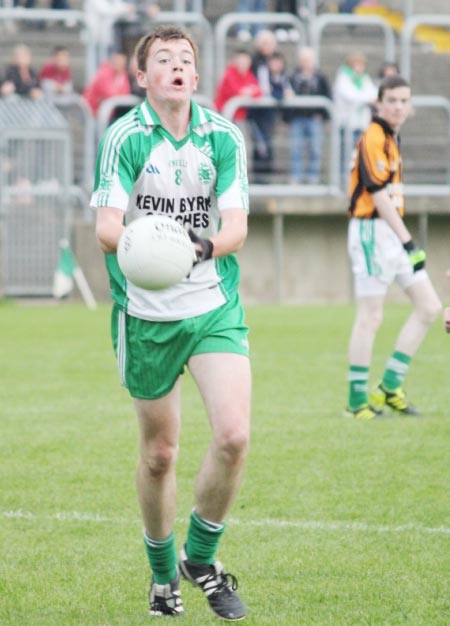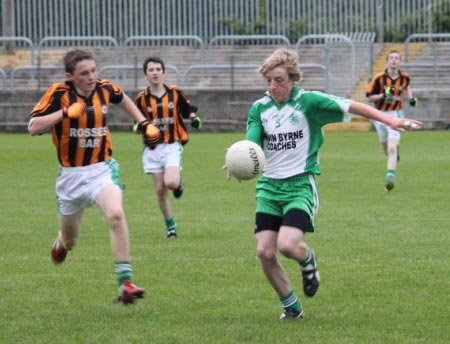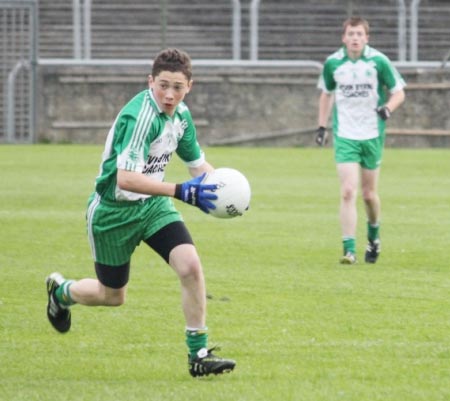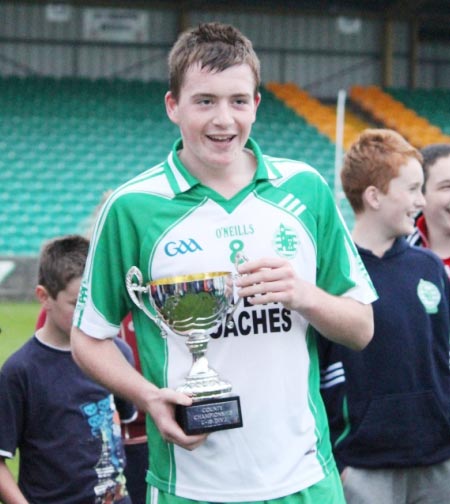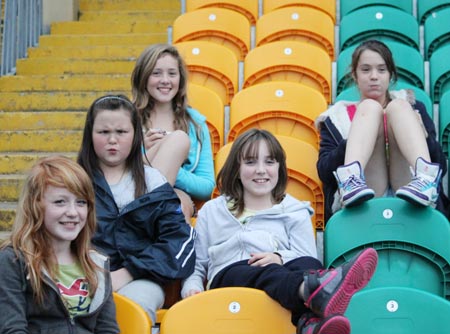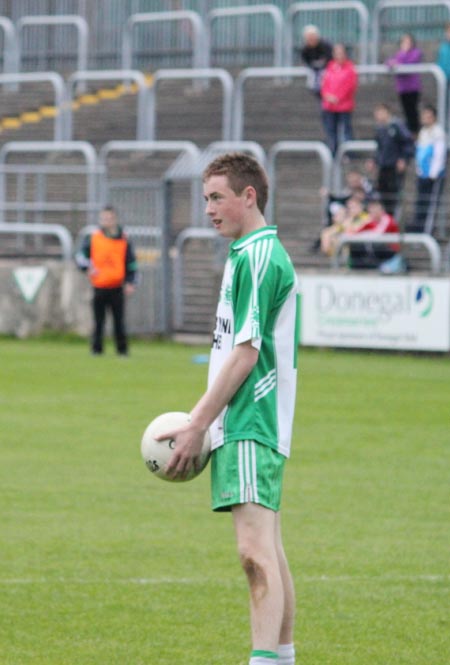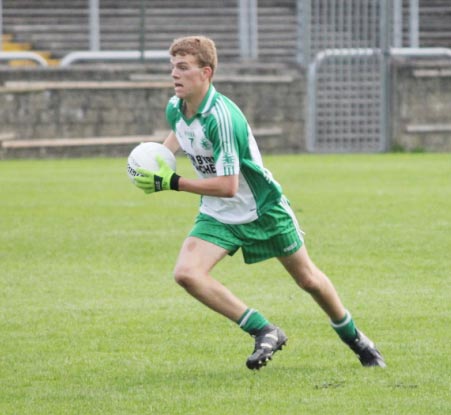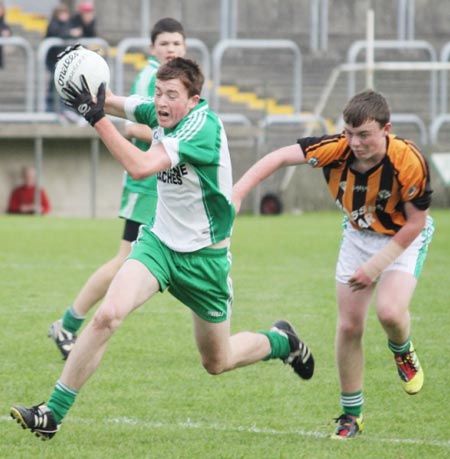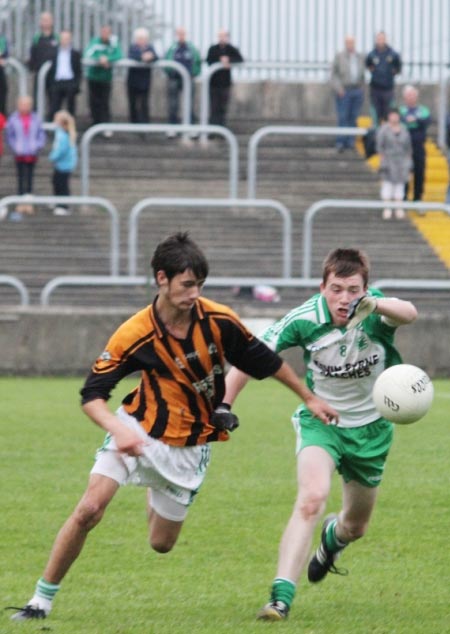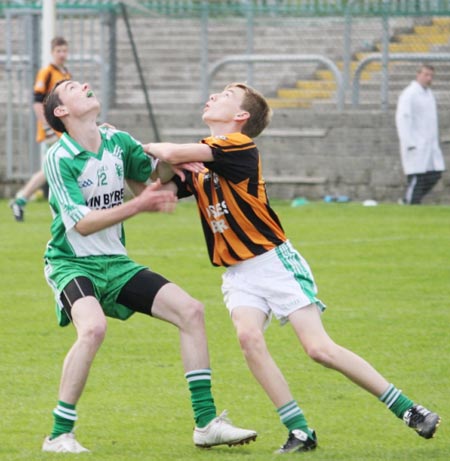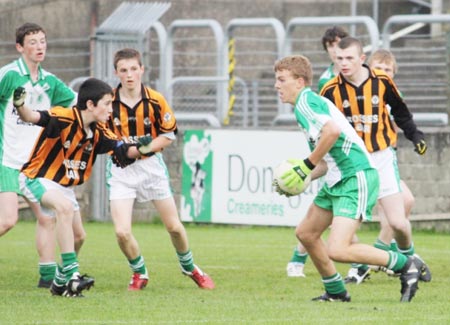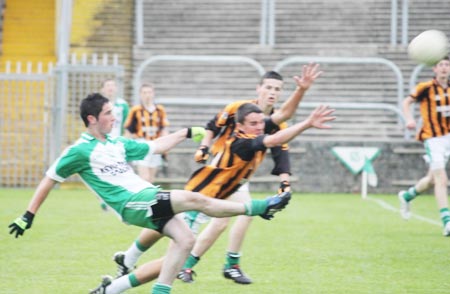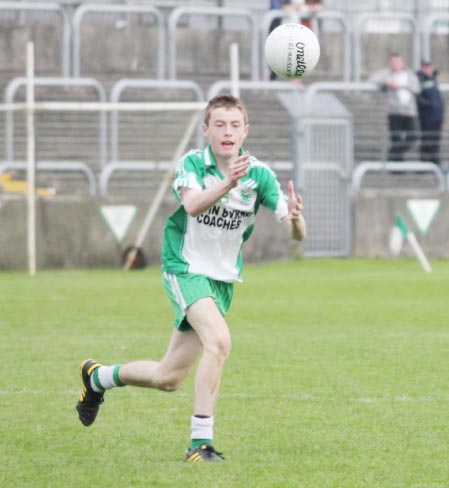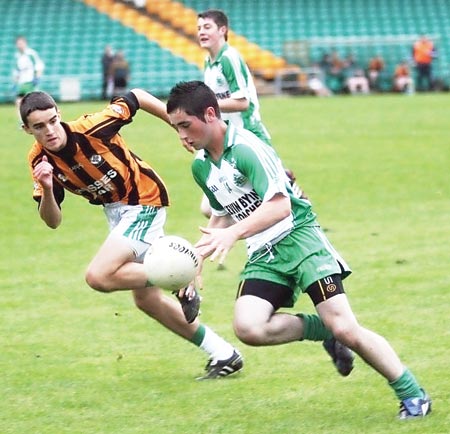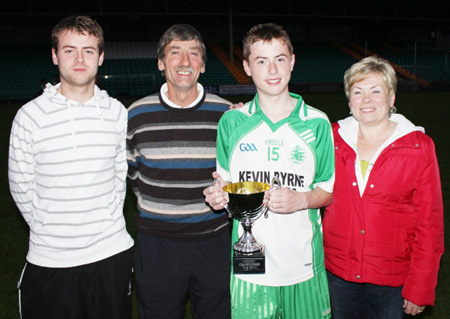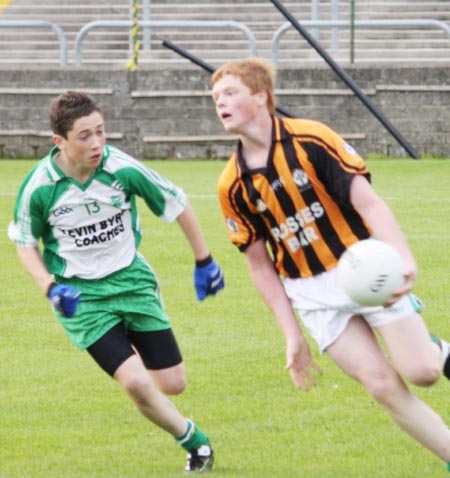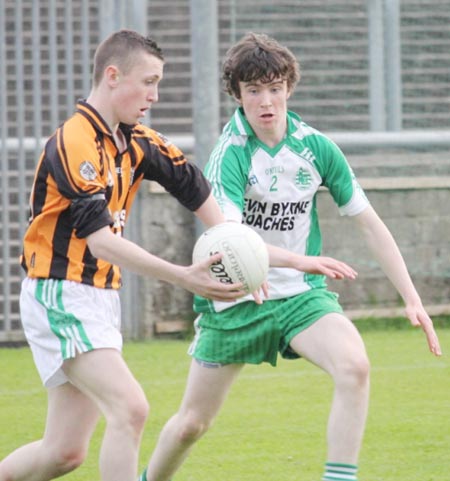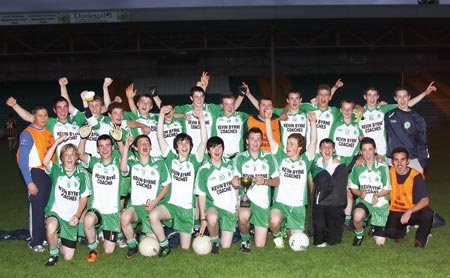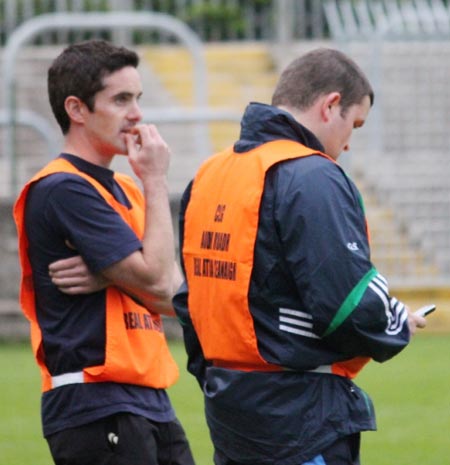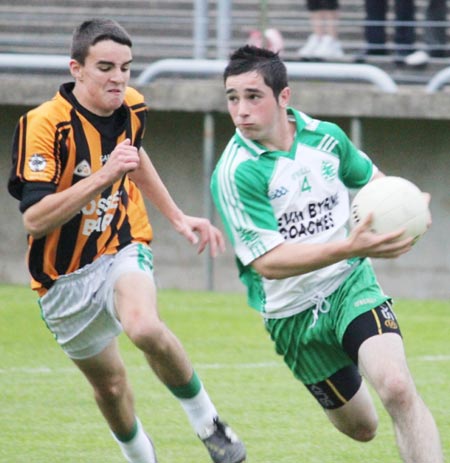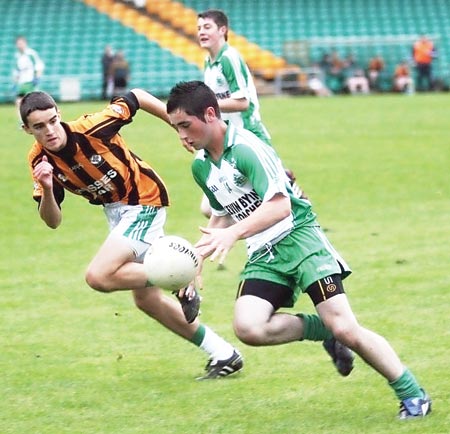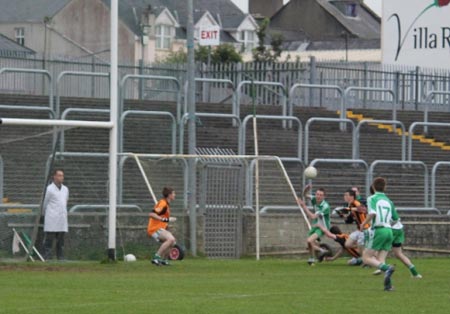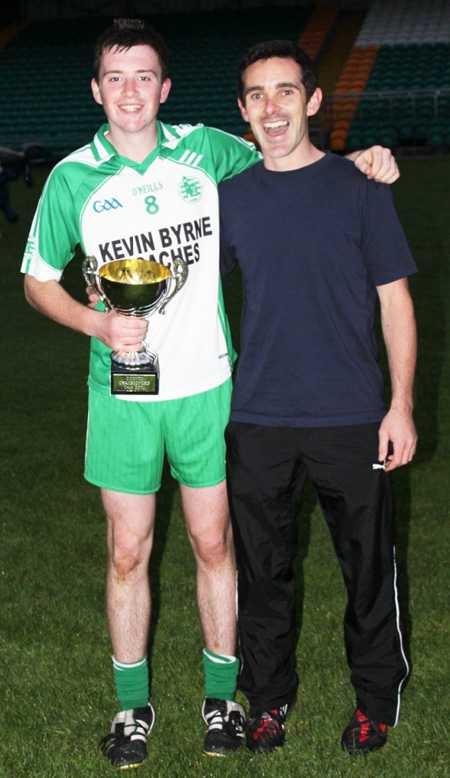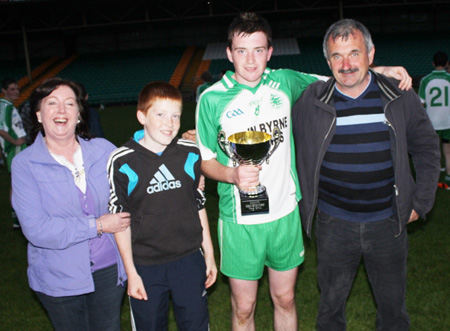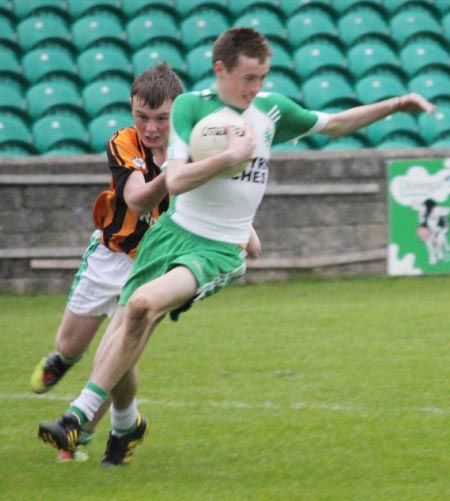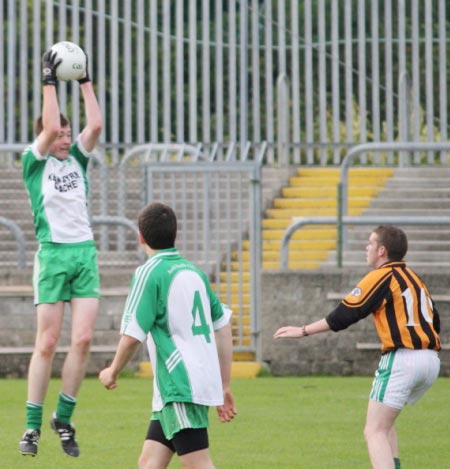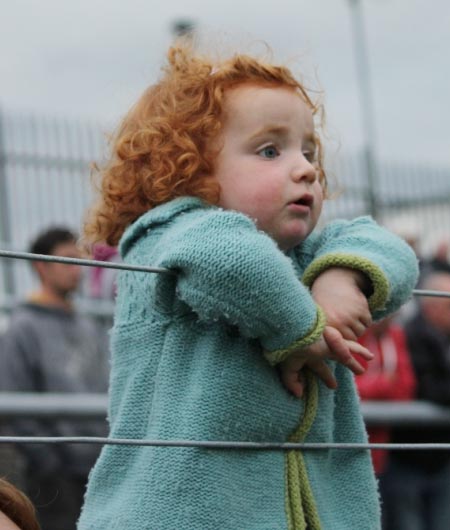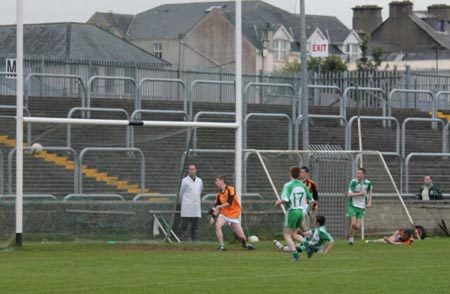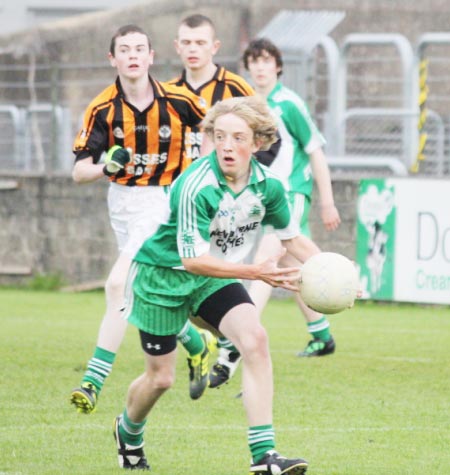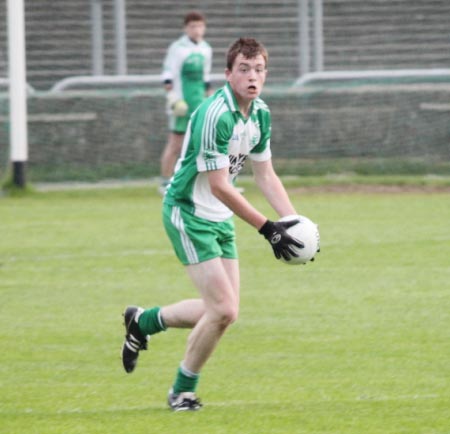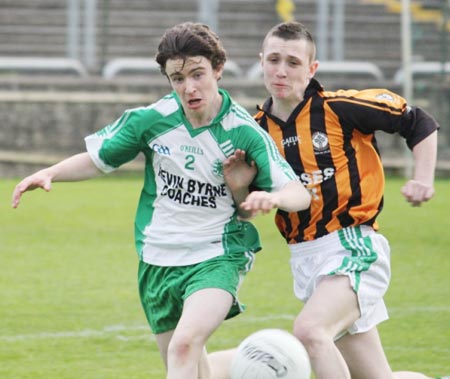 Last modified: Friday, 22 May 2020 at 2:31pm