Bakery Cup Final 2011
The Bakery cup final will take place in Father Tierney Park on Sunday 16th October at 1pm. Referee Terence McShea. This historic tournament was first contested in 1957; the captain that year was Padraig McGarrigle. This year marks the 50th anniversary of Pauric McShea's victory in the Bakery Cup. We hope Pauric will be on hand to assist in the presentations after the final.
The teams contesting the 2011 final are as follows.
1. Phillip Patton (Captain)
2. Colm Doyle
3. Kieran Kelly
4. Jack Darbon
5. Caolan Drummond
6. Shane McGrath
7. Aaron Clarke
8. Nathan McNeely
9. Matthew Cleary
10. Donal Sweeny
11. Gavin McDaid
12. Ryan Gallagher
13. Jason Granaghan
14. Oisín Kerr
15. Ronan Storey
16. Odhran O'Neill
17. Shane Dorrian
18. Patrick McCafferty
1. Jason Gallagher (Captain)
2. Conor Kennedy
3. Terry Ward
4. Oisín Rooney
5. Daniel Warnock
6. Ryan McKenna
7. Cian McGloin
8. Dylan Gallagher
9. John Connor
10. Callum O'Halloran
11. Oisín Roper
12. Eugene Drummond
13. Nathan Boyle
14. Garreth Sheerin
15. Jimmy Ward
16. Conal Sweeny
17. Odhran Kennedy
18. Dylan Newell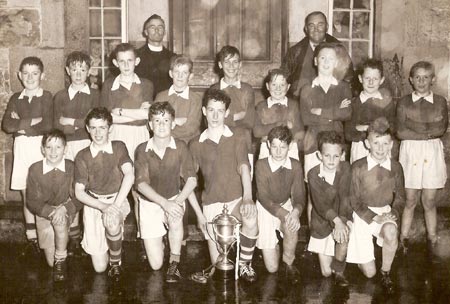 1961 Bakery cup winning team.
Adults at far back: Brother Canice and John 'Dodger' McDermott
Back row, from left: Martin McNeela (Cluain Barron), Michael Travers (Donegal Road), Seamus Melly (Cluain Barron), Primus Donagher (Market Street), Danny Keenaghan (Cluain Barron), Jim Kane (Dunmuckrim), Gerry McGuinness (Erne Street), Thomas Mulligan (The Abbey), Christy Coughlan (East Rock).
From row, from left: Robert Lawn (Donegal Road), Danny McGrory (College Street), PJ McGarrigle (Donegal Road), Pauric McShea (Market Street), Pearse O'Neill (Bridge end), Martin Carney (Belleek Road), Richard Bromley (Erne Street). Absent: Gerry Dilworth.
Last modified: Monday, 1 June 2020 at 1:10pm