Minors claim first league title in 26 years
Under 18 football league county final
Aodh Ruadh 0-14
Cloughaneely 2-2
15 December 2012
John Hughes reports from Convoy
Aodh Ruadh bridged a 26 year gap to capture their first league honours since 1986. It was a game where Aodh Ruadh were dominant throughout, but never entirely succeeded in snuffing out the challenge of a determined Cloughaneely outfit.
David McGurrin was to prove the difference between the sides, with his finishing quality allowing Aodh Ruadh to make the most of any scoring opportunities that presented themselves. The Abbey Isle man start the scoring on two minutes with a free.
Cloughaneely had a long ball strategy in play and it paid dividends with just seven minutes gone. A long shot dropped into the area and Ciaran McGeady, Daniel Kelly and an Aodh Ruadh defender all went up for it, but it was McGeady who had the decisive say, flicking to the net to send the Gaeltacht men into a two point lead.
Ballyshannon's response was instantaneous. The ball was swept up the field and a free won which was routinely converted by McGurrin. A minute later and McGurrin was leveling matters, this time with his first point from play.
On nine minutes it was only luck that saw another dropping ball into the Aodh Ruadh area slip wide of the posts, but for much of the remainder of the half the preponderance of pressure would be applied by the men in white and green.
Eamon McGrath pointed to edge the Ernesiders back in front and as the game entered the second quarter Aodh Ruadh appeared to be finding their groove. Michael McNeely got on the end of a patient, slick interpassing move which made good work of creating the opening in a sticky Cloughaneely rearguard.
Probably the best player for the boys in blue was their impressive keeper Shaun McClafferty, a man with a serious range on his kick outs. However it was his shot stopping which was of more salient interest as Ballyshannon came looking for the goal which would probably have knocked the stuffing out of Cloughaneely's title bid. On three separate occasions in the space of ten minutes he was called upon to thwart Aodh Ruadh goal shots, probably his best stop coming against Pauric Patton.
Having failed with three goal attempts, Aodh Ruadh got something of a wake-up call when Eamon McHugh slipped over a point to leave just a point between the sides with five minutes left in the half.
With priorities refocused the Ernesiders raised their sites and popped over two points before the break to widen to gap out to three.
First a long ball into the Cloughaneely area was fisted over by David McGurrin, then James Barron got his name on the score sheet with a good effort from play, sending the sides in at 0-7 to 1-1.
The second half in much the same way as the first with David McGurrin slipping over the opening point.
Again Cloughaneely's response came in the shape of a green flag. Another ball was launched into the area. This time Daniel Kelly got a fist to the ball, but it only went as far as James Coll who slammed the ball home emphatically.
Once again the next two scores came off the boot of David McGurrin. This time they were two routine placed ball efforts and they took the scores to 0-10 to 2-1 as the game headed into the final quarter.
Cloughaneely's captain, John McGarvey, capitalised on a poor kick out from Daniel Kelly to narrow the margin to two points on 47 minutes, but that was to be the last time the Gaeltacht side would trouble the score board.
Aodh Ruadh hit back with the score of the game on 50 minutes. Pauric Patton hit a laser-guided daisy-cutter pass straight through the Cloughaneely defence which was gathered and finished by David McGurrin. McGurrin proceeded to add another point two minutes later, bringing his personal tally for the day to nine.
Aodh Ruadh's 13th point was created by the strong running of Colm Kelly. He teed up Michael McNeely at the end of his run and McNeely clipped over his second of the day.
Fittingly enough Ballyshannon's last point came from their captain, Ryan Granaghan, with three minutes left on the clock.
It was a well balanced performance from the Ernesiders with defence and attack giving a good account of themselves. Defensively Ryan Patton, Colm Kelly and Kieran Keown were excellent Niall Harley and Darren Gethins had the better of proceedings in the middle of the park, while in the forward division Pauric Patton, Michael McNeely, James Kelly and David McGurrin were superb in creating and executing chances against a well drilled Cloughaneely defensive unit. McGurrin's nine points probably marked him out at the MVP and if Cloughaneely had possessed an attacker of similar economy it would have interesting to see how the game might have played out.
All told, a deserved win for Ballyshannon a great fillip for 2013, when most of the squad will again be eligible for minor football.
A word too for the Convoy club who had their pitch in incredible condition for half way through December.
Vital Statistics
Aodh Ruadh
Daniel Kelly; Thomas Anderson, Ryan Patton, PJ Gillespie; Colm Kelly, Eamon McGrath (0-1), Kieran Keown; Darren Gethins, Niall Harley; Michael McNeely (0-2), Ryan Granaghan (0-1), James Barron (0-1); Pauric Patton, David McGurrin (0-9, 4f), James Kelly.
Substitutes: Alan Finan for James Barron: 36 minutes; Matthews Maguire for PJ Gillespie: 54 minutes; Philip Patton for Michael McNeely: 58 minutes; Calum O'Halloran for Colm Kelly: 58 minutes; Pauric Storey for Thomas Anderson: 58 minutes; Kevin Warnock, Eddie Lynch, Fergal Meehan, Paddy Gillespie, Johnny Gethins Jamie McDonald.
Yellow cards: Darren Gethins: 48 minutes.
Frees conceded: First half: 13; Second half: 8; Total: 21
Wides: 6
Management: Shane Ward, Gregory Sweeney and Chris Kelly.
Cloughaneely
Shaun McClafferty; Ciaran Ferry, Cian McFadden, Daniel Scott; Jack Mulhern, Martin Ferry, Daniel Roarty; Eamon Sweeney, Lee O'Brien; James Coll (1-0), John McGarvey (0-1), Shane Ferry; Ciaran McGeady (1-0), Eamon McHugh (0-1).
Substitutes: Gerald Brady, Michael Coll, Christopher Doherty, John Fitzgerald, John Harley, Darragh Geaney, Joe Call.
Yellow cards: Shane Ferry: 44 minutes; James Coll: 48 minutes; Ciaran McGeady: 49 minutes; Cillian Gallagher: 58 minutes.
Frees conceded: First half: 5; Second half: 14; Total: 19
Wides: 3
Management: Kevin Scanlon
Referee: Ian Molloy (Glenties).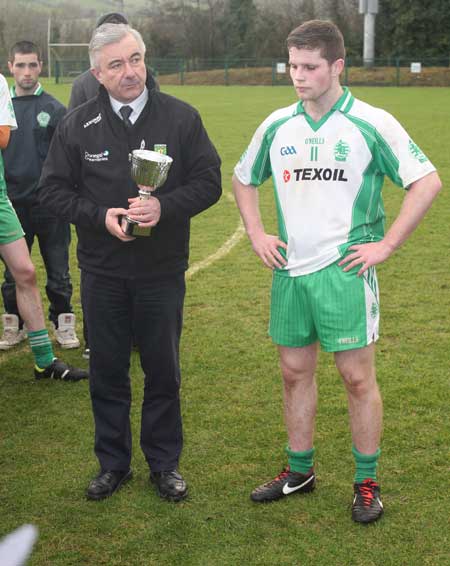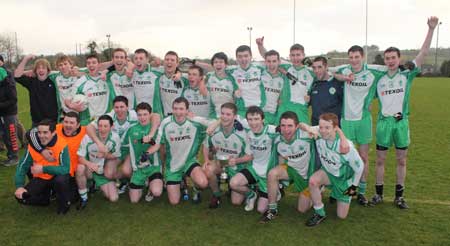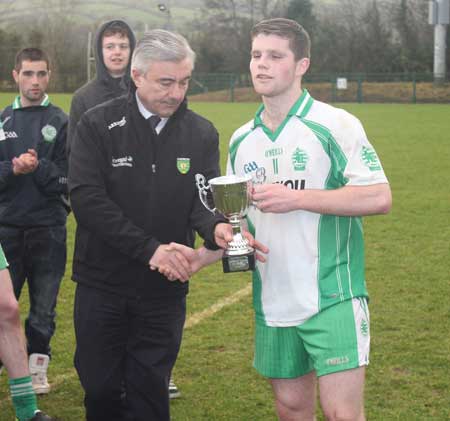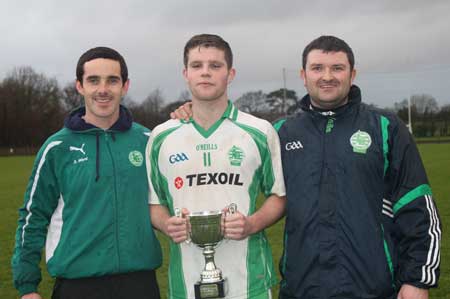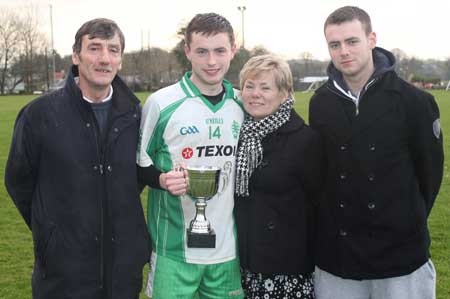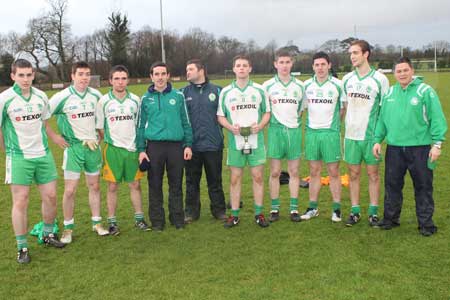 Last modified: Friday, 22 May 2020 at 2:31pm