Aodh Ruadh are Ulster minor champions
Ulster Club Under 18 football championship final
Aodh Ruadh (Donegal) 4-8
Clan na Gael (Armagh) 1-6
1 January 1993
Words and images supplied kind courtesy of the Donegal Democrat.
On the first day of January, 1993 - it could make a good opening line for a song! But it was also the day the Jim McConville Cup was last in Donegal.
The Aodh Ruadh minor team created their own little bit of history by winning the Ulster Minor Club competition, run by the Saint Paul's club in Belfast, defeating a highly fancied Clan na Gael of Lurgan, Armagh in the final by 4-8 to 1-6.
The Ulster Club Minor competition began in 1982 with the hosts, Saint Paul's, the inaugural winners, while the only other Donegal winners were Killybegs, who achieved a notable double, winning it back-to-back in 1984 and 1985.
Saint Eunan's and Killybegs have reached finals since then, but they were both defeated.
Aodh Ruadh had reached the final two years earlier in 1990 with Sylvester Maguire in charge, but lost out by a point to Derry champions, Dungiven.
MASTERMIND
The mastermind behind the Aodh Ruadh success in 1992 was Josie Boyle, who was the coach to most underage teams leaving the Erne town for a long period. Boyle was a man ahead of his time. He was coaching possession football for a long number of years.
He would be the first to admit that he was his own man. He did have help, but it was mostly for organisational matters. When it came to football, he had his own methods and ideas.
"I tried out things and if they worked, I kept them. If they didn't I tried something else," said Boyle.
"But what I really enjoyed was the coaching. There was enjoyment out of getting results, but when Monday came around, it was back to basics again."
That probably summed up Josie Boyle. He was relentless. He put a training regime in place and there was plenty of ball work.
"That bunch of players were very good. They were easy to work with, but then not too many of them played senior football after," added Boyle.
And when we had a look at the photo which I was showing him in his home in Saint Benildus Avenue, we reckoned only around a quarter of the 22 man panel played senior football on a regular basis.
Aodh Ruadh had been beaten in the Donegal minor final of 1991 by Ardara, but they came back in 1992 to defeat Saint Eunan's in the decider.
And the manager has a good memory of their Ulster campaign, where they defeated Mullahoran of Cavan in the preliminary round (2-10 to 0-2); Clones of Monaghan in the quarter-final (3-10 to 0-4) and Dromore of Tyrone in a feisty semi-final in Brewster Park, Enniskillen (3-5 to 1-7).
"I remember a number of things about the final. We had a goalkeeping problem and David Downey, who was an outfield player, had to play in goals. There was a decision to be made as to who would replace Downey outfield and that decision was only made on the bus going to Belfast on the day.
"I decided to play Paul Roper, who was the youngest player on the panel at 16. I put him in at centre-forward and told him to go out to the wing and take the centre-half with him. And if he didn't follow him, we would feed him. Paul got a couple of points so his man had to follow him after that and it worked for us," said Boyle, who also said that Barry Ward had scored something like 6-8 in the three games up to the final and they [Clan na Gael] were watching him.
There was also drama the day before the game when full back Eamonn O'Donnell arrived at Josie's house on crutches saying he wouldn't be able to play the next day. He had gone to Rossnowlagh to walk in the water and cut his foot and had stitches inserted.
Josie had other ideas though. "I told him he would be playing! I made out a special plaster with a hole cut out so that his stitches were not touching the boot and he went out and played well."
There was an early scare in the game when Barry O'Hagan, now resident in Donegal, scored an early goal, but a goal from Donal Buggy calmed nerves and Anthony McGrath added a second goal just before half-time to leave Aodh Ruadh ahead 2-2 to 1-4 at the break after playing against the strong breeze.
A third goal on 43 minutes from Brian Roper eased Aodh Ruadh into a commanding position and Roper, who was named man of the match, added the fourth two minutes from the end.
There were many good performances in the final with Ciaran McLean, at centre half-back, holding Diarmuid Marsden to just one point in the game, most notable.
The Jim McConville cup was presented to captain John Muldoon, who had missed a number of games through injury, but was back in time for the final.
Vital Statistics
Aodh Ruadh
David Downey; David O'Donnell, Eamonn O'Donnell, Eunan McGrath; Niall McCready, Ciaran McLean, Joseph Duffy; Donal Buggy (1-3), Anthony McGrath (1-0); John Muldoon, Paul Roper (0-2), James Grimes; Brian Roper (2-1), Gary Brennan, Barry Ward (0-2).
Rest of panel: Glen Matthews, Christy Dolan, Herman McNelis, Derek Doyle, Patrick McGrath, Paul Whoriskey, Declan McGonigle, Barry O'Neill.
Cloughaneely
Shaun McClafferty; Barry Lappin; Desi French, John Lynass, Stephen Magennis; Colin Treanor, Kevin O'Hagan, Anto McAlinden; Barry O'Hagan (1-2), Stephen Magee (0-1); Philip Oldham, Diarmuid Marsden (0-1), Paul O'Hagan (0-1); Gary Magennis (0-1), Shane Scullion, Shane Harbinson.
Subs: Gary Campbell, Paul McStay.
Referee: Gerry McClorey (Antrim).
Click for larger version of images below.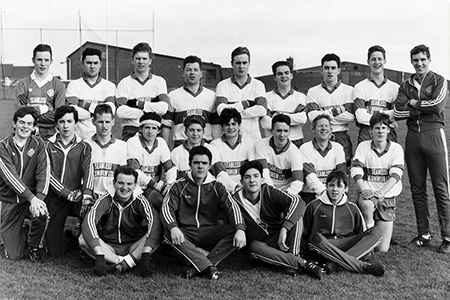 The Aodh Ruadh team pictured ahead of the final against Clan na Gael.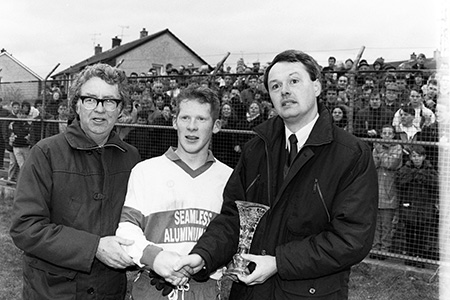 Brian Roper receives the man of the match award after the final whistle.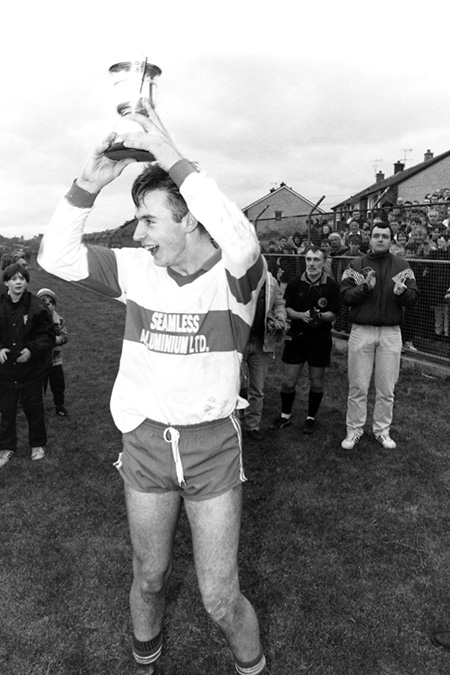 Aodh Ruadh captain John Muldoon raises the Jim McConville Ulster Club Minor Championship trophy.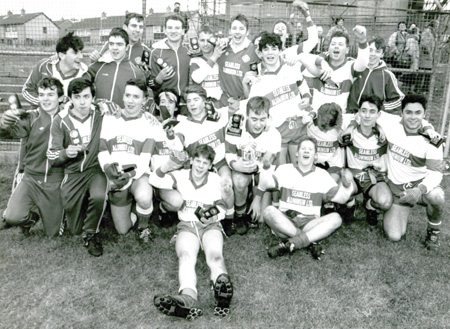 Back Row: Derek Doyle, Declan McGonigle, Glenn Matthews, Christy Dolan, David O'Donnell, David Downey, Eunan McGrath, Niall McCready, Eamonn O'Donnell, Gary Brennan, Packie McGrath.
Front Row: Paul Whoriskey, Barry O'Neill, Ciaran McLean, Joseph Duffy, James Grimes, John Muldoon Captain, Donal Buggy, Anthony McGrath, Barry Ward.
Sitting: Paul Roper and Brian Roper
Last modified: Friday, 22 May 2020 at 2:31pm