Classy Aodh Ruadh claim Southern title
Under 14 football Southern Divisional Final
Aodh Ruadh 2-13
Four Masters 1-6
7 July 2017
John Hughes reports from Pearse Memorial Park, Ardara.
Aodh Ruadh claimed the Southern Divisional under 14 title at a sun-splashed Ardara following a fine sporting game against a lively and persistent Four Masters outfit.
The Donegal Town men had got the better of the Ernesiders twice already this season. However there was no dispute about the worthy winner on the night with Aodh Ruadh quickly assuming an grip which they maintained throughout most of the game.
Defending from both sides was magnificent in the first half, and it was only when Aodh Ruadh's attacking division turned up the heat in the second half that Ballyshannon could feel in any way comfortable against this dangerous Donegal side.
Aodh Ruadh showed they meant business early on with Marty McGarrigle forcing a great save from Donegal town's Oisin McCallig.
Four Masters opened the scoring three minutes in when Ultan O'Grady swung over from 35 metres.
Two minutes later and Aodh Ruadh were off the mark too, Jake Foley's shot coming back off the post, but the lads in white winning it and recycling to Colm McGloin who clipped over.
Ballyshannon then hit the front for the first time, Danny Breen-Brosnan winning the kick-out before charging forward and driving over.
Ultan O'Grady tied things up once more with a well-struck 35 before Aaron Cullen was called into action to make a great reaction stop against Dermot Slevin.
Two close range scores from Marty McGarrigle in the 13th and 18th minute made it double scores, and Four Masters had McCallig to thank again when he made another great stop, this time denying Calum Doherty-Craig.
If the Tir Chonaill Park side's luck was in at one end, it was out at the other as Mark Jordan somehow slipped wide of the right post with the goal at his mercy.
Aaron Neilan tagged on another 35 for Ballyshannon before Aaron Cullen was called upon to make another great save as Four Masters continued to hunt goal.
Two minutes into added time the Erne captain Cian Rooney fired over a free which made it 0-6 to 0-2 at the break. A good lead on paper, but Four Masters showed in the first half they retained a potent attacking threat.
The second half saw the scoreboard operator pressed into action rather more frequently. And while Four Masters needed the first score, it was Diarmuid Flood-Dolan drew first blood, arrowing over after a fine flowing move.
Aodh Ruadh then claimed the kick out and the ball quickly came to Aaron Neilan who drove home the first goal of the game.
A minute later and Ballyshannon were in again. Jake Foley astutely drew his man before popping into the path of Marty McGarrigle who slammed home to make it 2-7 to 0-3.
Ten points in it, but Four Masters fought back manfully over the next period. They started with a Dermot Slevin free. Then, in a move packed with determination, they worked the ball forward over a number of phases of play before Slevin again obliged with the finish.
Aodh Ruadh nearly responded with another goal, but Oisin McCallig made another excellent stop from Danny Breen-Brosnan. This really was a game were the goalkeeping was of the first order.
Four Masters maintained their momentum with another Dermot Slevin free 41 minutes in to leave eight points between the sides.
Ballyshannon had gone nine minutes without registering, but Calum Doherty-Craig helped end that drought, feeding the in-form Danny Breen-Brosnan to drive through and fire over.
A lovely shot from Cian Rooney a minute later made it 2-9 to 0-5 as the game moved into the final quarter. Shortly after Danny Breen Brosnan extended his side's lead with what had by now become a trademark move, collecting possession before driving through and hoisting over a classy score.
An Aaron Neilan 35 with the game just into the final ten minutes eased Aodh Ruadh nerves, and another Danny Breen-Brosnan point with four minutes remaining put the result beyond doubt.
Four Masters showed their character though and continued to battle hard. Dermot Slevin and Mark Jordan combined well to set up the chance for Senan Quinn to drill to the net with two minutes of normal time left. They also added a Slevin free a minute into added time, but come Mark Dorrian's final whistle it was the Ernesiders celebrating.
It was a real team performance from Aodh Ruadh to take the silverware on the night. Despite not scoring, Jake Foley was one of the most instrumental Aodh Ruadh attackers, while Cian Rooney played a captain's role for the Ernesiders. Aaron Neilan performed with the control and composure of a player beyond his years, while the half back line of Ryan Keenaghan, Kyle Murray and Calum Doherty Craig were also outstanding.
Four Masters had real quality in the attacking third of the pitch in the shape of Ultan O'Grady and Dermot Slevin, with Mark Jordan offering able support. Meanwhile further back Senan Quinn worked hard and keeper Oisin McCallig was in immense form.
Both sides will now go forward to the county quarter-finals with real hopes of making an impact on that stage.
---
STAR MAN
Aaron Neilan was superb in the centre of the park and his 1-2 only tells part of the story of his contribution to this victory
TURNING POINT
There were 12 minutes to go when a flowing Aodh Ruadh moved ended with Cian Rooney slashing over a low-trajectory shot to put 11 points between the sides. From there on there was no way back for Four Masters.
UNSUNG HERO
Calum Doherty-Craig got through a heap of work for Ballyshannon, while Four Masters Senan Quinn could consider himself unlucky to be on the losing side.
REF WATCH
A good outing for Mark Dorrian. Was well up with the pace of the game and wasn't far off with most of his calls.
Vital Statistics
Teams
Aodh Ruadh
Aaron Cullen; Darragh Flood-Dolan, Matt Gillespie, Séimí Campbell; Calum Doherty-Craig, Kyle Murray, Ryan Keenaghan; Corey Ryan, Aaron Neilan (1-2, 2 35s); Jake Foley, Cian Rooney (0-3, 1f), Danny Breen-Brosnan (0-4); Colm McGloin (0-1), Diarmuid Flood-Dolan (0-1), Marty McGarrigle (1-2).
Subs: Mitchell McLaughlin for Colm McGloin 44m; Kyle McCaffrey for Diarmuid Flood-Dolan 53m; Daire Warren for Darragh Flood-Dolan 57m; Jamie McGee-Gilmore, Conall Bradshaw, Conor Foy.
Frees conceded: 23
Wides: 7
Kick outs won: Total - 17; Own - 12; Opposition - 5.
Four Masters
Oisin McCallig; Josh McCrea, Calum Stewart, Conor Gillespie; Dan Dunnion, Dairmuid O'Donnell, Liam McLaughlin; Senan Quinn (1-0), Andrew Monaghan; Michael Gallagher, Dermot Slevin (0-3, 2f), Mark Jordan; Francis Cornyn, Ethan Potter, Ultan O'Grady (0-3, 1f, 135).
Subs: Adam Gillespie for Dermot Slevin 59m; Adam Maziri, Patrick Lyons, Dylan McHugh, Ryan Dullea, Ethan McNulty, Daíthí Ward.
Frees conceded: 19
Wides: 4
Kick outs won: Total - 11; Own - 11; Opposition - 0.
Referee: Mark Dorrian (Saint Naul's)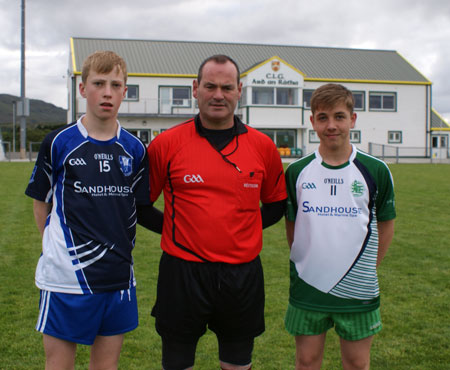 Captains, Ultan O'Grady and Cian Rooney with referee Mark Dorrian before throw-in.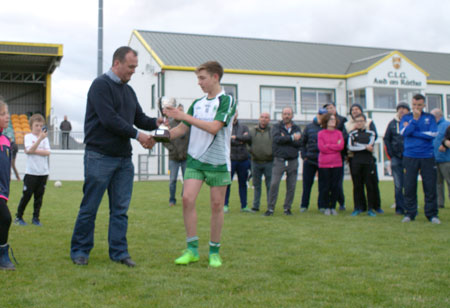 Winning captain Cian Rooney recieves the Southern Divisonal trophy.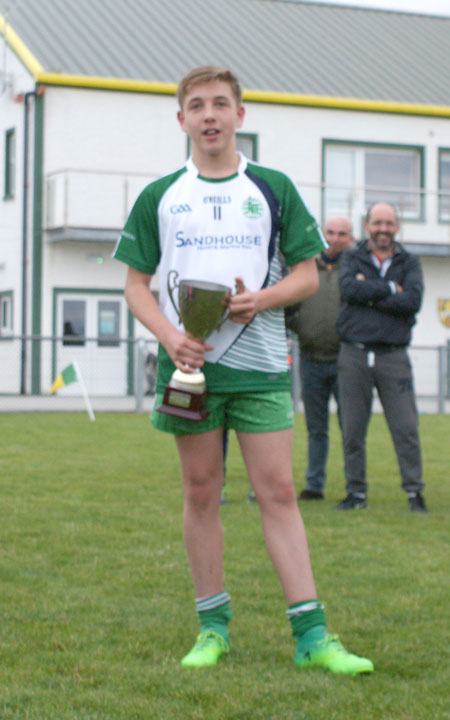 Cian Rooney makes his victors speech.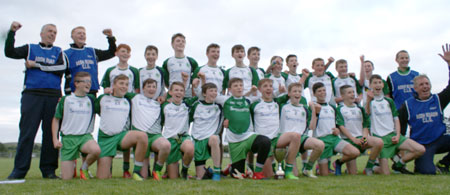 The victorious Aodh Ruadh team celebrate.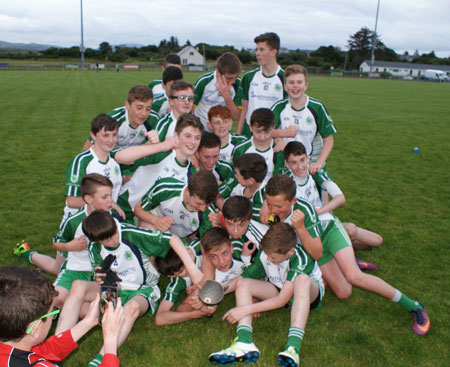 The victorious Aodh Ruadh team celebrate.
Last modified: Monday, 1 June 2020 at 1:32pm