Cairde Aoidh Ruaidh launch
The club launched their major fund raising initiative for 2010 in Aras Aoidh Ruaidh last Saturday night. The scheme, which is entitled Cairde Aoidh Ruaidh, asks club members to sign up to donate the equivalent of €5 a week to the club in the form of a monthly direct debit. Presentations were made by Ryan Feeny of the Ulster Council and Club Secretary John Hughes on the merits of the scheme and how it works.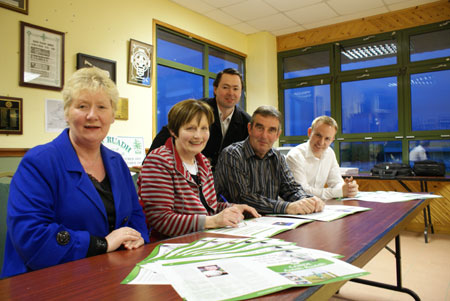 Pictured at the launch of Cairde Aoidh Ruaidh are Club Treasurer, Mary Grimes, Club Chairwoman, Betty McIntyre, Club Secretary, John Hughes, Park Committee Chairman, Tom Daly and Ulster Council Officer Ryan Feeny.
Right now we are appealing to club members to get behind the scheme. It is essential for the club's financial welfare, which is in a precarious state. To get some information on the scheme you can download the brochure below. This brochure also includes the standing order form for the scheme. If anyone needs any further information don't hesitate to contact us on info@aodhruadh.org or call 087-6431805.
---

Get Adobe Acrobat
Download the Adobe Acrobat PDF viewer.
Last modified: Monday, 1 June 2020 at 12:11pm