Fabulous Féile success for Aodh Ruadh
Our under 14s performed brilliantly at Féile last weekend. Our bus with our panel of 21 pulled out of Ballyshannon on Friday morning at 7am and headed for Parteen, county Clare. From the moment we landed at Parteen the host club looked after our every need. it was a proud moment for all the boys when a lone piper led the Aodh Ruadh and Parteen teams out onto the field and we all stood for Amhrán na bhFiann, happy in the knowledge that history was being made as the first Aodh Ruadh hurling team were about to take part in the national finals of Féile na nGael.
Our boys played the hurling we knew they were capable of and matched the Banner men in every aspect of the game. We began to get on top and built up a lead of four points. As anyone who knows anything about hurling knows, Clare people are passionate about their hurling and we expected a comeback from them. They rattled the net and brought the game back to a one point game, at this stage the Ballyshannon men stood tall and their determination evident over the years came to the fore and they ran out winners by 3-6 to 1-7. This was a great start to Féile after our long trip. Our boys were determined to prove to everyone that they were able to hurl with the best of them.
After a lovely meal provided by the Parteen club it was onto Cusack park, Ennis to begin the parade through the streets of Ennis. As we lined up with all the leading hurling teams in the country it was a very proud and deserved moment for these boys. It was a great thrill for the boys as we made our way up O'Connell street, Ennis to see Aodh Ruadh's Mr. Hurling, Billy Finn, clapping them on their way to meet with GAA president, Christy Cooney. It was another very proud moment for all involved in hurling in Aodh Ruadh to see GAA president Christy Cooney present Aodh Ruadh captain Ciaran Rami with the Féile na nGael pennant. From Ennis it was another long trip on the bus back to Parteen to our host families and the end of a very long and historic day for the boys and their families.
Saturday morning bright and early at 8.30 a.m. we began the trip to Scariff in the middle of east Clare and the home of Clare hurling for a clash with host club. In soaring temperatures this Aodh Ruadh team put on an exhibition of hurling that was like nothing ever seen from an Aodh Ruadh team and ran out easy winners 2-5 to 0-3. After the game we met with Clare Legend Mike McNamara who was Ger Loughnane's right hand man for Clare's two All-Ireland wins in '95 and '97. He spoke with the boys and their mentors and complemented them on their style of play and their determination and passion for the game of hurling. At this stage our travelling supporters were in great voice and the Donegal flags were flying in the banner, our next game was against Swatragh who were fighting for their Féile lives. It was a tough, competitive low scoring affair, but once again the Aodh Ruadh boys proved they could hurl with the best of them and represented Donegal well, running out winners by 1-4 to 0-3.
After three wins the unthinkable had happened. The Donegal representatives had topped the division four section a with maximum points. It was the talk of Scariff, the heat at this stage was unbearable and fatigue was setting, in but the boys were ready to give it one last lash in the All-Ireland semi-final against Crusheen/Tubber. Again we had to take to the hills of Clare and make the journey to Bodyke, home of Clare hurling legend Liam Doyle. The game was only seconds old when Colm Kelly ran the length of the field from centre half back and put the ball over the bar and let everyone know Aodh Ruadh were ready for the challenge. In a low scoring first half Aodh Ruadh were ahead throughout. A goal against the run of play before half time put the amalgamated team from the north Clare/south Galway border two points ahead. Ballyshannon pulled a point back before half time and made it a one point game. The worried expressions on the Clare mentors showed the closeness of the game, Crusheen/Tubber got a controversial goal shortly after half time and built up a commanding lead of six points. The Ballyshannon boys dug deep again and got the next three points of the game. With ten minutes to go and the heat stifling, the Aodh Ruadh boys were four points down and out on their feet, but they never gave up. The Banner men hit for a goal and Aodh Ruadh goalkeeper Adam Irwin was forced to go off as a result of his brave attempt to save the goal. Again the Ernesiders came back and got a goal but two goals in stoppage team for the Clare men put a gloss on the score board for them and they ran out winners by 7-4 to 2-8.
Our lads were devastated the three energy sapping games that day had finally caught up with them, many tears were shed by the lads, the management and our loyal supporters who made the long trip to Clare. After the disappointment reality set in and we realised the enormity of what we had achieved being the only team to achieve maximum points in division four and putting a top Clare hurling team to the pin of their collar. it was back to Parteen for the barbecue and disco. The boys realise how close they came to becoming the first ever Donegal hurling team to qualify for the division four hurling final. The hard work put in by the squad got results and will have to be built on.
Aodh Ruadh Juvenile Hurling Chairman John Rooney made a presentation to the Parteen club and invited them to Ballyshannon. Parteen Féile officer Derek Kenny spoke of the pleasure it was for them to host Aodh Ruadh and spoke of the boys hurling skill and their excellent behaviour with all the host families. He said they were a credit to their families, their management, their club and their town and he accepted the invitation to Aodh Ruadh. From there it was more hurling and Clare legend and corner forward on the Clare team of the millennium Nassy Jordan gave the boys and exhibition of drills on Parteen's hurling wall and he hopes to repeat these drills in Ballyshannon on the hurling wall we aim to build.
After mass and a great welcome for the boys from Father Tom we made our way back to Ballyshannon, happy that we gave it our best and represented our club our family and our town with pride and quite possibly achieved the highest finish in the National Féile na nGael by a Donegal team. After listening to Sharon Shannon and her band the whole way up the N17 our boys were surprised and delighted at the great reception at Father Tierney park where our families and supporters came out to give our young heroes a fabulous homecoming. After speeches by John Rooney, Town Mayor, Eugene Dolan, in one of his last official roles, Peter Horan and captain Ciaran Rami the boys made their way home after an unforgettable weekend, where we laughed together, fought together and cried together and put Donegal underage hurling firmly on the map. As Clare legend Nassy said to us you can buy trophies but you can't buy memories!
Many thanks to all our sponsors who helped finance our trip to Clare previously mentioned on the web site and new sponsors including Rossa McCosker, Centra, Ballyshannon who sponsored beautiful hoodies for the panel and who provided ice creams for all the boys on our arrival home; Kevin Byrne Coach Hire who sponsored kit bags for panel and management, Fin McCool's who donated €50, Gerry Ferguson who donated a lovely statue which we presented to Parteen and all those who wish to remain anonymous who made donations from €20 to €200 it was much appreciated by us all. Thanks to all who travelled to Clare to support the boys, texted or called to wish good luck and see how we got on. Thanks to MacCumhaill's and Letterkenny Gaels who contacted us to congratulate us and finally thanks to all who turned out to welcome the boys home.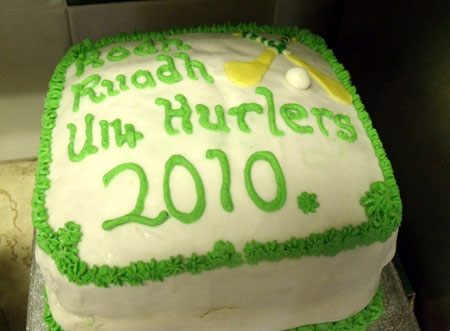 A special Good Luck cake baked by Sharon Connolly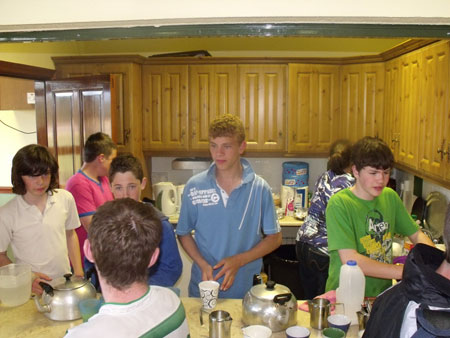 Under 14s busy at work in the kitchen.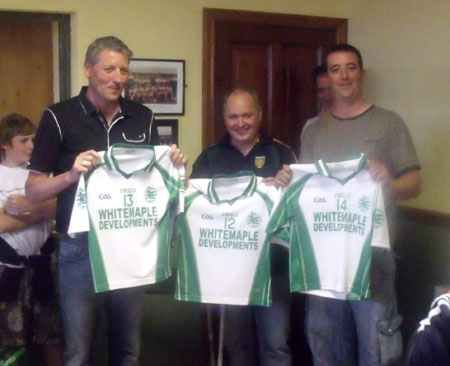 Brian McHenry of Whitemaple Developments presenting new jerseys to Michael Ayres, under 8 manager, and Eddie Lynch, under 10 manager.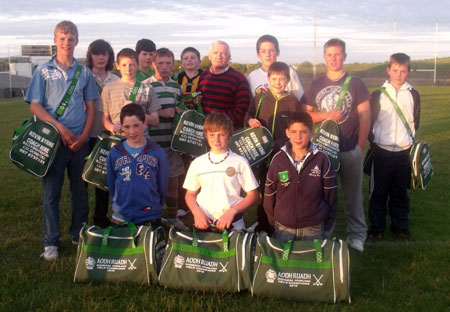 Kevin Byrne who sponsored a set of kit bags for the under 14 Féile winners presenting the bags to Peter Horan, team manager.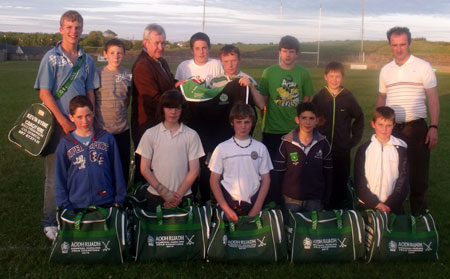 Rossa McCosker, Centra Ballyshannon, presenting a set of hoodies which he sponsored for the under 14 hurlers.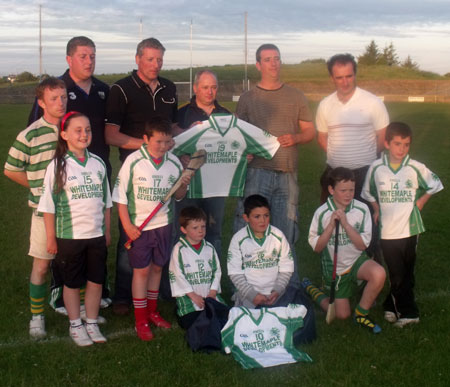 Brian McHenry presenting jerseys to underage managers Michael Ayres and Eddie Lynch.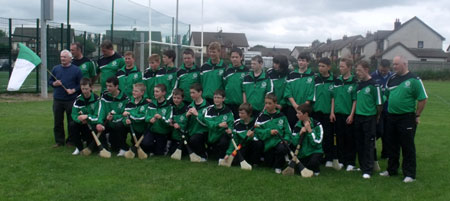 The under 14 just after arriving at the host club, Parteen, county Clare.

Aodh Ruadh and Parteen stand for Amhrán na bhFiann.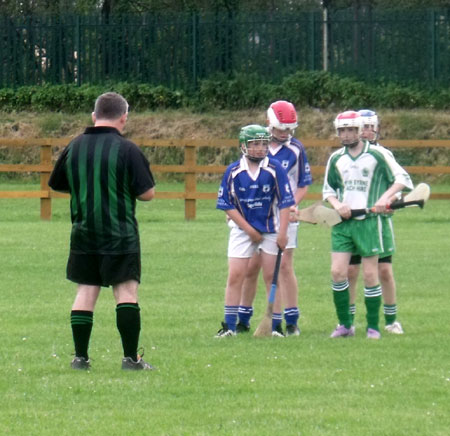 History is made as the ball is thrown with Aodh Ruadh under 14 hurlers competing in the National Féile na nGael for the first time.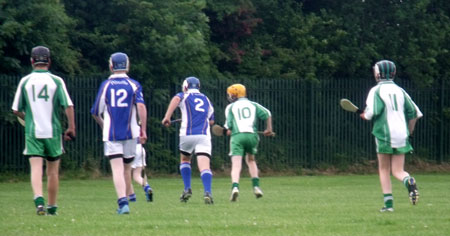 Aodh Ruadh on the attack against Parteen.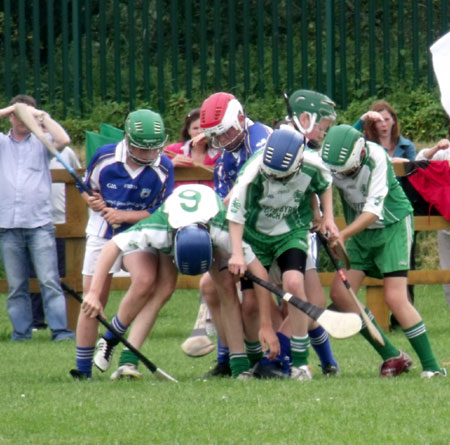 Nobody said it was going to be easy.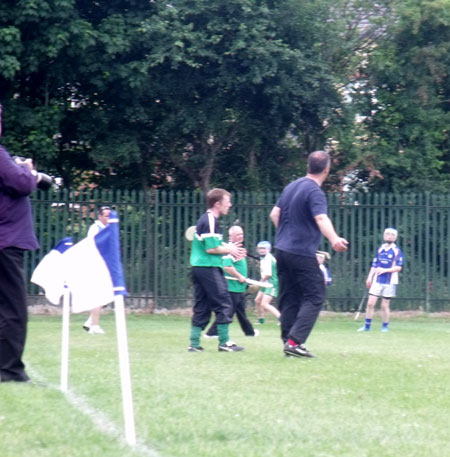 Get off the pitch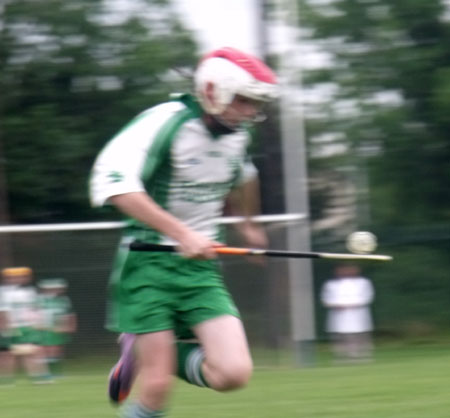 Jamie 'Pink Boots' Brennan on the attack and running at Parteen.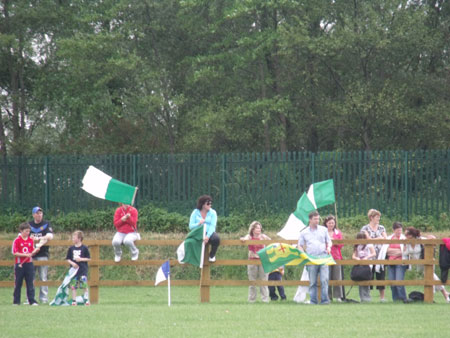 Aodh Ruadh supporters in Parteen.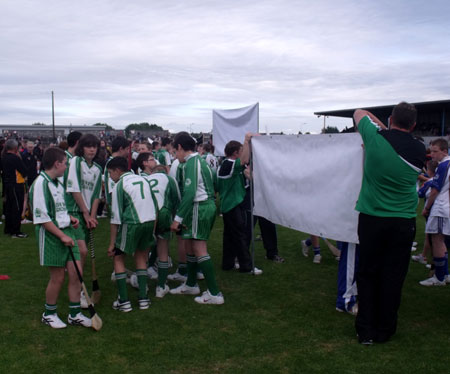 Aodh Ruadh under 14 hurlers get ready for the parade in Cusack Park, Ennis.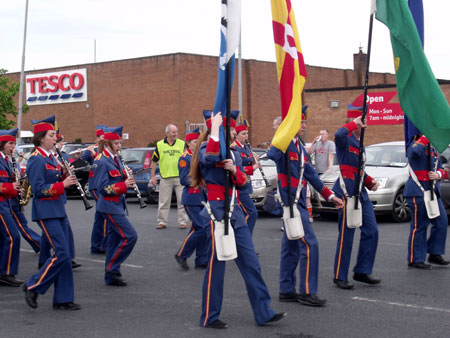 The Artane Band lead the parade.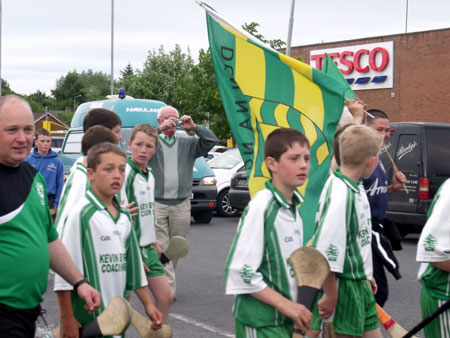 Aodh Ruadh on the march.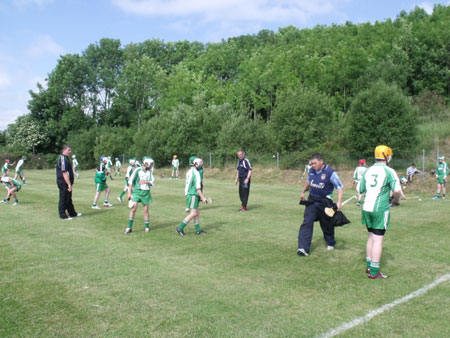 The warm-up before the game against Scariff.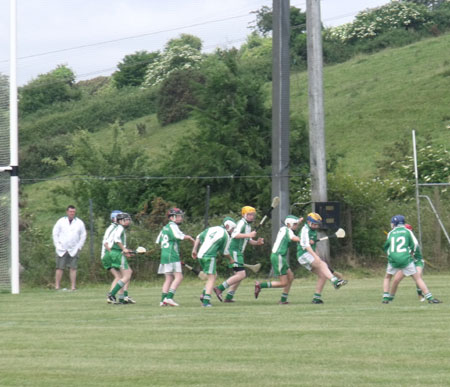 Aodh Ruadh backs hold out against Scariff.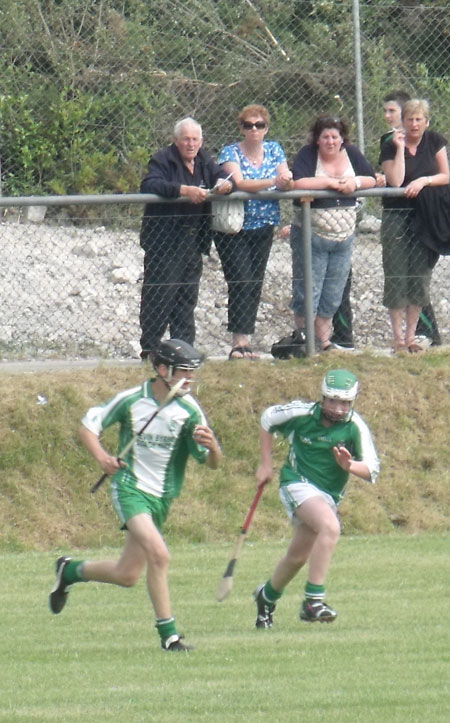 Capetown's finest, Niall Harley, on the attack.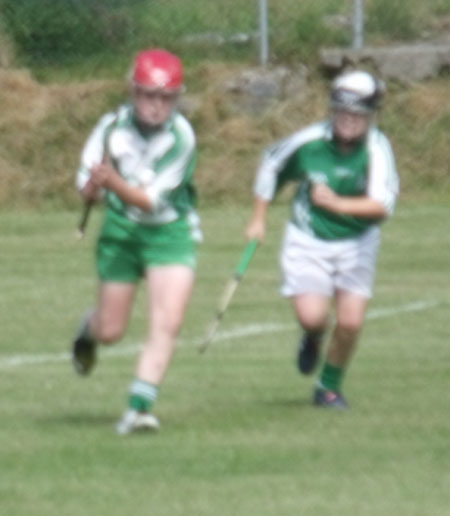 Aodh Ruadh's Eugene Drummond drives out of defence.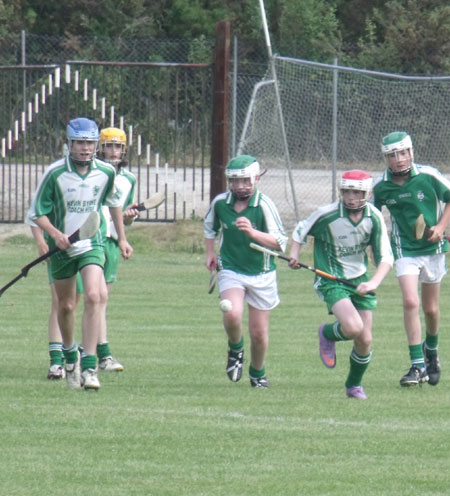 No let up is evidence of Aodh Ruadh's work rate.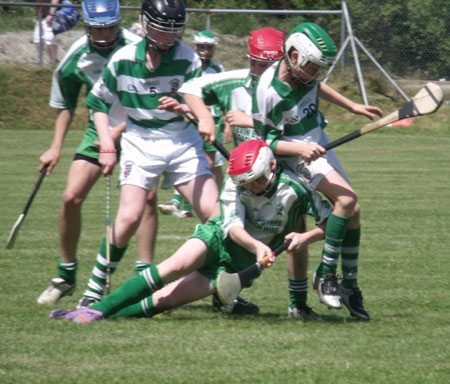 Over she goes. Another Aodh Ruadh point against Swatragh.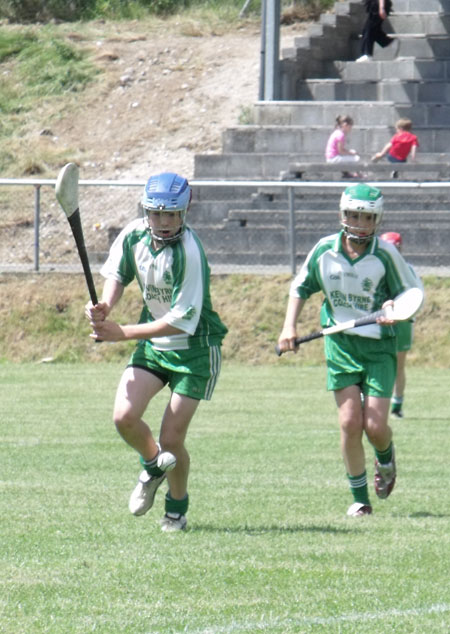 Centre back Colm Kelly about to let fly.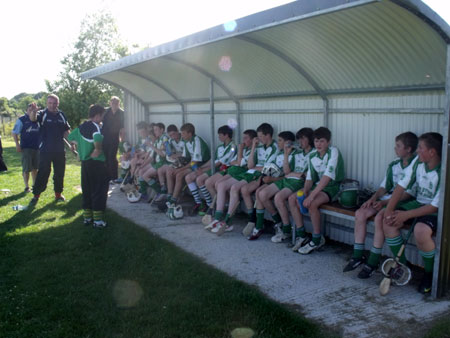 The half time team talk against Crusheen / Tubber.

The crowd waiting to welcome the boys home from Clare.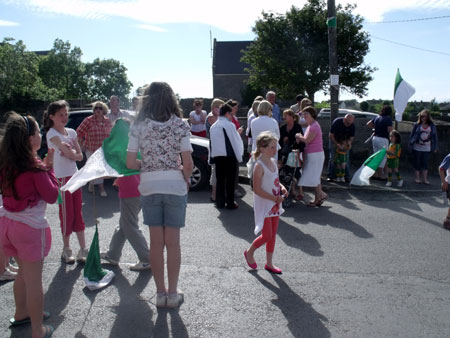 The crowd waiting to welcome the boys home from Clare.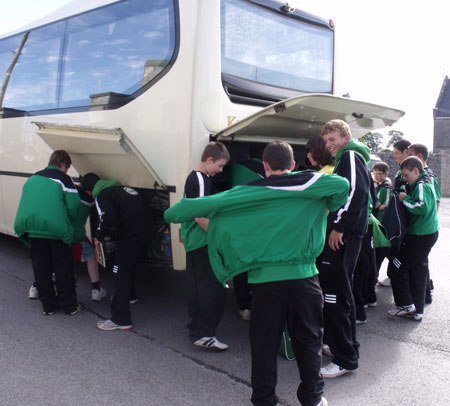 The highest ever finish achieved by a Donegal hurling team at Féile na nGael is by Aodh Ruadh's under 14s.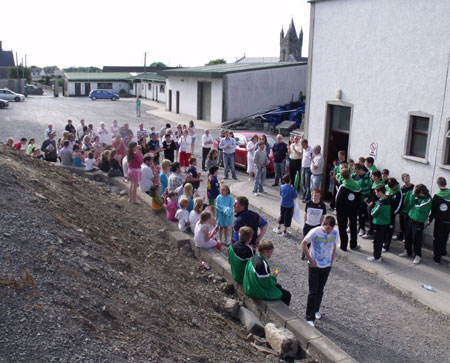 The reception outside Aras Aoidh Ruaidh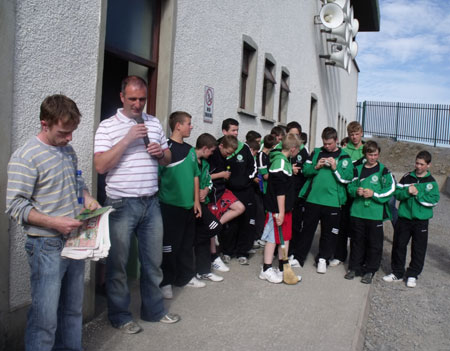 Juvenile Hurling Chairman, John Rooney, addresses the crowd.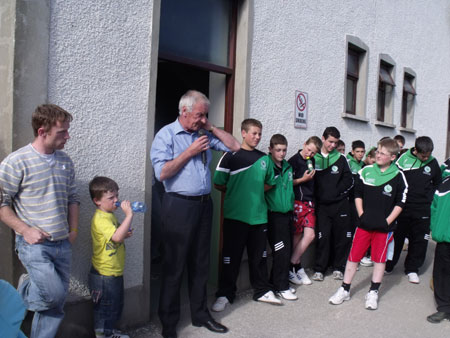 Ballyshannon Mayor and former Aodh Ruadh hurler, Eugene Dolan welcomes the boys home.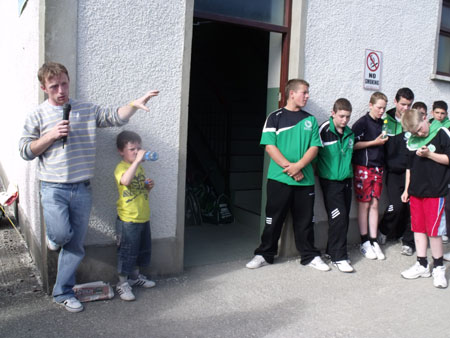 Peter Horan, the under 14 manager talks about the boys achievements at Féile.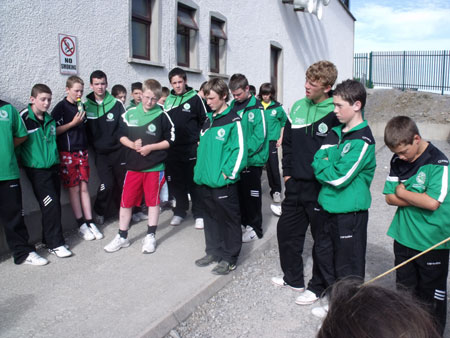 The boys take it all in.

John Rooney and Peter Horan making a presentation to Parteen GAA club on behalf of the Aodh Ruadh under 14 hurling panel. Presentation kindly sponsored by Gerry Ferguson's jewellers, Ballyshannon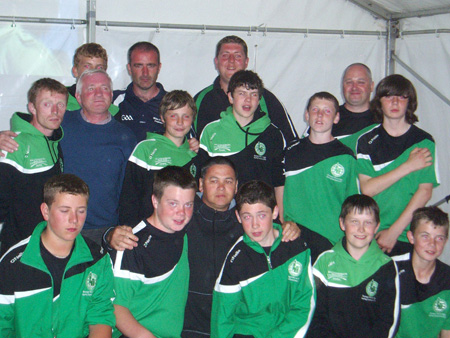 A happy bunch of Aodh Ruadh players and mentors at Féile

John Rooney trying the hurling wall in Parteen under the watchful eye of Clare hurling legend Naoise Jordan.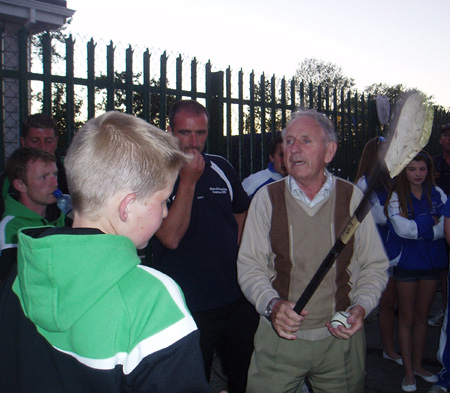 Clare hurling legend and member of the Clare millenium hurling team, Naoise Jordan.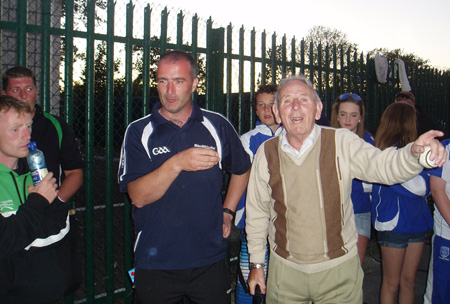 "Was it in or out?" Naoise claims he socred, the boys don't look so sure.
Last modified: Monday, 1 June 2020 at 1:32pm