Aodh Ruadh beat Burt in Donegal Minor A Hurling Championship.
Minor A Hurling Championship
25 August 2006
Aodh Ruadh 2-5
Burt 0-5
Dennis Doherty reports
Aodh Ruadh, on Friday last, had their first win at this grade since the mid 1960's when Pauric McShea captained the Ballyshannon team. They were deserved winners on a final scoreline of 2-5 to 0-5. Featuring many U16 and minor county panel players this match on a wet evening in McCumhaill Park was very well refereed by Rory McGonnigle who maintained excellent control of the game after a tense first ten minutes.
In a tough but close encounter, Aodh Ruadh led from the start after three minutes when a long range free taken by Aodh Ruadh captain Chris Kilgannon went all the way to the net. This was followed minutes later by a point from a free by his brother Kieran with yet another before the half time whistle. It was only after a fractious first 10 minutes when three Burt players were yellow carded and the Burt midfielder received his second yellow card that the game settled down. It was the turning point of the game when in the tenth minute, the Burt midfielder Shane McDaid, after a second dangerous tackle on Diarmuid McInerney, was sent off. The extra man that Aodh Ruadh then enjoyed, was well deployed at centre back, as the Bundoran man Stephen Ryan cleared a lot of loose ball. The score line at half-time read 1-2 to no score but this was not a fair reflection of the Burt team efforts. By half-time it was evident that Aodh Ruadh had a much better balanced team compared to the strong central line that Burt fielded.
The Burt team finally scored in the second half with Kevin Glynn pointing three frees. The Aodh Ruadh half forward David Dolan got the score of the game when he finished first time a low ball from the edge of the square that had been crossed by Peader O'Keefe and batted away by the Burt keeper Kieran McDermott. From then on to the finish Burt really went in search of goals but the determined defending of Darren and Dominick Gillespie, and in particular Brian Fox, who cleared some great balls down the sidelines, kept them at bay. The final score of the match came courtesy of Diarmuid McInerney whose point after an excellent short passing movement by Richard McDevitt and Peader O'Keefe settled the Aodh Ruadh nerves. With five minutes to go Burt were awarded a 21 yard free after a foul by Cian Dolan. The rasper of a shot was well deflected over the bar by Darren Drummond when it seemed destined for goal. Best for Burt was the central line especially Kevin Glynn and Philip Coyle. Aodh Ruadh's best players were Chris Kilgannon, Richard McDevitt, Cian Dolan, Darren Gillespie, Peader O'Keefe and Brian Fox.
In the final analysis, the match was won with the strength and depth of the Aodh Ruadh squad coupled with excellent discipline. Missing the action for Aodh Ruadh were Paul Hughes (through injury), Gary O'Brien and Damian Cleary.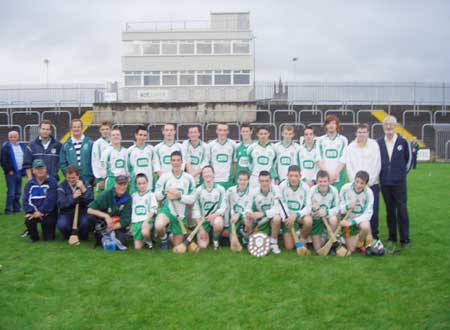 The Aodh Ruadh team that took on Burt in the Donegal Minor A Hurling Championship.
Vital Statistics
Teams
Aodh Ruadh
Ryan O'Brien, Brian Fox, Darren Gillespie, Dominick Gillespie, Stephen Ryan, Cian Dolan, David Dolan, Chris Kilgannon (1-2 (1-1 frees)), Darren Drummond, Peader O'Keefe, Gary Loughlin, Diarmuid McInerney (0-1), Liam Cullen, Richard McDevitt and Kieran Kilgannon (0-2 (2 frees).
Substitutes
Liam Gallagher, Declan Downey, Donal O'Keefe and Declan Herron.
Managers
Kevin Loughlin, Peter O'Keefe, Billy Finn, and Denis Doherty.
Burt
Kieran McDermott, Gerard Burke, Kevin Glynn (0-3, 3 frees), Barry McCavigan, Chris Breslin, Philip Coyle, Johnathan Quinn, Shane McDaid (red card), Paddy Strain, Darren Downey, Carl Wilson, Gavin McDaid, Paul Burns, Seamus O'Donnell, Darragh Grant.
Substitutions
Ryan McDaid for D. Grant; Darragh McMullen for P. Burns and Gareth Quinn for G. McDaid.
Managers
Paul O'Brien
Referee
Rory McGonnigle (McCumhaills)
Report Filed: 28 August 2006