Aodh O Dalaigh Under 12 Hurling Blitz
Under 12 Hurling Blitz
30 September 2007

Aodh Ruadh Hurling Committee hosted the Aodh O Dalaigh under 12 tournament in Father Tierney Park, Ballyshannon on Sunday 30th September. Despite the terrible weather conditions a very enjoyable and competitive blitz took place.
Eight teams took part in the event as follows:- Aodh Ruadh A, Aodh Ruadh B, Coolera / Strandhill (Sligo), Four Masters, Knocks A (Fermanagh), Knocks B, Letterkenny Gaels and South Donegal (Combination of A/Ruadh and Four Masters). In all 104 young hurlers took part in this event and 12 very competitive games were played in very heavy and testing conditions.
The winners of the Primary League Shield, a trophy donated by the National Schools of Ballyshannon in 1990 for the promotion of hurling in the area were Letterkenny Gaels. Briege Daly-Scott presented this award to Adrian McColgan their captain. It was a great achievement by this young team as they only began hurling last year. Runners up in this event were South Donegal a very skilful combination of Aodh Ruadh and Four Masters.
The Aodh O Dalaigh Shield, in memory of the late Hugh Daly former Donegal County Board Secretary, was the highlight of the day and it was fitting that Hugh's son Tom Daly, the Ulster Council President, was on hand to present this trophy. Knocks won this event edging out Coolera/Strandhill, both these teams were evenly matched and had a number of very skilful players. The stronger Fermanagh boys won through in the end. Aodh Ruadh and Four Masters both had younger teams who found it harder going in the heavy conditions and it was fitting that both teams played out a very exciting draw to finish the days hurling.
After all this excitement everybody was delighted to attend a very enjoyable presentation function in Aras Aodh Ruaidhe where the mothers of the Aodh Hurlers catered for over 200 people.
Medals were presented by Tom Daly and Dennis Doherty, Chairman, Aodh Ruadh Hurling Committee, to the winning teams.
Tom Daly, Ulster Council President, spoke of the work being done locally and in Ulster to promote and develop hurling, he complimented the local committee on organising this event and in particular John Rooney who was the main organiser. He thanked all teams for coming and, on behalf of the Daly family, expressed gratitude to the hurling committee.
Dennis Doherty, Chairman Aodh Ruadh Hurling Committee, thanked everyone involved in this event and he especially thanked the ladies for the wonderful food they laid on for everyone. He also presented a number of medals to players whose commitment and effort stood out on the day:- Conor Logan (Knocks), Odran Doherty (Letterkenny Gaels) Conor Kennedy and Brendan Gillespie both Aodh Ruadh.
John Rooney who organised the event, thanked all the clubs who had come to the blitz and the effort they made in coming considering the very bad weather. He congratulated all who had won medals and urged those who hadn't not to be too disappointed as the game of hurling was the real winner on the day. He thanked Dennis Doherty and all the other referees. He thanked Tom Daly for taking time out from his busy schedule as Ulster Council President and his sister Briege for presenting the awards. He also thanked the mothers of the Aodh Ruadh players for all the catering and for bringing their sons to training every week. He especially thanked Peter Horan for all his help all year with underage hurling and Billy Finn, Eddie Lynch, Dennis Daly and Dennis Doherty for their help with the under 10's and 12's. He finally thanked the Park Committee for the use of the facilities and especially Pat Melaniff for all his help getting things ready that morning and all year.
It was a very enjoyable and exciting event and all expressed the wish to be back in Ballyshannon for the 2008 event.
Photos taken by Eddie Lynch.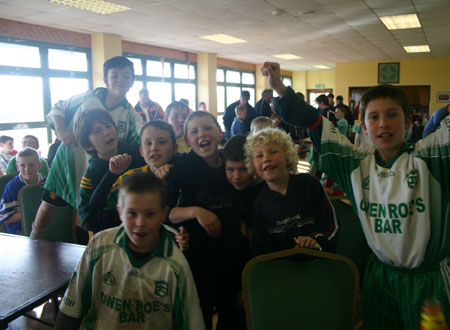 Aodh Ruadh boys enjoying prize giving in Aras Aoidh Ruadh.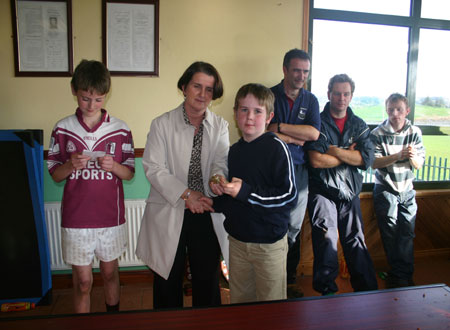 Briege Daly presenting Primary League Shield to Letterkenny Gaels captain Conor Sweeney.

Tom Daly, President of the Ulster Council, presenting the Aodh O Dalaigh Shield to Knocks captain Conor Martin.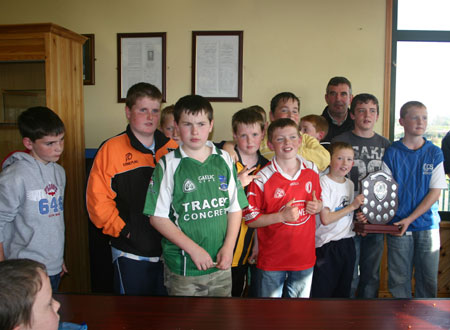 Tom Daly with the victorious Knocks team.

Tom Daly presenting an award to Conor Kennedy (Aodh Ruadh).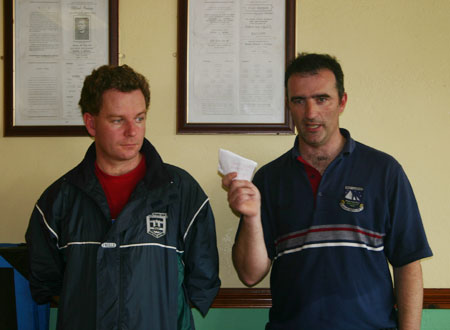 John Rooney (organiser) and Dennis Doherty (Chairman) at the prize giving.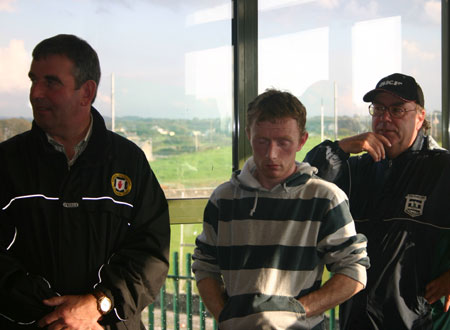 Tom Daly, Peter Horan and Billy Finn enjoying presentations.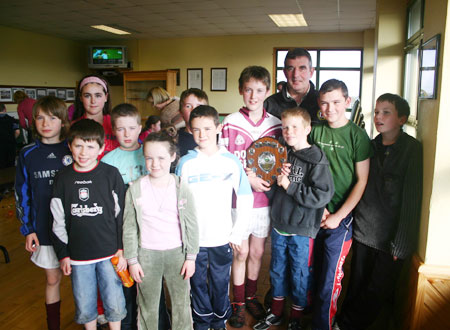 Tom Daly with the victorious Letterkenny Gaels team.
Report Filed: 2 October 2007