2006 Alan Ryan / Seamus Grimes Hurling Tournament
The Alan Ryan/Seamus Grimes Hurling tournament was held in Ballyshannon on the Bank Holiday Monday (1st May). This year five teams particiapted in the tournament. These were as follows: Aodh Ruadh, McCumhaill's (Ballybofey, Co. Donegal), Manorhamilton (Co. Leitrim), Setanta (Killygordon, Co. Donegal) and Buncrana (Co. Donegal). Each team played each other to decide which would qualify for the A and B finals. In the event of level points then the match scores taken and those conceeded would be calculated.
After beating all of the other teams the Aodh Ruadh team won the 'A' final on a final scoreline of 2-3 to 0-0 defeating an impresssive McCumhaills team. In a very exciting match scores by full forward Kieran Kilgannon and Liam Cullen effectively finshed the game with 5 minutes to go. The final score was by Bundoran man, Gavin Croghan who's well take point from near the sideline was definitely score of the match. The intense game was characterised by the Aodh Ruadh half back and full back line who kept the McCumhaill's forwards scoreless. Man of the match was Paul Hughes but a very close second were Cian Dolan, Ciaran Kilgannon and Darren Gillespie. The management team consisted of Kevin Loughlin, Anthony Coughlin, Dennis Doherty, Peter O'Keeffe and Johnny Dolan.
The McCumhaill's star was Kieran Matherson (who played a centre field position) and who was selected as player of the tournament. However, his marker in the final was Paul Hughes who made life difficult for him and effectively restricted the supply of good ball to the McCumhaill's forward line. Another excellent performance was by Kieran Kilgannon whose pace and teamwork together with Liam Cullen carved up the McCumhaill's back line nearly every time they had the sliothar in hand!!
Martin 'Kerry' Ryan presented the Alan Ryan Cup on behalf of the Ryan family to Aodh Ruadh captain Paul Hughes and Kathleen Grimes presented the Seamus Grimes memorial trophy to the Manorhamilton team. McCumhaill's won the Erne Dale Shield. Eoghan Rua O`Neill refereed the two finals.
Hurling Chairman John Larkin thanked all who helped to make the tournament such a success on a glorious Bank Holiday May Day, including the team mentors, park officials, sponsors and the group of ladies who prepared the food and refreshments.
The U 16 panel
Ryan Walsh; Brian Fox, Ashley Mulhern, Damian Cleary; David Dolan, Cian Dolan, Darragh Gallagher; Darren Gillespie, Paul Hughes; Peader O'Keefe, Richard McDevitt; Liam Cullen, Kieran Kilgannon, Aodhan McFadden, Liam Gallagher
Subs
Martin Larkin, Ruairi Drummond, Donal O'Keefe, Jack Matthews and Ruairi Cullen.
Below are photographs taken at the Alan Ryan / Seamus Grimes Hurling tournament.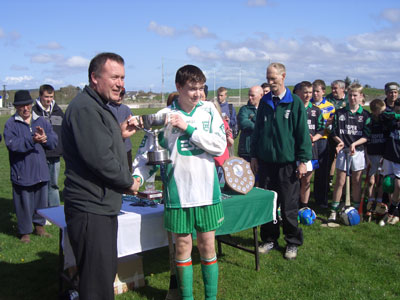 Fr. Frank McManus presenting the Alan Ryan Cup (A final) to the Aodh Ruadh Under 16
captain after defeating McCumhaill's on a scoreling of 3-5 to 0-0.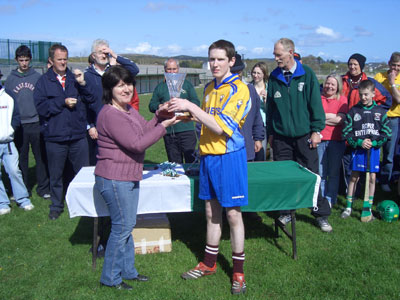 Kathleen Grimes presenting the Seamus Grimes trophy (B final) to the Manorhamilton
captain after defeating Setanta on a scoreling of 2-4 to 1 -6.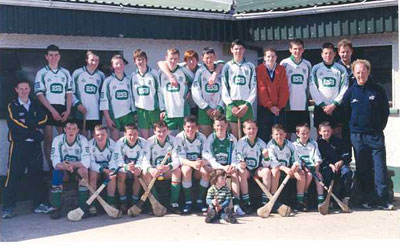 Back row (L to R): Johnny Dolan; Darragh Gallagher, Stephen Ryan; Peader O'Keefe;
Richard McDevitt; Brian Fox; Darren Gillespie; Kieran Kilgannon; Damian Cleary;
Liam Gallagher; Gavin Croghan; Ashley Mulhern; Dennis Doherty and Anthony Coughlan.
Front row (L to R): Aodhan McFadden; Liam Cullen; David Dolan; Paul Hughes; Cian Dolan;
Ryan O'Brien; Patrick Faherty; Jack Matthews; Donal O'Keefe; Ruairi Cullen;
Daniel Doherty (child).