Aodh Ruadh miss out on county crown
Ladies under 14 A championship final
17 June 2017
Aodh Ruadh 0-16
Downings 4-9
MacCumhaill Park, Ballybofey
Goals were to prove the difference in this county decider played in good conditions at an immaculate MacCumhaill Park.
Aodh Ruadh outscored Downings 16 to 13, but they failed to find the net and had they done so the match could have taken a dramatically different complexion.
The Shamettes were first out of the traps nicking over two points from Aoibhínn McGarrigle and Tia McFarland to take the lead with two minutes played.
Downings number 14 though soon had them level with a free and point from play before the corner forward edged them into the lead.
The Rosguill midfielder then netted after a bursting run before the full forward slotted her second free of the day to leave Downings 1-4 to 0-2 ahead after seven minutes.
The reversal didn't faze the Ernesiders though and they patiently set about reasserting themselves. First Caitlin McGarrigle pointed well before Danielle Gallagher was fouled for a close range free which was converted by captain Sarah Jane Keon
A minute later Aodh Ruadh had Aine Hill to thank for a great one-on-one stop from the Downings 13. Aodh Ruadh took encouragement from that and continued to rally
Aoibhínn McGarrigle drilled over a great point before a courageous block by Danielle Gallagher as Downings attempted to clear saw the ball spill to Tia McFarland and she slipped over.
Then with 18 minutes on the clock Emer O'Brien was fouled close in and again Sarah Jane Keon made no mistake from the placed ball.
Five minutes from the break Aodh Ruadh hit the front once again, thanks to a Sarah Jane Keon.
However Downings finished the half the stronger. A minute after Ballyshannon took the lead the Downings full forward struck for goal. And a minute later it took another super Aine Hill stop from the midfielder to prevent another goal. The Downings 13 hit the last score of the half, but there was still time for the Rosguill girls to make another assault on goal, only for Grainne Maguire to clear off the line.
It was 0-8 to 2-5 at the turnover and Aodh Ruadh could have used a good start to the second half, but that fell to Downings. Their centre forward pointed before the number 13 netted.
As ever, the Ernesiders continued to give their all. Caitlin McGarrigle fired over, only for the Downings 13 to cancel that out up the other end.
Aoibhínn McGarrigle split the posts with 42 minutes played and then a Sarah Jane Keon free cut the deficit to five points as the game entered the final quarter.
However the Downings centre forward registered her sides fourth goal to keep the under 13 champions at arm's length.
Points from Emer O'Brien (2), Katie O'Brien between the 48th and 55th minute saw Aodh Ruadh cancel out the goal, but that was to be as close as Ballyshannon would come.
Na Dunaibh hit two points to go 0-14 to 4-9 ahead and although Aodh Ruadh valiantly tried to engineer a game changing goal the best they could muster was two Sarah Jane Keon frees.
Having scored 16 points in a closely contested final and failed to come home with the title will no doubt be a hard blow to take for girls who have given so much for the cause this season.
There is some consolation in the fact that Downings were worthy and sporting adversaries who played the game the right way and earned their victory on merit. Doubtless this is just the second of a series of contests which will battled out between the sides in years to come.
Despite defeat Aodh Ruadh still had a number of excellent displays across the park, Aine Hill made two superb stops while Grainne Maguire was the best defender on show on either side. Lucy McGlynn didn't let her athletic exertions of the morning or the cross-province trip from Belfast dent her efforts one iota. In midfield there were two great performances from Ella Clancy and Caitlin McGarrigle, both fighting every inch of the way.
Downings packed out their defence so Aodh Ruadh's scoring return was all the more creditable. Captain Sarah Jane Keon broke her holidays in Portugal to jet back for the game and created a lot of difficulty for the Downings defence. She converted six frees to finish as Aodh Ruadh's top scorer on the day. Elsewhere Aoibhínn McGarrigle took three quality points from play and Emer O'Brien got through a sight of work.
Vital Statistics
Teams
Aodh Ruadh
Aine Hill; Lauren McHugh, Grainne Maguire, Ciara Caldwell; Orla Keon, Lucy McGlynn, Eilish Gallagher; Caitlin McGarrigle (0-2), Ella Clancy; Danielle Gallagher, Tia McFarland (0-2), Emer O'Brien (0-2); Aoibhínn McGarrigle (0-3), Sarah Jane Keon (0-6f), Katie O'Brien (0-1). Subs: Caoimhe Hughes-O'Brien for Danielle Gallagher; Niamh Hughes for Tia McFarland.
Referee: Robbie O'Donnell (Kilcar).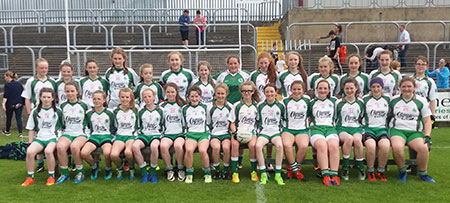 Aodh Ruadh pictured before the county final.
Click for larger version.
Back row: l-r, Caitlin McGarrigle, Emer O'Brien, Katie O'Brien, Niamh Gallagher, Shauna O'Mahoney, Laoise Kelly, Hannah Gallagher, Aine Hill, Danielle Gallagher, Caoimhe McCauley, Katie McMullin, Caoimhe Hughes O'Brien, Tia McFarland, Rihanna Masterson Burrows.
Front row: Evelyn Rose Gallagher, Eilish Gallagher, Lucy McGlynn, Orla Keon, Aoibhínn McGarrigle, Niamh Hughes, Lauren McHugh, Ella Clancy, Sarch Jane Keon, Ciara Gillespie, Ciara Caldwell, Dearbhla Hughes O'Brien, Clodagh O'Connor, Grainne Maguire, Rachel Patton.
Last modified: Monday, 1 June 2020 at 1:11pm