Back-to-back titles for the Ballyshannon girls
Ladies under 13 county final
15 October 2017
Aodh Ruadh 5-9
Gaeil Fhánada 0-2
Hibernian Park, Burt
Aodh Ruadh made it back-to-back under 13 county titles on a lovely afternoon for football in Burt. They did it in dominant style too, excelling in every sector of the pitch against a brave Gaeil Fhánada team.
They hit the ground running with a fine early point from Aoibhinn McGarrigle. However with Gaeil Fhánada defending resolutely it took time for the scores to come. Niamh Hughes hit the net with goals in the sixth and ninth minutes. That gave Ballyshannon some breathing space, but it wasn't until the 22nd minute before the next score arrived. Once again it was Aoibhinn McGarrigle finding the range with a quality shot. Ciara Gillespie then tucked over a free before Gaeil Fhánada struck for a point.
The Blues pushed hard for further scores just before half-time, but Áine Hill was alert and the defence never gave the opposition any time at all to settle on the ball.
It was 2-3 to 0-1 at the break, and there were 11 minutes gone in the second half before the next score arrived. Again it was another lovely shot from Aoibhinn McGarrigle. That was followed two minutes later by a goal for Ciara Gillespie.
Lucy McGlynn raided up from centre back for a deserved point before Aoibhin McGarrigle hit her fifth point of the day with the game into the final quarter.
Niamh Hughes showed her strength to fire home her hattrick goal as Aodh Ruadh pushed for the finish. Grainne Maguire made a great run up the pitch and took a lovely left footed point before midfield warrior Emer O'Brien drew the curtain down on proceedings with a fine point.
After the game Donegal Ladies chairman Liam Skelly presented the division 1 championship trophy to Aodh Ruadh captain Caoimhe Hughes-O'Brien. Caoimhe made a great speech paying tribute to her fellow players, management, parents and sponsors. She then called for three cheers for Gaeil Fhánada.
Then it was back to Ballyshannon for a beep around the town before refreshments in Aras Aoidh Ruaidh and a watch of the match video where Pearl McHugh showed Marty Morrissey would want to watch his back.
A superb team performance and impossible to pick any players out for individual praise on a day when everyone stood up to the mark. The under 14 league in 2018 followed by a second crack at winning All-Ireland honours at Féile are the next targets for this special bunch of players.
Vital Statistics
Teams
Aodh Ruadh
Áine Hill; Ciara Caldwell, Grainne Maguire (0-1), Lauren McHugh; Clodagh O'Connor, Lucy McGlynn (1-1), Hannah Gallagher; Caoimhe Hughes-O'Brien, Emer O'Brien (0-1); Annie Keon, Aoibhinn McGarrigle (0-5), Katie O'Brien; Evelyn Rose Gallagher, Niamh Hughes (3-0), Ciara Gillespie (1-1, 1f).
Aoibhe Flanagan-O'Connor, Cara Davitt, Catherine Browne, Christina McCaffrey, Ellie Danagher, Emily McHugh, Fodhla Sheerin, Kelly Irwin, Lucy Barden, Megan Kane, Michaela McCaffrey, Mollie Travers, Niamh Gallagher, Niamh Irwin, Niamh McGloin, Rachel Patton, Rhiana Masterson-Burrows, Shauna O'Mahoney, Anna McCaffrey, Cora Rooney
Gaeil Fhánada
Leah McLoughlin; Aoife Gibbons, Meadh Duffy, Caitlin Heraghty; Emma Hunter, Aideen Friel, Grainne Sweeney; Iseult ní Mhatuana, Megan McLoughlin; Kate Sweeney, Maire Kerr, Jessica Coll; Aoife Shiels, Meabh McAttee, Rachel Frield.
Roisin Carr, Ella McBride, Olivia Friel, Eimear Clinton
Referee: Aidan McAleer.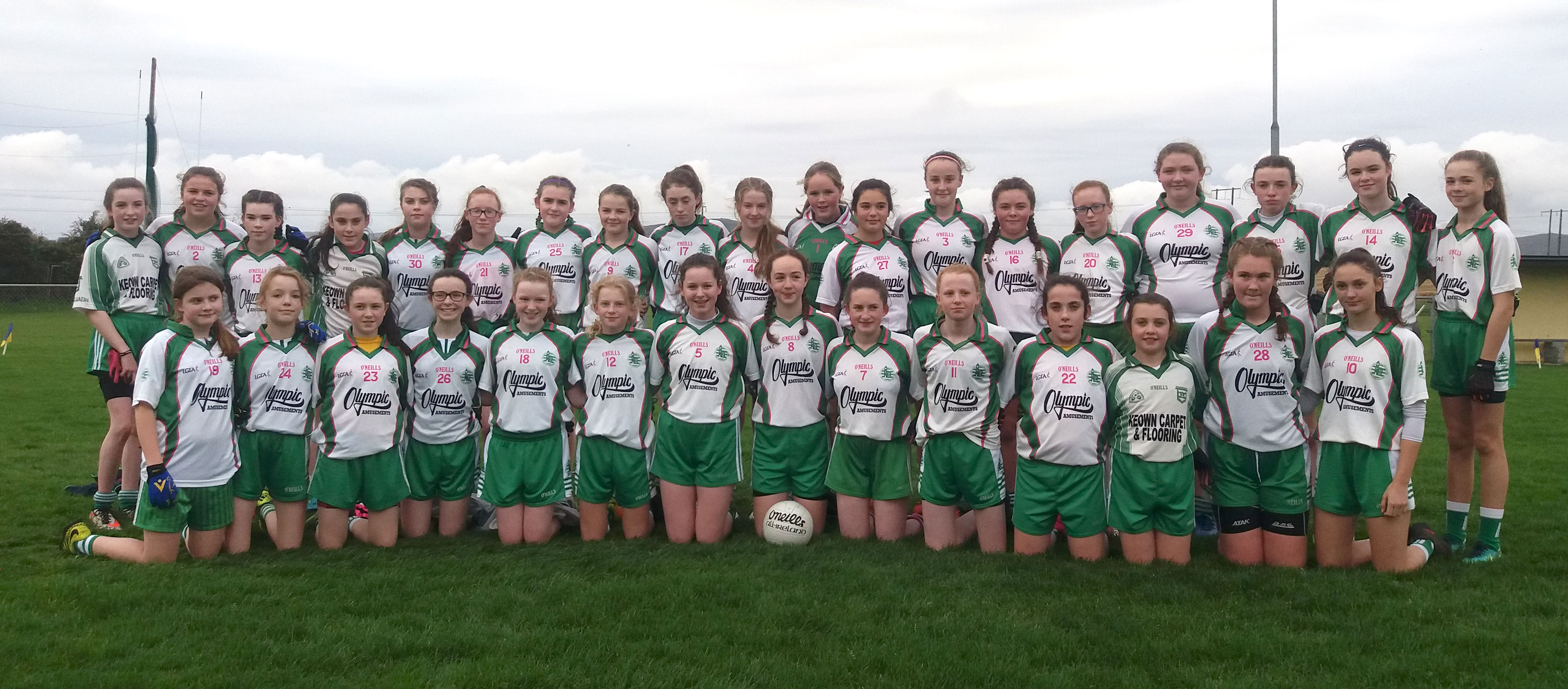 Aodh Ruadh under 13 ladies, county champions 2017.
Click for full size version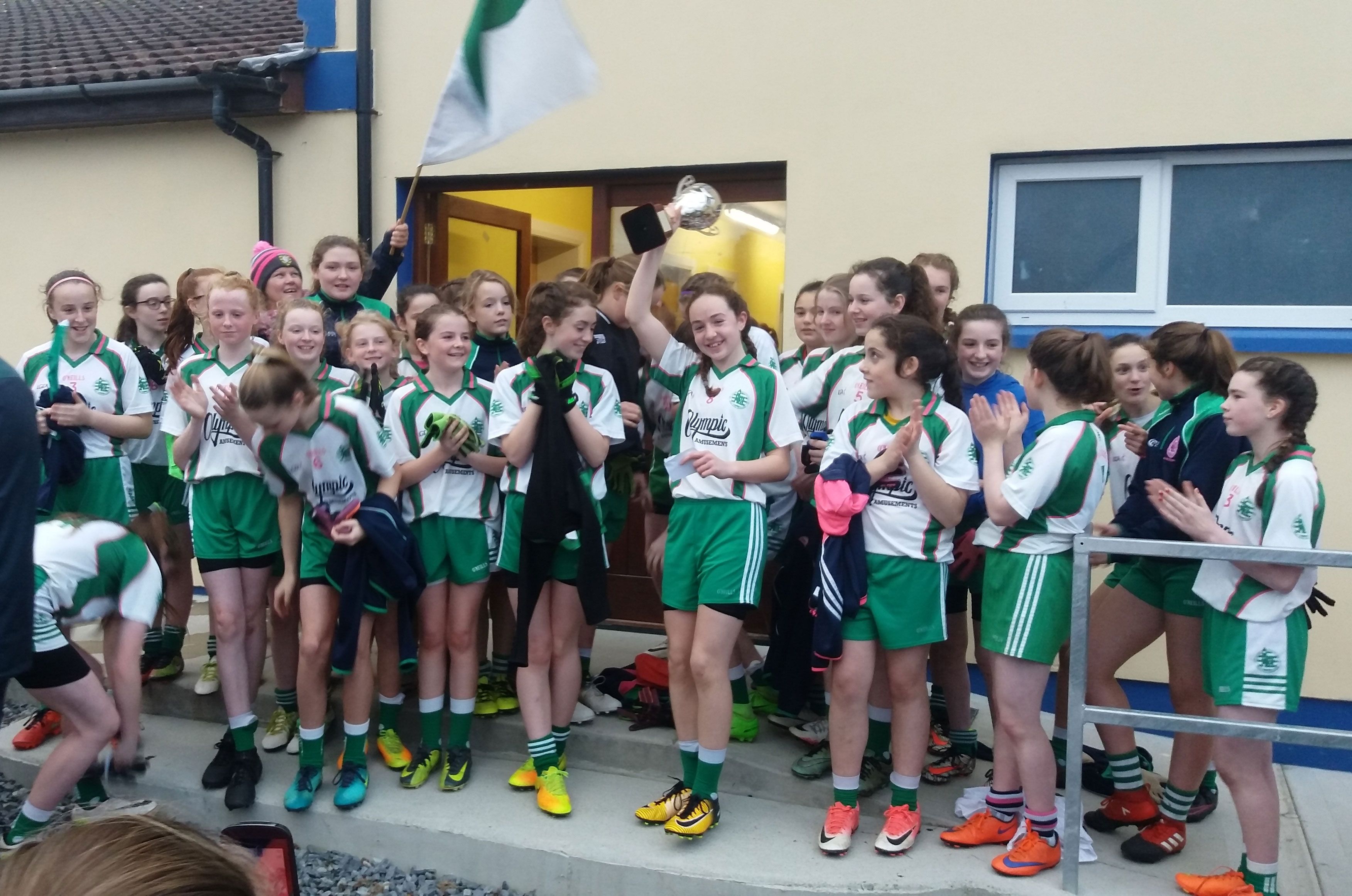 Aodh Ruadh captain Caoimhe Hughes-O'Brien raising the championship trophy.
Click for full size version
Last modified: Tuesday, 2 June 2020 at 3:59pm