Historic first minor title for Aodh Ruadh ladies
Ladies under 18 Division 1 County Final
20 October 2019
Aodh Ruadh 7-10
Moville 1-8
John Hughes reports from Páirc Aodh Rua, Killygordon
Aodh Ruadh backed up their county semi-final victory over Saint Eunan's last Sunday with a relentless display of dynamic, attacking football in the decider to bring a first ever county minor county title to the banks of the Erne. Ballyshannon travelled to Killygordon to take on a Moville side who were strong favourites and looking to win their sixth successive minor county title.
Played in dry, cool conditions, it was quickly apparent that Aodh Ruadh were in uncompromising mood. Frees from Gráinne Maguire in the third and sixth minutes helped ease the Ernesiders into the game before Tia McFarland connected with a blistering shot to net the game's first goal on seven minutes. Then two minutes later Orla Keon went on a lung bursting run before giving the Moville shot-stopper no chance with her stinging effort.
The Inishowen girls opened their account 14 minutes in to make it Aodh Ruadh 2-2 Moville 0-1 as the game moved into the second quarter. The sides swapped points, Cáit Gillespie with the Aodh Ruadh score before Tia McFarland again displayed her pace and agression to hit the net once more.
Five minutes from the break midfielder Caoimhe Keon got up for a well taken point, but Moville came with a mini-rally before the half-time whistle with two hard earned points.
Last say in the first period would go to Aodh Ruadh though with possibly the score of the half, Andrea McGlynn and Tia McFarland linking up to set Cáit Gillepsie through on goal and the centre forward made no mistake to leave it Aodh Ruadh 4-4 Moville 0-4 as the sides turned around.
Moville needed a big start to the second half, but it was the Ernesiders who grabbed the opening score. Two minutes in Cáit Gillepie came flying through the Inishowen rearguard and let fly with a rasping effort which came back off the junction of the post and crossbar into the hands of Gráinne Maguire and she slipped to the net.
Moville got a point in answer two minutes later, but Aodh Ruadh's athleticism was evidenced when half back Lucy McGlynn came on a mazy run up the pitch before clipping over a delightful score. The sides exchanged points again two from Aoibhínn McGarrigle being answered by a brace from Moville.
Aodh Ruadh just wouldn't let up though and another barn-storming Cáit Gillespie goal left it Aodh Ruadh 6-8 Moville 0-7 with the game now heading into the final quarter. The Shamettes ran the bench and the scoring action ebbed somewhat in the last 15 minutes. Gráinne Maguire, Cáit Gillespie and Aoibhínn McGarrigle, fired over successive points before Moville were awarded a penalty which was clinically converted.
Four minutes from time Cáit Gillespie slammed home her hat-trick goal before the Moville number 11 completed the scoring on 58 minutes.
A triumvirate captaincy of Cáit Gillespie, Ana Keon and Andrea McGlynn had the privilege of being the first Ballyshannon ladies to raise the minor trophy.
This was the very definition of a team performance. Bridín Maguire made at least three outstanding saves and was precision itself from her kick-outs. The full back line, lead by the teak tough Ana Keon with Síofra Hughes and Eva Moore either side, were immensely reassured. Lucy McGlynn and Caitlin McGarrigle not only tackled impeccably but also attacked with élan. Eilish Gallagher was disciplined and authorative in her duel. The centre field pairing of Caoimhe Keon and Caoimhe Hughes-O'Brien simply worked themselves into the ground, playing smart, intelligent football too. No one could have marked Cáit Gillespie the form she was in, while Andrea McGlynn and Orla Keon supplied mobility and constant support off the shoulder. The full forward line gave their Moville opposite numbers a torrid time of it. Equipped with her secret weapon, the Pettigo holy water, Tia McFarland was like a magnet for the ball and used it to devastating effect, while Gráinne Maguire couldn't put a toe wrong and Aoibhínn McGarrigle is becoming an even more complete footballer with every game she plays. Every sub who came on added something to the team when they came in, and Aodh Ruadh were going as hard at minute 60 as they were in the first.
Aodh Ruadh now look forward to Ulster football, the first time the club has participated in provincial competition since the under 16 boys in 2011. They entertain the Cavan champions in Father Tierney Park on Sunday 3rd November in the Ulster Ladies Club MFC quarter-final.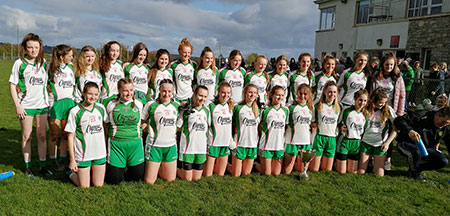 Click for a larger version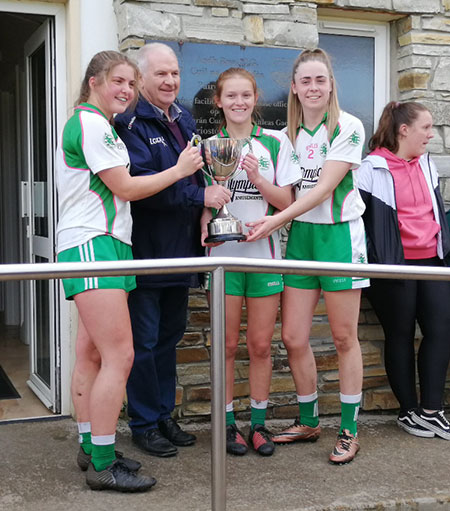 Click for a larger version

The trophy presentation.
Vital Statistics
Teams
Aodh Ruadh
Bridín Maguire; Síofra Hughes, Ana Keon, Eva Moore; Lucy McGlynn (0-1), Caitlin McGarrigle, Eilish Gallagher; Caoimhe Keon (0-1), Caoimhe Hughes-O'Brien; Orla Keon (1-0), Cáit Gillespie (3-2), Andrea McGlynn; Gráinne Maguire (1-3, 2f), Tia McFarland (2-0), Aoibhínn McGarrigle (0-3, 2f).
Subs: Ella Clancy for Eilish Gallagher; Sarah Jane Keon for Tia McFarland; Ciara Caldwell for Aoibhínn McGarrigle; Roisin Daly for Orla Keon; Ciara Gillespie for Grainne Maguire; Niamh Hughes, Katie O'Brien, Emer O'Brien, Áine Hill, Chantelle Timoney, Demi McFarland.
Referee: Robbie O'Donnell (Kilcar).
Last modified: Tuesday, 2 June 2020 at 3:59pm